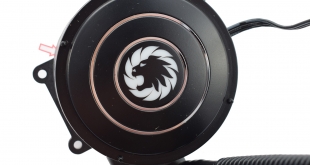 While we have seen plenty of cases from Game Max over the last few months, the Iceberg 240 marks the first time we have seen a CPU cooler from the company – be it of the liquid or air variety. What makes the Iceberg 240 so appealing is definitely the price, as at £59.99 this is the cheapest 240mm liquid cooler I have reviewed in the last three years.
With a price that low, however, concerns may be raised about the cooling performance and overall quality of the Game Max Iceberg. We will attempt to answer those questions in our review before giving our final verdict.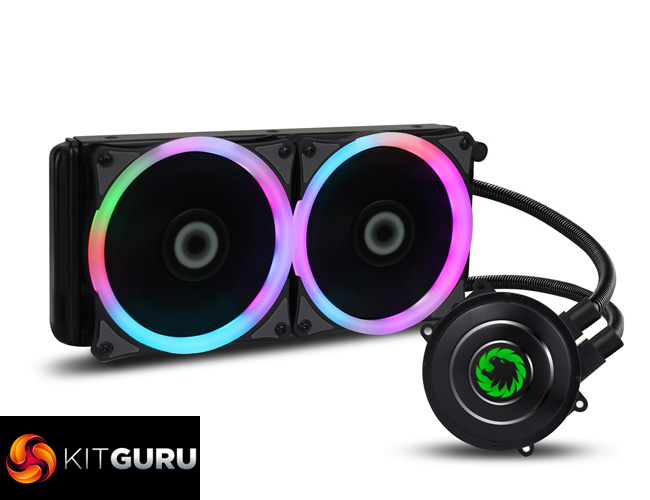 Specification
Block Compatibility: Intel LGA 1150/1151/1155/1156/1366/2011/2011-V3AMD FM2/FM1/AM3+/AM3/AM4/AM2+/AM2/FM2+
Block Material: Copper
Radiator Material: Aluminum
Fan Dimension: 120mm x 120mm x 25mm
Radiator Dimension: 153mm x 240mm x 27mm
Fan RPM: 600~1800 RPM(PWM) +/- 10%
Fan Air Flow: 30-70 CFM
Fan Noise: 25~32 dBA
Tube Material: Low Evaporation Rubber
The Game Max Iceberg 240 ships in a colourful box, with a photo of the cooler set against a mountainous backdrop visible from the front.
Inside, all of the installation hardware comes in a single bag with no labels, so it is not the best start.
The manual is also pretty basic but the diagrams are clear enough to get the job done, so I cannot complain too much.
Also included are two LED fans, of the 120mm size, though these are not RGB – the lighting cannot be controlled and alternates between 7 different colours.
The AIO itself is pretty conventional, with a copper waterblock connected to the aluminium radiator via 12-inch tubes.
Lastly, the pump/waterblock sports the Game Max logo in a very central position, and this logo is also illuminated by green-only LEDs.Here I will walk you through the installation process. It is worth noting we test using a Z97 motherboard – socket LGA 1150. The process below reflects that.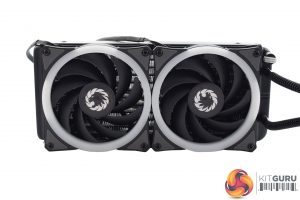 The first thing to do is screw the two fans to the radiator. I went for a push configuration but there is not much difference between push or pull, so go for whatever is most convenient for you.
After that, the backplate needs preparing: four small screws need to be locked into place with some plastic clips.
With that done, go ahead and attach the backplate to the rear of the motherboard socket area.
With those screws poking through the front of the motherboard, place four nuts on top of the screws to keep the backplate in-place.
Next, a metallic bracket needs to be placed over the pump, as this is how the cooler is secured to those nuts and the backplate.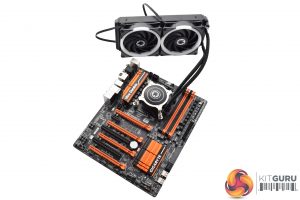 Finally, go ahead and apply thermal paste before mounting the cooler – and that is the installation process complete!
Overall, the process is pretty pain-free. I am not too keen on the metallic mounting bracket which slightly ruins the all-black aesthetic, but that is only minor – the process itself is easy and won't take more than 5 minutes.
Before moving on, it is worth looking at the lighting. The pump glows bright green when powered on, and sadly this is not controllable so if you don't like the colour, you are stuck with it.
The fans are a bit more interesting as they light up in multiple colours at once and slow cycle through the 7 different options. However, the fans aren't controllable either – the Iceberg is very 'plug and play', meaning there is no software control or 4-pin RGB headers, so you are stuck with the default lighting options.To test all CPU coolers, we devised an easily repeatable test with no variables other than the coolers themselves. This ensures that figures from every cooler we test are comparable with each other.
Test rig
Using an open-air test bench, we deploy an Intel Core i7-4790K plugged into a Gigabyte Z97X-SOC Force motherboard. Alongside this is 16GB of 2400MHz Corsair Vengeance DDR3, as well as a 120GB OCZ Trion 150 SSD. Powering everything is a Corsair RM750x PSU.
The test process
Testing coolers involves taking a total of 4 temperature readings per cooler. First, we measure the idle temperature of the i7-4790K at stock speeds (turbo boost disabled), before measuring its temperature under load at stock speeds. Next, we overclock the CPU to 4.5GHz using a 1.3 Vcore, ensuring greater heat output. In its overclocked state we then measure the idle and load temperatures of the CPU again. The figures we present are temperature deltas – meaning we take each temperature reading and minus the ambient temperature from it. This allows us to test in an environment that is not temperature-controlled.
To ward off potential comments or questions, we know 4.5GHz using a 1.3 Vcore is not the 'best' overclock – this particular CPU could reach that frequency at closer to 1.25 on the Vcore, which is more efficient. That is not the point, however. We are trying to stress the coolers to see how they deal with excess heat … hence the higher than necessary Vcore.
Where possible, each cooler's fans are plugged directly into the motherboard using the CPU_Fan or CPU_Opt headers. Some AIOs, however, ship with their own fan controllers or PWM hubs. If we are unable to plug the fans directly into the motherboard, it is specified in the performance section of the review.
An idle reading comes from leaving Windows on the desktop for 15 minutes. A load reading comes from running Prime95's (version 26.6) Small FFTs test for 15 minutes – enough time for temperatures to plateau.
Noise output
Unfortunately I am unable to accurately measure the sound output of CPU coolers using a digital sound meter. This is because I am based alongside a busy road (with high ambient noise levels). Using a sound meter is, as such, not possible as there are variables out of my control. However, I will try my best to subjectively describe the noise output in a helpful manner.Temperatures
All temperature charts are sorted with lowest load temperatures at the top.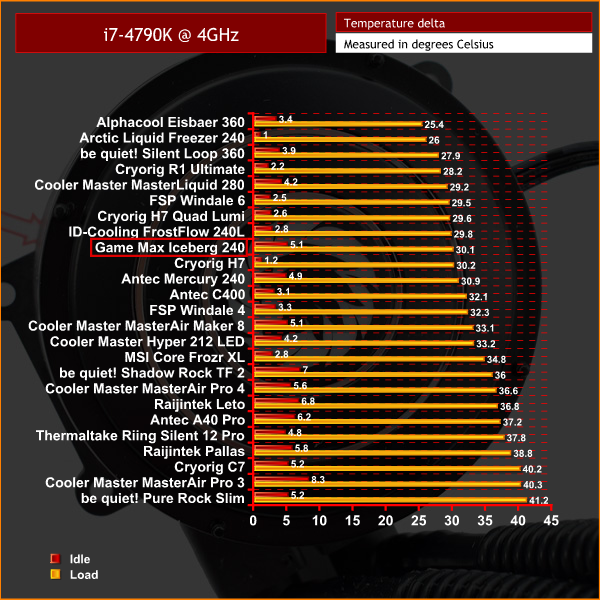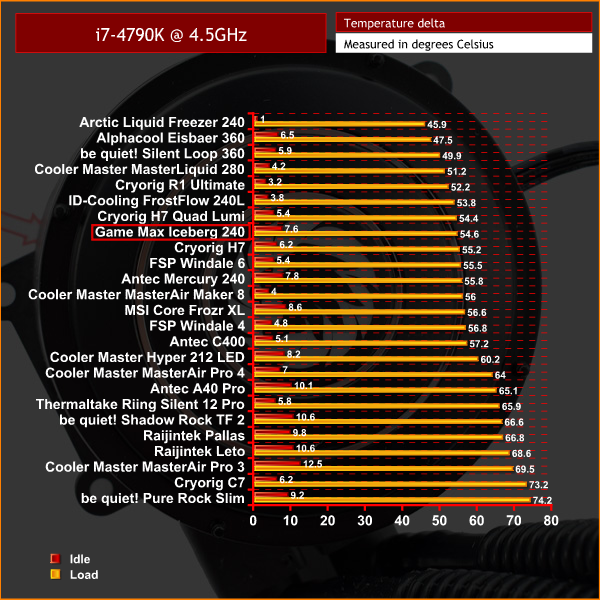 As you can see, performance of the Iceberg 240 is actually pretty decent considering it is a £60 liquid cooler. It doesn't quite challenge the Arctic Liquid Freezer 240, or even the Cryorig H7 Quad Lumi air cooler, but it is at the right end of the chart and can be considered a success in that regard.
Acoustics
Acoustically, the Iceberg is a mixed bag. Its fan are surprisingly quiet, even at their full speed of 1800 rpm, and that is certainly appreciated. However, as with many cheap AIOs, the downfall is the pump – it is just quite whiny and can be heard over the fans at all times.Overall, the Game Max Iceberg 240 is a decent yet basic liquid cooler.
It is pretty easy to install, with nothing too fiddly or annoying, so I cannot complain there. The process is quite short, too, so first-time builders should be up and running in no time.
The Iceberg also sports some LED illumination, though it is very unsophisticated – the pump LED is set to green-only and cannot be changed, while the fan LEDs can't be adjusted either. In the age of the RGB liquid cooler (think Corsair H100i V2 and NZXT Kraken X62) the lack of any user control is disappointing.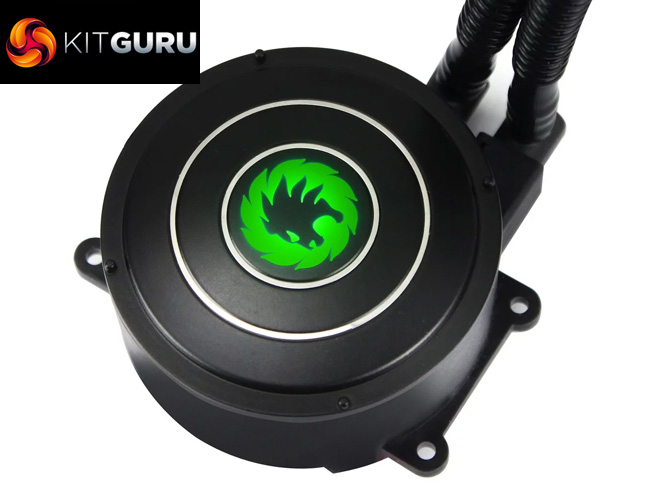 However, we have to remember this cooler is only £59.99, so any criticism about the LEDs is tempered by that fact. At this price, cooling performance is surely the number one concern – and we are pleased to say the Iceberg is actually very decent when we factor in the price. It didn't blow us away, but for the money the cooling performance is definitely admirable.
The only real downside to the cooler is its fairly whiny pump – something that is all too common with liquid coolers around this price bracket. I didn't have any issues with coolant circulation, but the pump is fairly noisy and may be annoying –  so be warned.
Nonetheless, the Game Max Iceberg has proved itself to be well worth buying. It is not the best looking, or best performing cooler on the market, but it is very cheap for a 240mm AIO and still performs very well, so we feel it is deserving of our 'Worth Buying' award.
You can buy one for £59.99 from CCL HERE.
Pros
Very affordable.
LED fans.
Easy to install.
Decent performance.
Quiet fans.
Cons
Lighting is not very sophisticated.
Pump is whiny.
KitGuru says: The Game Max Iceberg 240 is a thoroughly decent cooler for the money. Sure, you can get better products if you are prepared to spend well over £100, but for £60 the Iceberg offers excellent value.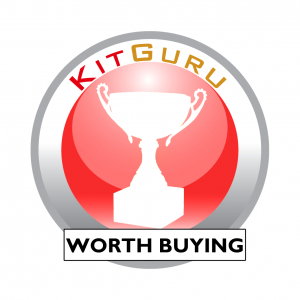 Be sure to check out our sponsors store EKWB here