Custom liquid cooling is a topic that the KitGuru audience will be familiar with, but it is still an area that many people will not have experience for themselves. That is exactly the position that I found myself in, so I drafted in KitGuru's resident cooling and exotic builds expert – James Dawson – to help me build my first liquid cooled system.
The goal for this system was to design a CPU test platform that will allow me to use custom liquid cooling hardware when testing new CPU products. The increasing popularity and launch cadence of hot and power-hungry processor such as Threadripper, Intel 10th Gen, and Ryzen 3000XT has highlighted the desirability for more powerful cooling hardware in our test arsenal.
As such, James and I worked to specify the requirements for a functional liquid cooled test system using a variety of EKWB cooling hardware for the three main test platforms – AM4, LGA 1200, and sTRX4.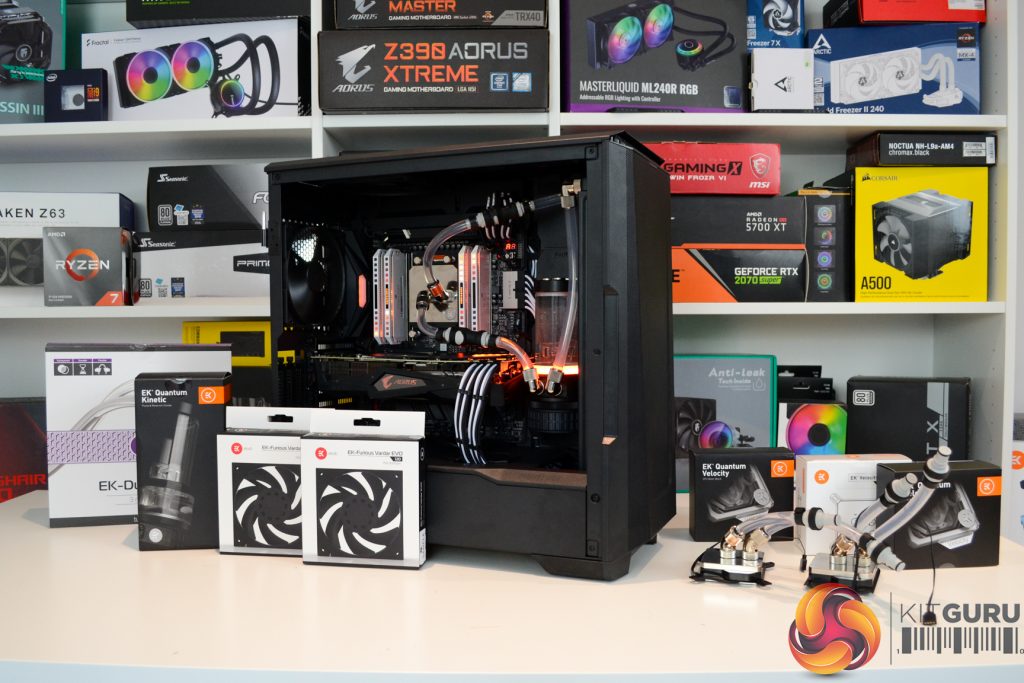 Core to the hardware choice was the chassis. We opted for Phanteks' new P500A mid-tower chassis that Leo reviewed recently and praised highly. This case was chosen thanks to its excellent liquid cooling capabilities, E-ATX capable sizing, and form factor that is more tolerable than hefty full-tower ATX alternatives.
We also liked the fact that Phanteks uses a mesh front panel that is designed for solid airflow. There is no additional foam dust filtration that inhibits the flow of air, and mesh hole pitch looks to be good for use with high-powered front panel fans.
As we already highlighted, our desire to use this test system with AM4, LGA 1200, sTRX4, and LGA 2066 hardware guided us with respect to liquid cooling choice. A CPU-only loop was critical, as we did not want the time and cooling hindrance of having to deal with GPU heat in the loop for a CPU test system.
It was decided that a single 45mm-thick EK-CoolStream PE 360 360mm radiator would be an ideal choice to provide ample CPU-only cooling, even for juicy overclocked chips such as the 400W+ Threadripper offerings. The pump/res combo came in the form of EKWB's EK-Quantum Kinetic TBE 200 D5 PWM D-RGB Acetal combo, allowing us to rely upon an ample capacity of liquid within the loop to aid thermal capacitance.
Another critical factor in the cooling equation was our choice of fans. We wanted the ability to dissipate a sizable amount of heat when required, irrelevant of noise output. But the ability to turn the speed down when a high degree of cooling was not required was appealing.
This guided us towards the EKWB EK-Furious Vardar EVO 120 BB fans with a speed range of 750-3000 RPM. The roughly 25-100% PWM duty cycle is ideal for granular control, while the strong static pressure rating should ensure ample airflow is driven through the thick radiator.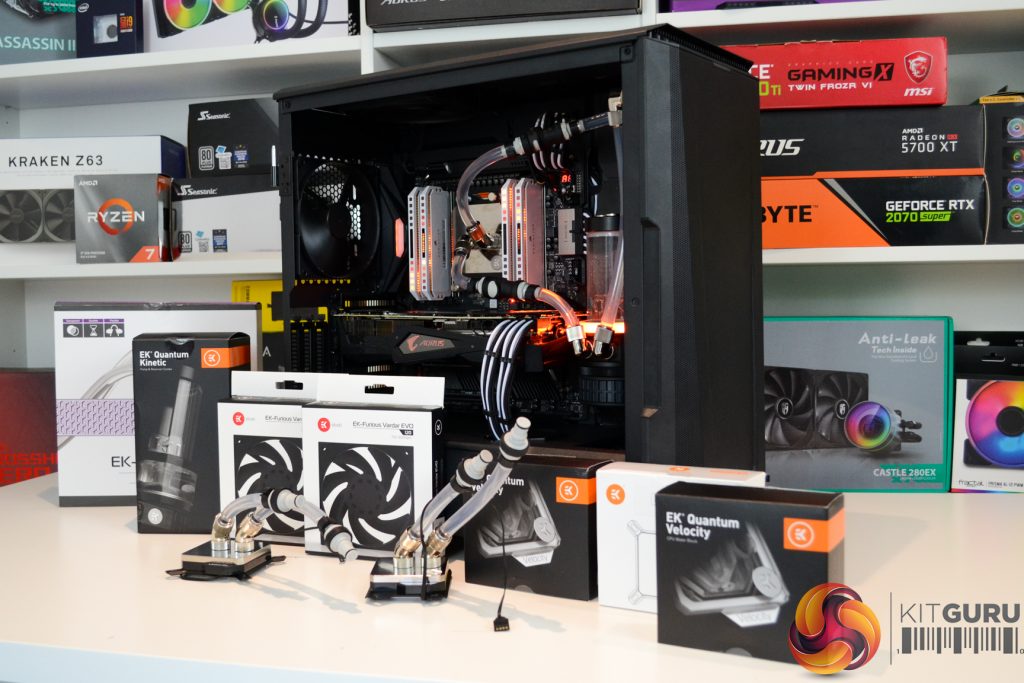 In relation to blocks, we opted for EKWB's EK-Velocity RGB Nickel blocks. One block covered AM4 hardware. Another block will cover Intel LGA 115X, 1200, and 2066 installations. And the final block will provide sTRX4 Threadripper cooling capacity. Added to the Nickel CPU blocks were a host of straight and angled EK-STC Classic and EK-AF Classic Nickel fittings.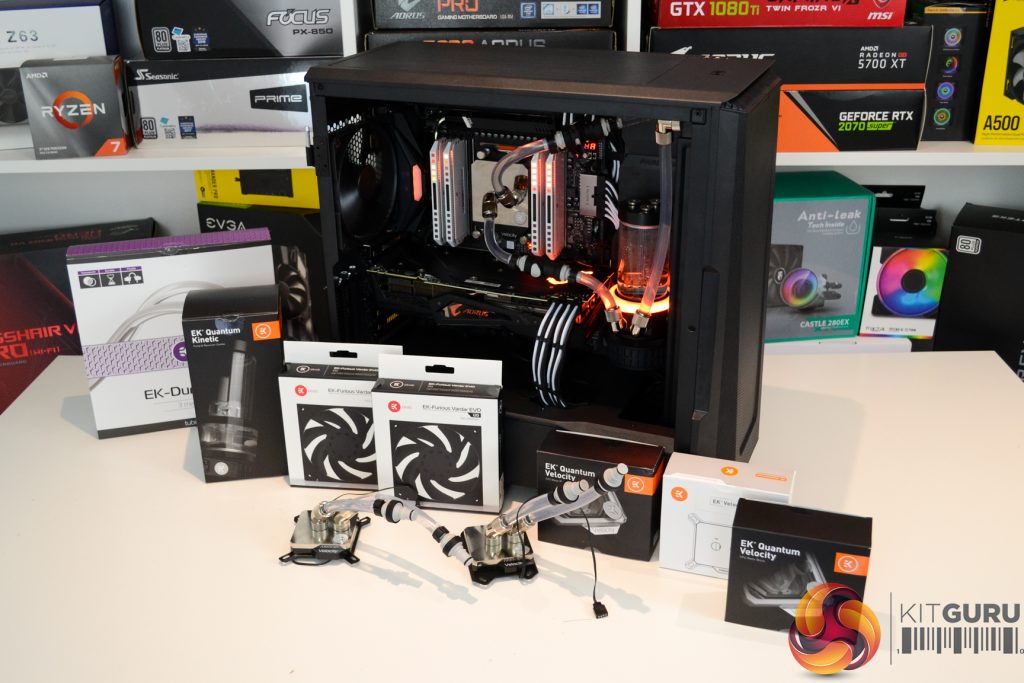 Ease of use and the ability to quickly change CPUs and motherboards were key criteria for this test system build. This forced down the soft tubing route, as the more aesthetically appealing hard tubing would introduce too many installation and reinstallation headaches. We also decided that quick disconnect fittings would be an ideal method of allow swift platform changes without disassembling critical loop components.
The EKWB EK-QDC 10mm Black quick disconnect fittings served an ideal purpose. This would allow us to fit in-line QDC fittings between the CPU block and radiator or pump/res combo. As such, we could disconnect and isolate the CPU block without tearing down the loop.
This meant that a motherboard, CPU, and the installed CPU water block could be quickly and easily removed and then replaced by alternative hardware that is rapidly connected into the main loop.
Our full list of custom liquid cooling parts supplied by EKWB looked as follows:
1 x EK-Velocity RGB Intel Full Nickel CPU block
1 x EK-Velocity RGB AMD Full Nickel CPU block
1 x EK-Velocity sTR4 RGB Full Nickel CPU block
1 x EK-Quantum Kinetic TBE 200 D5 PWM D-RGB Acetal Pump/Res combo
1 x EK-CoolStream Classic PE 360 45mm thick radiator
Numerous EK-QDC 10mm Black quick disconnect fittings
EK-STC Classic 10/13 Nickel straight fittings
EK-AF Classic Angled 45° Nickel fittings
EK-AF Classic Angled 90° Nickel fittings
EK-DuraClear 9,5/12,7mm 3M flexible soft tubing
3 x EK-Furious Vardar EVO 120 BB (750 – 3000rpm) 120mm Fans
EK-CryoFuel Clear (Premix 1000mL) coolant liquid
EK Filling Bottle (1000mL)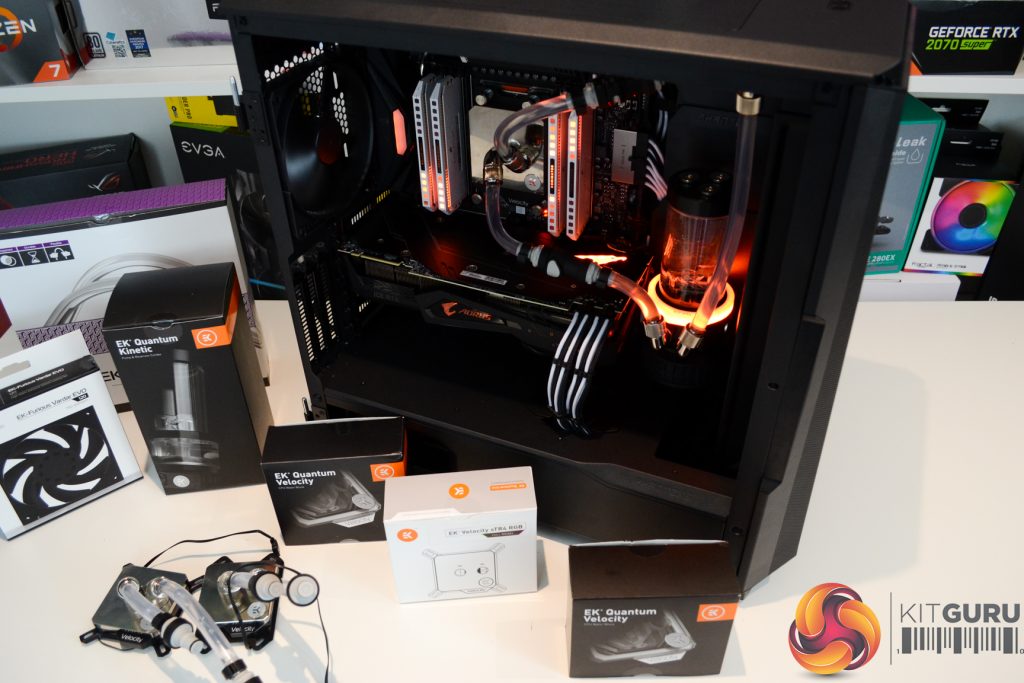 For this build, we had to choose an appropriate selection of hardware that will be used with the test system long term. Our PSU was an obvious choice as the 1kW Seasonic Prime TX-1000 Titanium-rated unit (and its differently named predecessor) has served various test systems superbly well over the years.
We also added some Silverstone braided cables into the mix as they look good and they also serve a function of helping us to switch hardware more rapidly.
Anybody that has read our CPU and motherboard reviews will know that the impressive Gigabyte Aorus RTX 2080 Ti Xtreme graphics card is our go-to option for pixel-pushing horsepower. Coming in comfortably below 12 inches in length, we had no interference concerns in our mid-tower chassis. Though that may not be the case if we move to an RTX 3000 series card in the future…
We opted to roll with an AMD Ryzen 9 3950X-based test system for initial installation. This was built around the well-designed Gigabyte X570 Aorus Xtreme motherboard which is undeniably the most premium AM4 option on the market. As for memory, I liked the styling of Corsair's Dominator Platinum RGB white edition kit that I recently reviewed, so I put it to use in this build.
Of course, the CPU, motherboard, and memory will be switched about frequently depending on our test requirements.
And on the topic of switching test hardware, we changed the motherboard to the Gigabyte TRX40 Aorus Master and Ryzen Threadripper 3960X CPU for our final build. This gave us a good opportunity to run a real-world practise of switching the test hardware to a different platform whilst still maintaining full liquid cooling functionality. As can be seen in the pictures, the switch worked seamlessly.
Our full list of system build components was as follows:
CPU – AMD Ryzen 9 3950X & AMD Ryzen Threadripper 3960X
Motherboard – Gigabyte X570 Aorus Xtreme & Gigabyte TRX40 Aorus Master
Memory – Corsair Dominator Platinum RGB White 32GB 3600MHz
Graphics Card – Gigabyte Aorus RTX 2080 Ti Xtreme
SSD – WD_Black SN750 + Aorus Gen 4 2TB
PSU – Seasonic Prime TX-1000
Chassis – Phanteks P500A
Braided Cables – Silverstone Braided Cables
Brief testing on the Ryzen 9 3950X highlighted temperature reductions of around 5-10C (depending on the workload) for the custom liquid loop versus a Noctua NH-D15. These were quick, simple tests, so the exact numbers should be treated with a pinch of salt. What was important to us was the clear indication of superior cooling performance, even on the relatively moderate Ryzen 9 3950X level of thermal power output.
Switching up to the hefty Threadripper 3960X 24-core chip gave us a perfect opportunity to test the liquid cooling in a more demanding scenario. We observed operating temperatures in the vicinity of 74C with all 24 cores running beyond 4GHz under AIDA64 stress testing and 280W of thermal power being dumped into the liquid loop. That was a result that we were pleased by.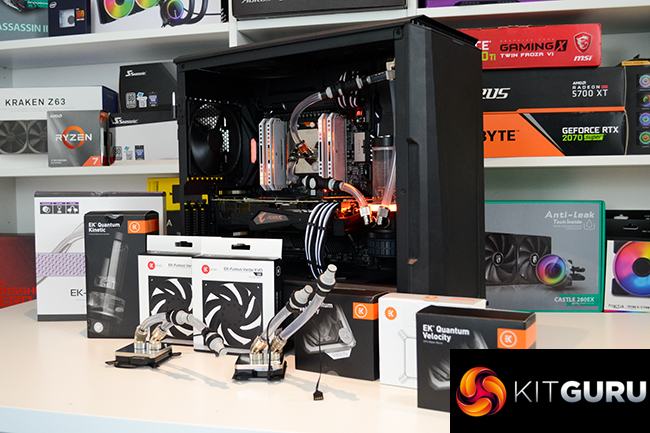 Overall, we were extremely impressed by the success of our functional test system build. I appreciated James' guidance and certainly found the experience far less daunting than I expected, especially given the worry of working with such expensive hardware. EKWB's cooling components are clearly designed with redundancy in focus, and that is proven by additional collars and clips that give extra peace of mind beyond the bare barb fittings.
The cooling hardware worked very well, the Phanteks case was superb throughout and happily took James' minor pump/res mounting modification, and the design of our quick disconnect system seemed to serve its purpose of allowing swift and efficient hardware switches.
I look forward to using this test system more frequently in the future as and when we get the opportunity to test new Intel and AMD processor offerings.
KitGuru says: Let us know what you think of James' efforts in supporting Luke with his first ever custom liquid cooled build. Is there anything that you particularly liked? What would you do differently? And how do you think the choice of hardware fits in with the final build?