AMD's Ryzen 7 1700X continues the trend of superb price-vs-performance especially when competing against Intel's 6+ core HEDT chips. The 8C16T 1700X costs around £400, which is the same as a 6C12T Broadwell-E i7-6800K, but is able to offer performance close to that of a £1000 octa-core from Intel.
Comparing the second-in-command 1700X to the Ryzen 7 flagship again, the lower-cost chip loses a couple of hundred Megahertz at stock and uses silicon that fits less favourably on a voltage-frequency curve. That's where the differences end. You still get a full-fat eight-core chip with SMT doubling the logical threads to 16. The TDP stays at 95W, XFR bumps frequency when operating conditions permit, and the 1700X's unlocked multiplier means that it can be overclocked to surpass 1800X performance levels.

With that said, top-of-the-line overclocking performance is where the cherry-picked silicon forming AMD's Ryzen 7 1800X chips will outperform the cheaper 1700X. While we couldn't take our 1700X sample to the same 4.05-4.1GHz level that our pair of Ryzen 7 1800X processors hit, we did manage a 24/7 stable 4.0GHz overclock using sensible voltage levels. To many enthusiasts, a likely reduction to the headline 24/7 stable overclocked speed by 100-200MHz will be considered a fair compromise for a 20% reduction in purchase price and potentially worse power and temperature numbers.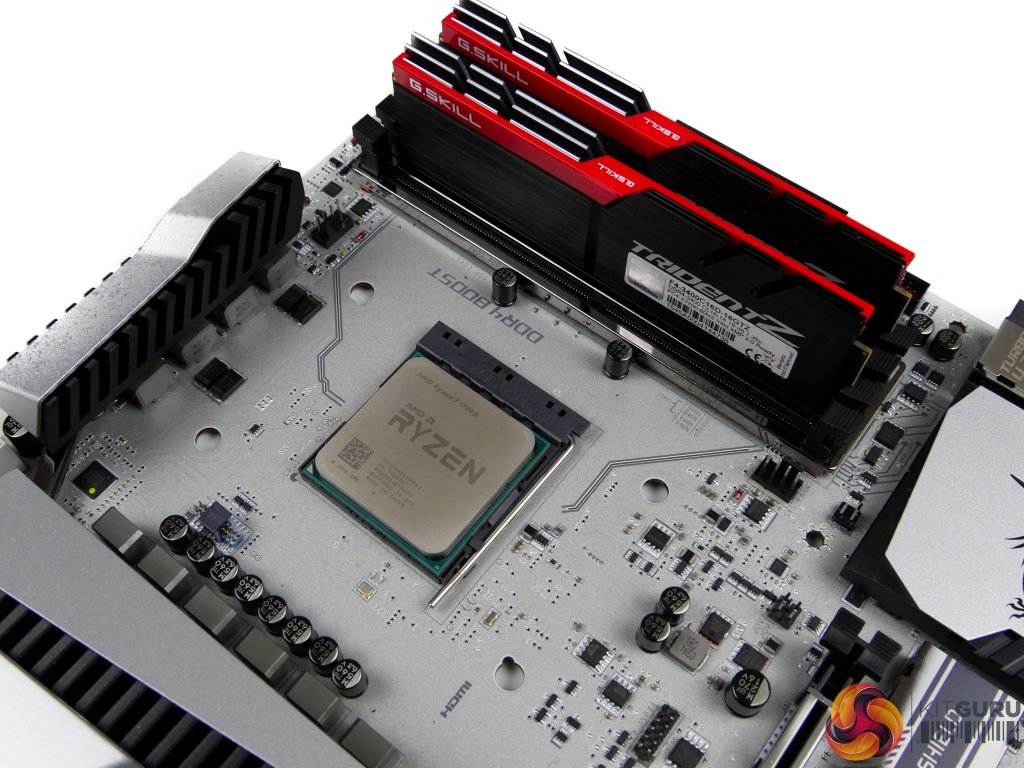 Gaming performance of the Ryzen 7 1700X still trails the levels set by Intel's modern Core i7 CPUs. If you want to consistently push past 100 FPS on your high refresh rate monitor and fast graphics card, you will be better served by a modern Intel processor such as the high-frequency Core i7-7700K or even a Broadwell-E 6800K – Ryzen 7 1700X's most notable price competitor.
If, however, you are not in a position where GPU horsepower is in excess, be that driven by a GPU weaker than the Titan XP or a monitor resolution significantly higher than 1080P, gaming performance from the Ryzen 7 1700X is perfectly adequate. At 4K, noticeable differences between the frame rates of Ryzen 7 and modern Intel Core i7 CPUs (and the Kaby Lake i5-7600K, for that matter) were simply indistinguishable.
You can interpret that point as an opportunity to buy an even cheaper CPU, such as the Core i7-7700K, and get equally strong (stronger, in fact) gaming performance. Alternatively, you can interpret it as an opportunity to outfit your system with an 8-core CPU that delivers a solid gaming experience and almost always outperforms anything that Intel can offer for less than £1000 in computational tasks.
As far as value goes, Ryzen 7 delivers in spades and the 1700X epitomises that characteristic by slashing an extra £100 off the price of AMD's flagship. Until we have put the lower-cost, 65W-TDP 1700 (non-X) through its paces, the 1700X is the Ryzen 7 chip that I would be recommending to overclocking users who are happy to give up a couple of hundred Megahertz headline speed for an extra £100 in their pocket.

The AMD Ryzen 7 1700X is available for £398.99 (at the time of writing) from Overclockers UK.
Discuss on our Facebook page HERE.
Pros:
Superb multi-threaded performance.
Comfortably outperforms the similarly-priced Core i7-6800K in multi-threaded tasks.
Up to 3.9GHz XFR and 3.8GHz Precision Boost frequencies aid single-threaded performance.
Can be overclocked close to Ryzen 7 1800X frequencies and performance levels.
Soldered heatspreader allows for good cooling.
Unlocked CPU multiplier.
Overall cost can be low thanks to the AM4 platform scalability.
Cons:
Gaming performance is not best suited for ultra-high refresh rates and trails Core i7-6800K and i7-7700K levels (outside of GPU-limited scenarios).
Some memory speed limitations – difficult pushing past 3.2GHz.
Fewer PCIe lanes and dual-channel memory are compromises against the Core i7-6800K.
KitGuru says: AMD's Ryzen 7 1700X takes the value proposition a step further and outperforms anything Intel offers at this price point in multi-threaded prosumer workloads.