Cinebench
Cinebench is an application which renders a photorealistic 3D scene to benchmark a computer's rendering performance, on one CPU core, all CPU cores or using the GPU. We run the test using the all-core CPU and single-thread CPU modes.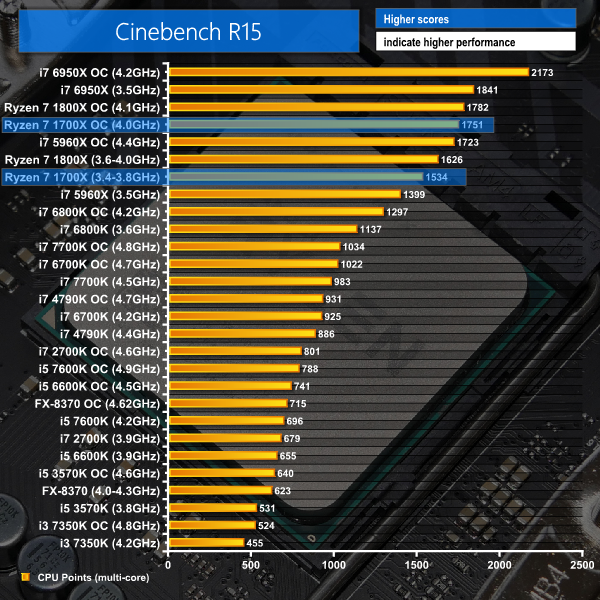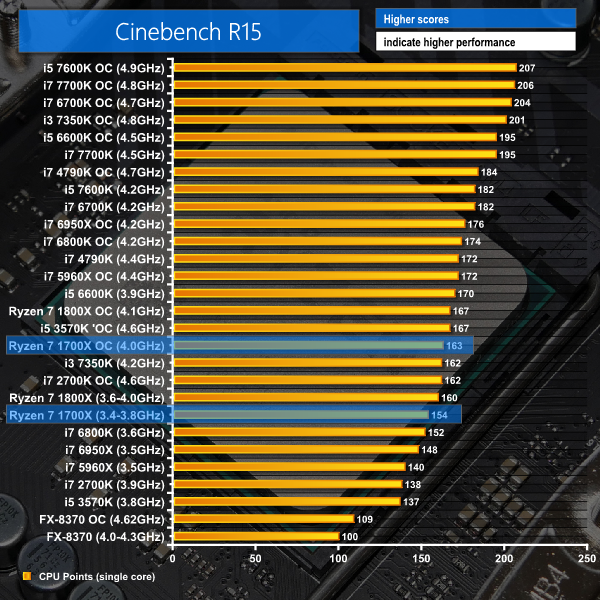 Handbrake Conversion
Handbrake is a free and open-source video transcoding tool that can be used to convert video files between different codecs, formats and resolutions. We measured the average frame rate achieved for a task of converting a 6.27GB 4K video using the Normal Profile setting and MP4 container. The test stresses all CPU cores to 100% and shows an affinity for memory bandwidth.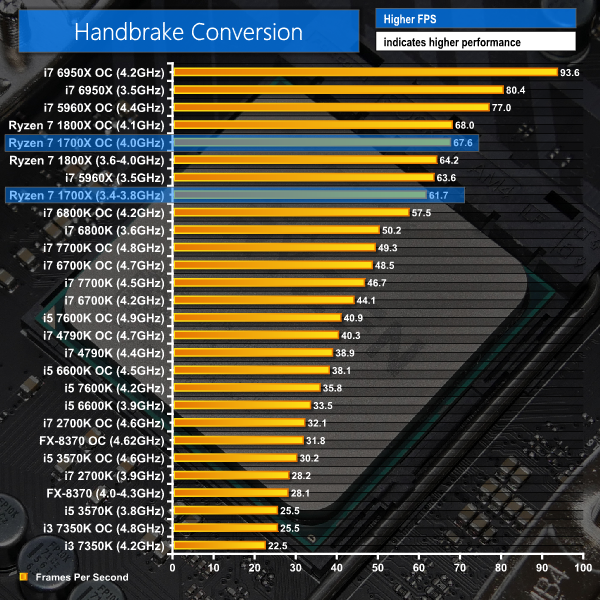 x265 Encoding

x265 Encoding tests system performance by encoding a 1080p test file using the x265/HEVC format.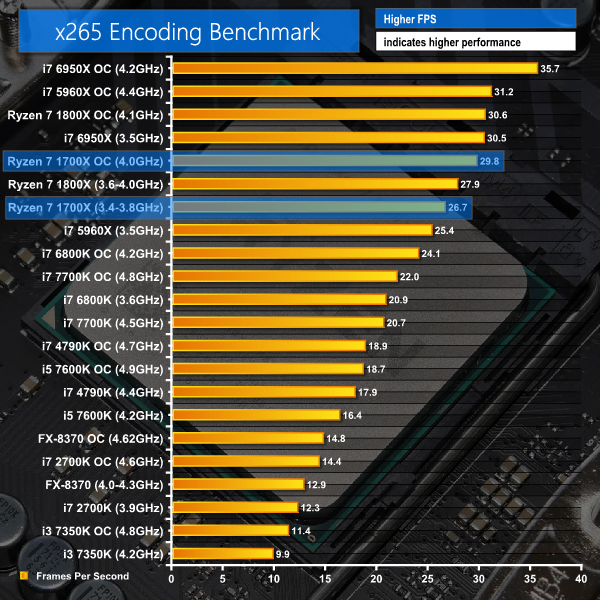 CPU-related testing overview:
Its balance of cores, threads, and clock speed put the Ryzen 7 1700X in good positions in these three benchmarks. Cinebench multi-threaded performance puts the stock-clocked 1700X ahead of a Core i7-5960X that cost two-and-a-half times as much when it dominated the market just a couple of years ago. Overclocking the 1700X to 4GHz brings it to within 90 points (5%) of the stock Core i7-6950X which cost more than four times as much.
Handbrake shows solid performance thanks to its ability to saturate the Ryzen 7 1700X's 16 threads while also taking advantage of its clock speed. You get performance close to Intel's 8C16T Haswell-E chip under stock-clocked conditions. Add in an overclock to the 1700X and you can beat Intel's 8C16T contender. However, Handbrake makes good use of the Intel HEDT chips' fat AVX pipelines and quad-channel memory, allowing the 5960X (when overclocked) and 6950X to dominate at the top of the chart. Still, Ryzen 7 1700X looks to be a superb value option if you have a large media library ready for converting and offloading onto a network media server or portable device.
Solid results are also shown in x265 encoding tasks. Throw an overclock to around 4GHz onto the 1700X and you'll get 6950X-level performance for less than a quarter of the cost. Of course, the 6950X can also be overclocked further but that doesn't take away from the significance of achieving such a narrow performance gap while having such a sizeable price difference.
Single-core performance is good and sits somewhere between Haswell-E and Broadwell-E levels. Cinebench sits the Ryzen 7 1700X just above a stock-clocked 6800K in Cinebench's single-core test, although the 1700X is benefiting from enhanced operating frequencies thanks to its 3.8GHz Precision Boost capability and up to 3.9GHz clock speed with XFR.