7-Zip
7-Zip is an open source Windows utility for manipulating archives. We measure the Total Rating performance using the built-in benchmark tool. The test stresses all CPU cores to 100% and shows an affinity for memory bandwidth.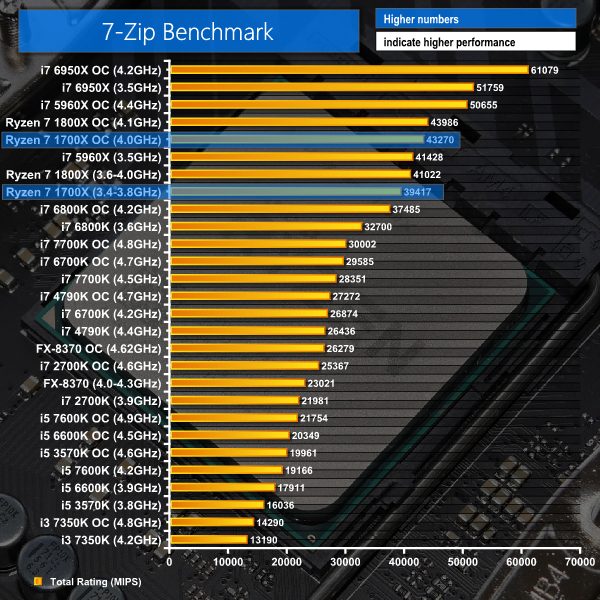 Mozilla Kraken

Mozilla Kraken is a browser-based JavaScript benchmark that tests a variety of real-world use cases. We use Chrome as the test browser. The test exhibits very little multi-threading and shows an affinity for CPU clock speed and IPC.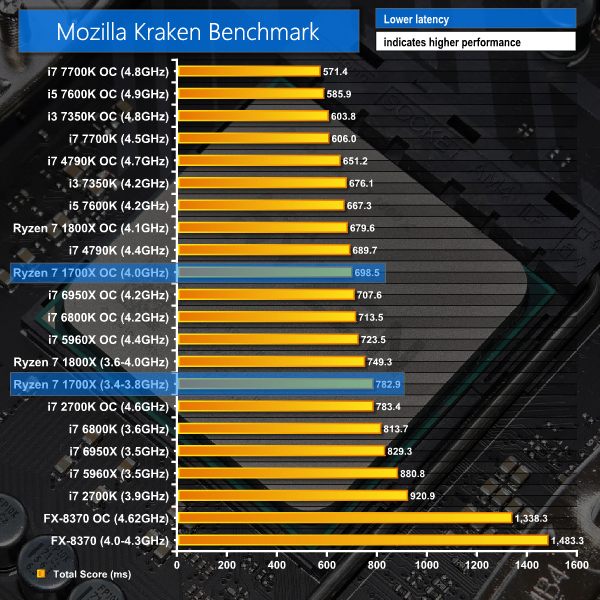 WPrime

WPrime is a leading multithreaded benchmark for x86 processors that tests your processor performance by calculating square roots with a recursive call of Newton's method for estimating functions. We use the 1024M test in WPrime to analyse processor calculation performance.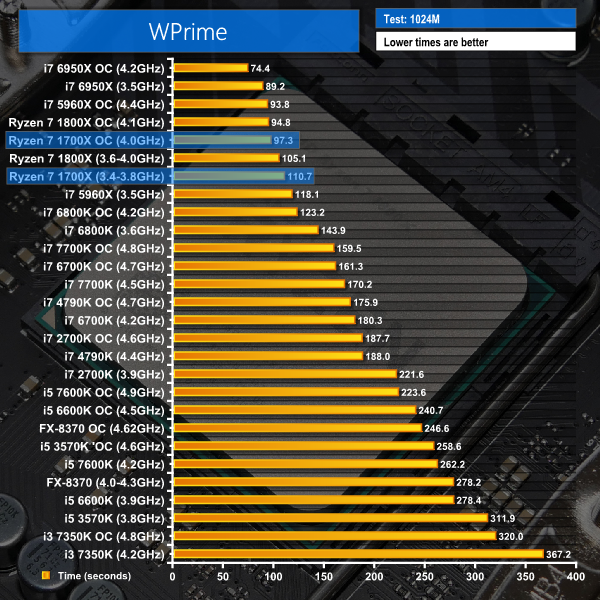 CPU-related testing overview:
7-Zip is well multi-threaded but also likes memory bandwidth. As such, the Ryzen 7 1700X puts in a strong score at stock frequencies but it cannot compete with the Intel HEDT 8-core and 10-core parts thanks to their quad-channel memory (and 32GB versus 16GB in our test systems). That same use of quad-channel memory on the £400 Core i7-6800K allows it to almost eliminate the performance gap, with the aid of a 4.2GHz overclock, to the £400 Ryzen 7 1700X. However, increasing the 1700X's operating speed to 4.0GHz allows it to re-open a performance lead of 17% over the 4.2GHz 6800K. Not bad for a chip that is priced the same.
Mozilla Kraken is single-threaded but it is a good indication of how 'snappy' browsing will feel. The 1700X performs better than the 6800K when both are at their reference frequencies and it maintains a performance lead when both chips are overclocked. AMD has done a stellar job at bridging the gap to Intel in the IPC department, compared to the company's previous architectures (just look at that Piledriver-based FX-8370 CPU's performance). With that said, there's no beating the fast Skylake architecture in this scenario.
WPrime proves the 1700X to be a stellar number-cruncher with the £400 octa-core putting in performance numbers very close to those set by Intel's HEDT 8C16T i7-5960X. Switching focus to the Broadwell-E 6800K price competitor, the 1700X's additional two cores allow it to open up a noticeable performance lead over Intel's £400 part. With both chips overclocked, AMD's part gets the job done 25.9 seconds (21%) quicker. It's also worth pointing out the 1700X does a good job at showing up the £100 more expensive Ryzen 7 1800X that is barely able to outperform it thanks to a higher overclocked frequency.