Our objective with CPU overclocking is to hit frequencies that we think will be achievable for daily use by the platform's buyers. As such, we test with sensible cooling hardware in the Corsair H110i GT 280mm AIO. We also used sensible voltages that lead to manageable thermal results.
Stability is confirmed by running multiple Cinebench tests, Handbrake video conversion, and AIDA64 CPU, FPU, and Cache stress test for at least 1 hour. We do not use Prime95 as we have found it to be overly demanding as a stress test application with the more recent AVX-capable versions.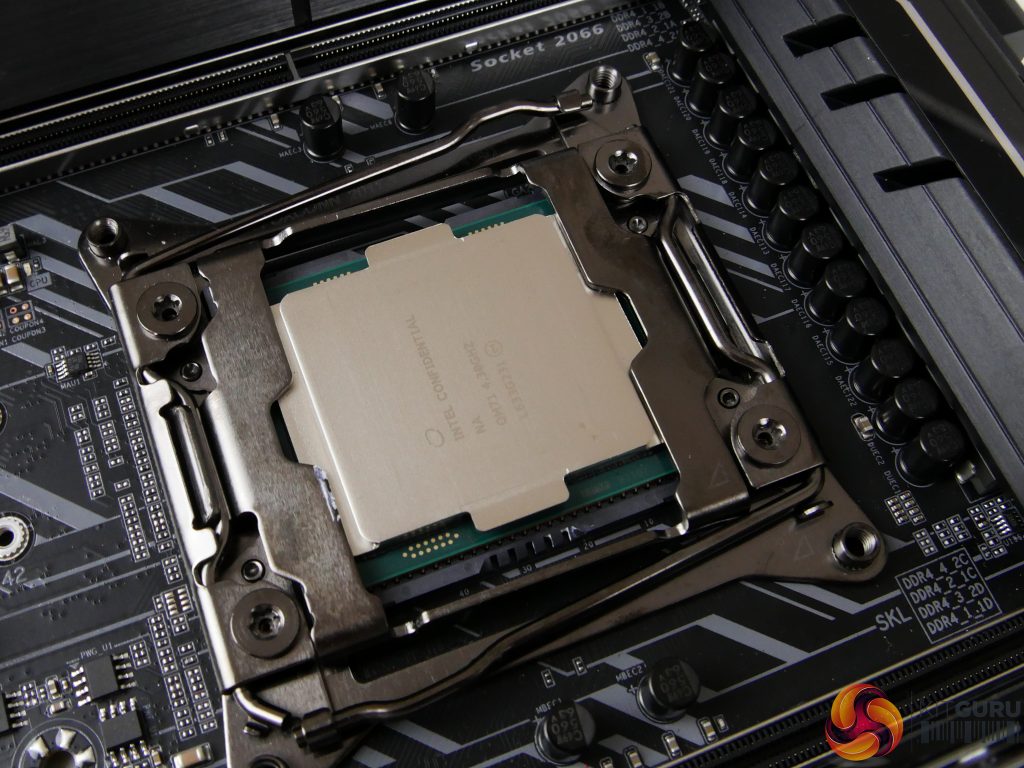 The partnering hardware of choice is the ASUS X299-Deluxe motherboard, 16GB of G.SKILL TridentZ 3200MHz CL14 DDR4, and a Seasonic 760W Platinum PSU. We chose the ASUS motherboard due to its strong power delivery system based around International Rectifiers MOSFETs.
That added 4-pin power connector gives extra peace of mind when overclocking the very power-hungry Skylake-X CPUs but is not really necessary for Kaby Lake-X overclocking (outside of LN2 extreme OC). We also point a 100mm Antec Spot Cool at the VRM heatsink to provide direct airflow for cooling.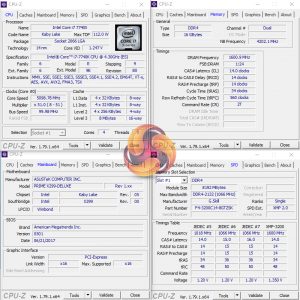 Overclocking with the Kaby Lake-X Core i7-7740X is very rewarding. We were able to hit 5.0GHz very easily with minimal adjustment to the system – we simply applied 1.25V VCore in the UEFI and opted for the Level 3 LLC setting.
Jumping up to 5.1GHz saw us needing 1.30V in the UEFI for stability. We also opted to change the LLC mode to Level 1 but we were unable to validate actual load voltages due to current software reading errors and the ASUS board's lack of voltage check points. The system was stable with these settings and temperatures were in check using the Corsair H110i GT 280mm AIO cooler.
In short, our final Core i7-7740X overclocking settings using an ASUS X299-Deluxe motherboard were:
5.1GHz on all cores.
1.30V CPU VCore (in the UEFI).
Level 1 LLC (around 1.24V AIDA 64 load VCore in OS, according to software readings).
Multiple Cinebench R15 multi-core runs to validate stability, as well as AIDA64 CPU stress test.
DDR4-3200MHz 14-14-14-34 @ 1.35V.
Overclocking comments:
Our overclocking results with the Core i7-7740X were positive, hitting 5.1GHz on all cores while maintaining sensible temperature levels. If you are happy pushing the voltage further, it is likely that 5.2GHz will be achievable, provided you can cool the chip.
The overclocking performance looks to be around 100-400MHz better than that of a Core i7-7700K in general. Our specific Core i7-7700K is perfectly stable at a conservative 4.8GHz with 1.31-1.35V and we have seen many 7700K users push their chips to 4.9GHz and 5.0GHz with appropriate cooling.
Core i7-7740X delivers in terms of overclocking results and is likely to be even more overclockable if you decide to delid the chip and replace its TIM with a higher-quality solution.