7-Zip
7-Zip is an open source Windows utility for manipulating archives. We measure the Total Rating performance using the built-in benchmark tool. The test stresses all CPU cores to 100% and shows an affinity for memory bandwidth.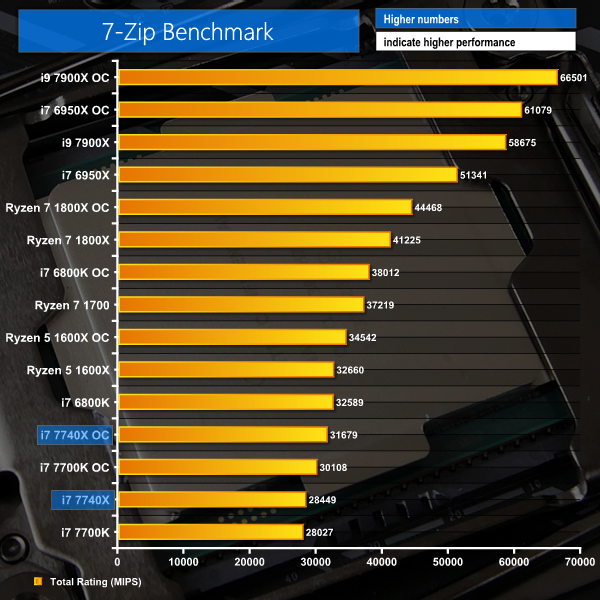 Mozilla Kraken

Mozilla Kraken is a browser-based JavaScript benchmark that tests a variety of real-world use cases. We use Chrome as the test browser. The test exhibits very little multi-threading and shows an affinity for CPU clock speed and IPC.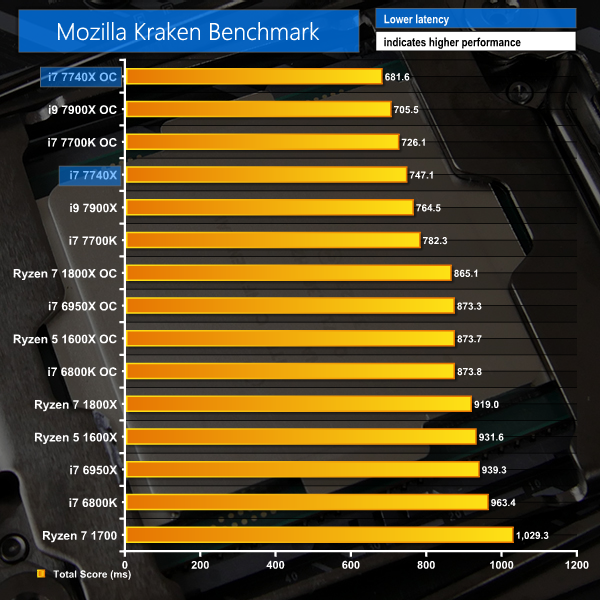 Sandra Memory Bandwidth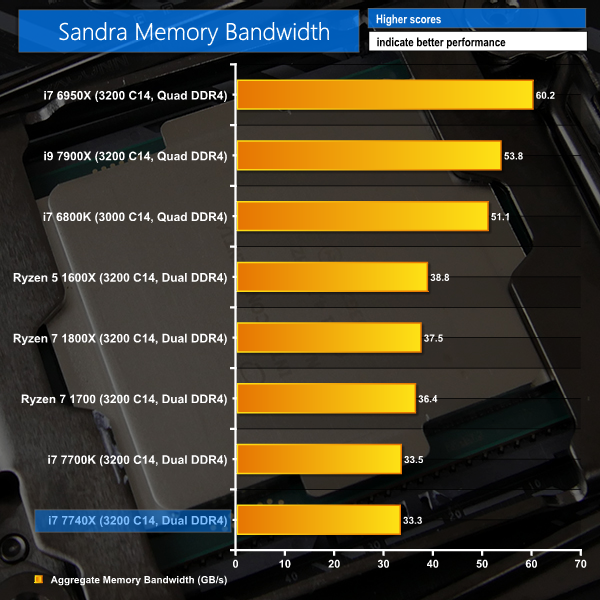 Overview:
7-Zip is well multi-threaded and therefore the Ryzen 7 1700 hands the stock-clocked i7-7740X a strong beating in that test, outperforming Intel's chip by 31%. Intel, however, has the advantage when it comes to Mozilla Kraken performance thanks to the fast operating frequency and well-built microarchitecture being far more important than core count.
Compared to the Core i7-7700K, Intel's new Kaby Lake-X chip is marginally faster thanks to its 100MHz frequency advantage. Turning on the afterburners and overclocking the 7740X to 5.1GHz, however, yields strong results in the 7-Zip benchmark and chart-topping performance Mozilla Kraken.
Intel's dual-channel Core i7s trail Ryzen in terms of memory bandwidth. An even greater performance deficit is shown against the quad-channel Intel HEDT processors. Kaby Lake-X is not the best choice if memory bandwidth is important. However, an AIDA64 latency score of 42.9ns, versus 73.5ns for the Ryzen 7 1700, shows where the dual-channel Core i7s perform well.