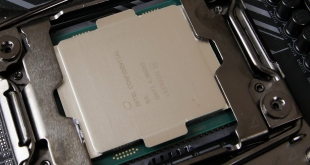 How do you take a High-End Desktop (HEDT) platform laden with six-to-double-digit core count CPUs and make it more appealing to a wider mainstream audience? Add quad-core options, of course. Yes, that's the utterly bizarre approach that Intel has taken with X299, putting consumers in a position where they can buy a quad-core processor on a platform designed for up to 18-core chips, quad-channel memory, and 28+ PCIe lanes. Adding salt to the wound, many X299 motherboards retail for more than the cost of the 4C8T Core i7-7740X (not to mention the Core i5-7640X!).
Anyway, can Intel's $339 Core i7-7740X prove itself as a worthy option despite the cost increase of at least £100 over a comparable LGA 1151-based system, the forced obsolescence of numerous X299 platform features, and the removal of a sometimes-convenient integrated GPU for no reduction in purchase price to consumers? Maybe the Core i7-7740X will be aided by the 100MHz uptick in base frequency over the Core i7-7700K, or the increase in TDP, or the native support for DDR4-2666MHz memory.

To summarise briefly, and not waste anybody's time, the Core i7-7740X is, for all intents and purposes, a Cored i7-7700K re-packaged for Intel's new HEDT LGA 2066 socket and the X299 platform. There are subtle changes, such as the increase in base clock frequency to 4.3GHz, up from 4.2GHz of the LGA 1151 Core i7-7700K.
The Core i7-7740X also gets a 23% higher TDP rating (112W vs 91W) which may help when maintaining boost frequencies, in which case the Kaby Lake-X chip still tops out at the same 4.5GHz as the Kaby Lake 7700K. Memory support is better for Kaby Lake-X, allowing for DDR4-2666MHz natively, as opposed to DDR4-2400MHz/DDR3L-1600MHz for LGA 1151 Kaby Lake. Not that enthusiasts are likely to care given the proficiency of motherboards in supporting higher memory speeds well into the 3GHz domain.
Oh, and let's not forget that the integrated HD 630 GPU from the i7-7700K is removed, but not with an accompanying reduction in consumer retail price. The removal of an iGPU on what is a high-end enthusiast CPU is not something that most people would usually care about. However, when that sometimes useful (for troubleshooting, or Quick Sync support for streamers, for example) iGPU is removed and the price is not dropped accordingly, that can easily leave a sour taste in consumers' mouths. Even a $20-30 decrease in cost would have been a warranted touch that helped to offset the increased X299 platform cost.
The wider picture for the Kaby Lake-X Core i7-7740X, at the moment, looks to be a case of paying the same to get less while also locking into a more expensive platform.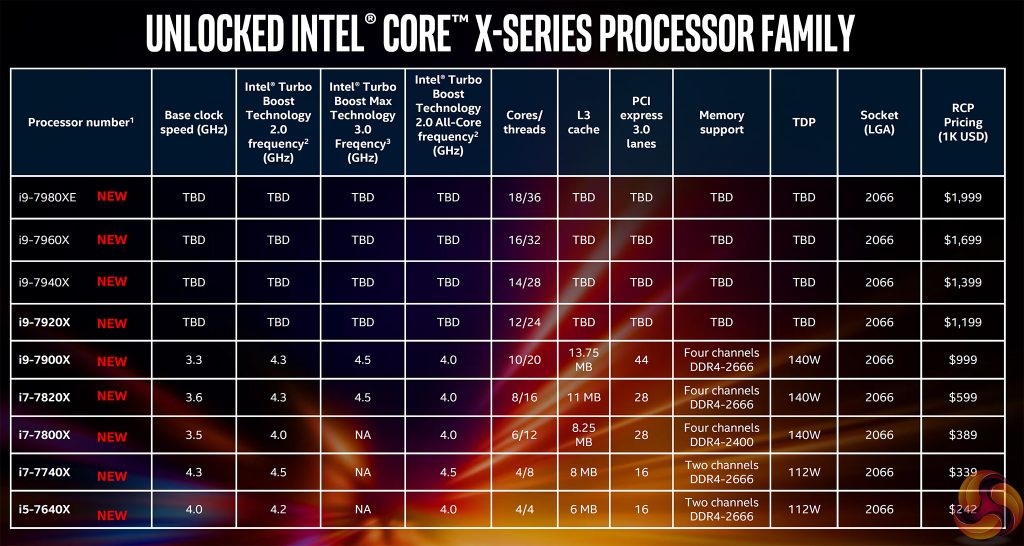 Kaby Lake-X can clearly claim to be a solid stop-gap processor for enthusiasts who wish to upgrade later, perhaps when the 12-18 core CPUs launch, for example. However, a $339 'stop-gap' processor is hardly a disposable asset and the same can be said for the $242 Core i5-7640X. And what happens when the i7-7740X is demoted following its 'stop-gap' duty being completed?
The second-hand market for a quad-core CPU on the, eventually, fully-fledged LGA 2066 line-up is likely to be bare of demand. Repurposing the chip will require the purchase of an expensive partnering X299 motherboard, unlike the cheap, bargain-basement LGA 1151 options that a Core i7-7700K could happily sit in. The lack of iGPU also rules out the easy route of putting the processor inside a powerful HTPC or even a home server which can benefit from basic display output capabilities (for the UnRaid GUI, for example).
Compare that to the Core i7-7700K and its cheaper platform cost (significantly cheaper when factoring in non-overclocking chipset motherboards) and the set of options following its retirement is far greater.
We would even argue that the 6C12T Skylake-X i7-7800X is a far better choice as a 'stop-gap' solution for $50 more than the i7-7740X. If you're upgrading to a higher-core-count Skylake-X model in the future, the six cores of the 7800X are likely to be useable to you now, despite its reduction in headline (and probably overclockable) frequencies.
| | | | | | | |
| --- | --- | --- | --- | --- | --- | --- |
| CPU | Intel Core i7 7740X | Intel Core i7 7700K | Intel Core i7 7800X | Intel Core i9 7900X | AMD Ryzen 7 1800X | AMD Ryzen 7 1700 |
| CPU Codename | Kaby Lake-X | Kaby Lake | Skylake-X | Skylake-X | Zen | Zen |
| Core / Threads | 4 / 8 | 4 / 8 | 6 / 12 | 10 / 20 | 8 / 16 | 8 / 16 |
| Base Frequency | 4.3GHz | 4.2GHz | 3.5GHz | 3.3GHz | 3.6GHz | 3.0GHz |
| Boost Frequency | 4.5GHz | 4.5GHz | 4.0GHz | 4.3GHz | 4.0GHz | 3.7GHz |
| Maximum Frequency (XFR / TBM 3.0) | n/a | n/a | n/a | 4.5GHz (TBM 3.0) | 4.1GHz (XFR) | 3.75GHz (XFR) |
| Unlocked Core Multiplier | Yes (x1 granularity) | Yes (x1 granularity) | Yes (x1 granularity) | Yes (x1 granularity) | Yes (x0.25 granularity) | Yes (x0.25 granularity) |
| L3 Cache | 8MB | 8MB | 8.25MB | 13.75MB | 16MB | 16MB |
| Max. Memory Channels | 2 (DDR4) | 2 (DDR4 & DDR3L) | 4 (DDR4) | 4 (DDR4) | 2 (DDR4) | 2 (DDR4) |
| Max. Memory Frequency (Native) | 2666MHz | 2400MHz / 1600MHz | 2400MHz | 2666MHz | 1866 to 2667MHz | 1866 to 2667MHz |
| PCIe Lanes | 16 | 16 | 28 | 44 | 16+4+4 | 16+4+4 |
| CPU Socket | LGA 2066 | LGA 1151 | LGA 2066 | LGA 2066 | AM4 | AM4 |
| Manufacturing Process | 14nm | 14nm | 14nm | 14nm | 14nm | 14nm |
| TDP | 112W | 91W | 140W | 140W | 95W | 65W |
| MSRP | $339 | $339-350 | $389 | $999 | $499 | $329 |
| UK Street Price (June 2017) | Approx. £320 | Approx. £320 | Approx. £360 | Approx. £950 | Approx. £450 | Approx. £300 |
Overclocking is clearly an area where Kaby Lake-X looks to make sense. Intel has placed the 4C8T Kaby Lake-based chip, blessed with the company's most modern refined 14nm process technology, on the LGA 2066 socket. That allows it to leverage the higher-performance power delivery solutions on X299 motherboards which is likely to aid the CPU's overclocking capability. Definitely a tick in the correct box for enthusiasts who care about nothing other than all-out frequency, no matter how the value perspective looks.
There are also prosumers with workloads who need blazing-fast speed on a relatively small number of cores, be it due to poor multi-threading of their software or per-core licensing fees, and will pay up for that privilege. High-frequency traders or perhaps engineers using old, poorly-threaded software packages, which I was unfortunate enough to encounter somewhat frequently during my time at university, spring to mind.
That's not to say that Kaby Lake-X will find itself in the latest City high-rises dealing with fraction-of-a-second movements on the stock markets. However, to home enthusiasts who dabble in some of the aforementioned use cases, be it for education or other means, Kaby Lake-X may have gained their attention.
That's enough of an introduction for Kaby Lake-X and the Core i7-7740X. Let's see how it performs. First stop, the overclocking results.
Be sure to check out our sponsors store EKWB here