Cinebench
Cinebench is an application which renders a photorealistic 3D scene to benchmark a computer's rendering performance, on one CPU core, all CPU cores or using the GPU. We run the test using the all-core CPU and single-thread CPU modes.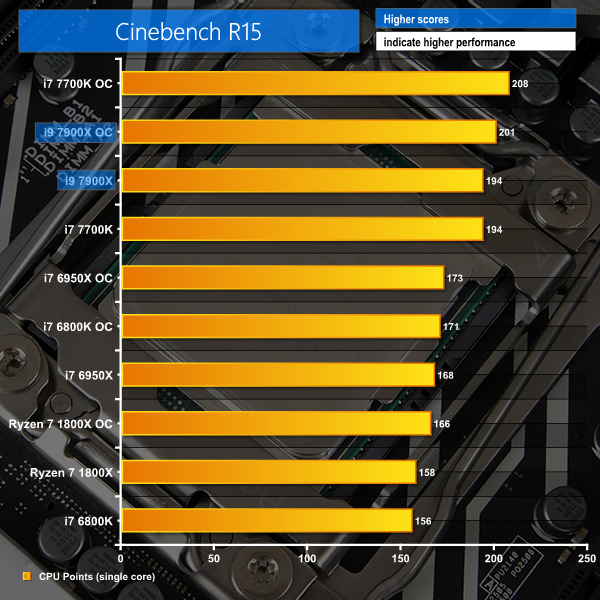 Handbrake Conversion
Handbrake is a free and open-source video transcoding tool that can be used to convert video files between different codecs, formats and resolutions. We measured the average frame rate achieved for a task of converting a 6.27GB 4K video using the Normal Profile setting and MP4 container. The test stresses all CPU cores to 100% and shows an affinity for memory bandwidth.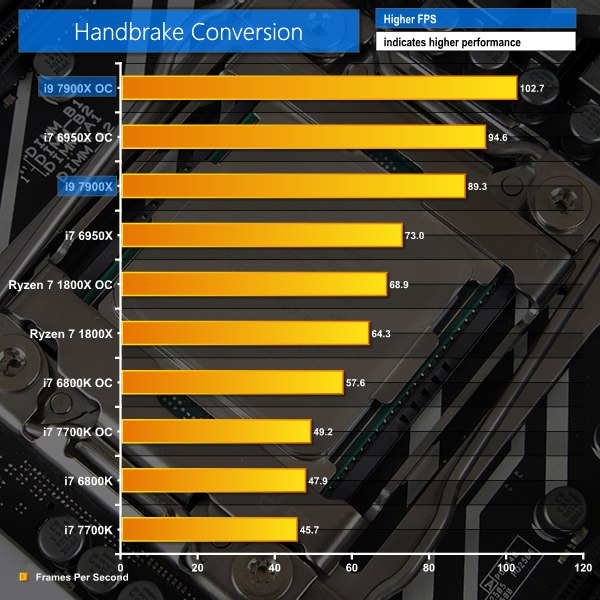 x265 Encoding

x265 Encoding tests system performance by encoding a 1080p test file using the x265/HEVC format.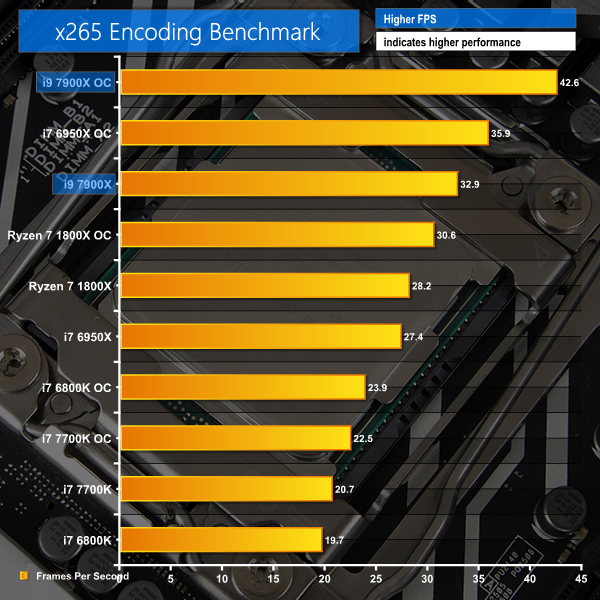 Overview:
Multi-threaded performance from the Core i9-7900X is superb. There's no other way of putting it. In Cinebench multi-threaded, the Skylake-X 10-core chip is 21% faster than the Core i7-6950X it replaces at stock frequencies and 13% with both processors overclocked. Switch focus to Ryzen 7 1800X, and the i9-7900X is 33% faster at stock and 38% better when overclocked. Single-threaded performance also shows Skylake-X in a positive light thanks to its high clock speeds and modern architecture.
Handbrake performance for the 7900X is strong but the chip's tendency to reduce its frequency to 3.6GHz during conversion resulted in reduced performance against an overclocked 6950X. We saw similar frequency reduction characteristics from the 6950X and this is a testament to the stress placed on CPUs by Handbrake. Compared to the 6950X, the i9-7900X is 22% faster at stock and 9% quicker when overclocked. Skylake-X's 10-core beats Ryzen 7 1800X by 39% at stock and 49% when overclocked.
The x265 encoding benchmark rewards clock speed on multi-threaded CPUs, hence why Ryzen 7 gets so close to the performance of the 7900X. Compared to the Broadwell-E 10-core chip, Core i9 is 20% faster at stock and 19% quicker with both overclocked. Ryzen 7 shows solid performance but the 10-core 7900X is 17% quicker at stock and 39% better with both overclocked.
If you are looking for a multi-threaded beast, Intel's new Core i9-7900X is just that. It puts a beating on every other CPU in our charts at stock, and only the Broadwell-E i7-6950X can show competitive performance when heavily overclocked.