3DMark
3DMark is a multi-platform hardware benchmark designed to test varying resolutions and detail levels of 3D gaming performance. We run the Windows platform test and in particular the Fire Strike benchmark, which is indicative of high-end 1080p PC Gaming. We also test using the Time Spy benchmark which gives an indication of DirectX 12 performance.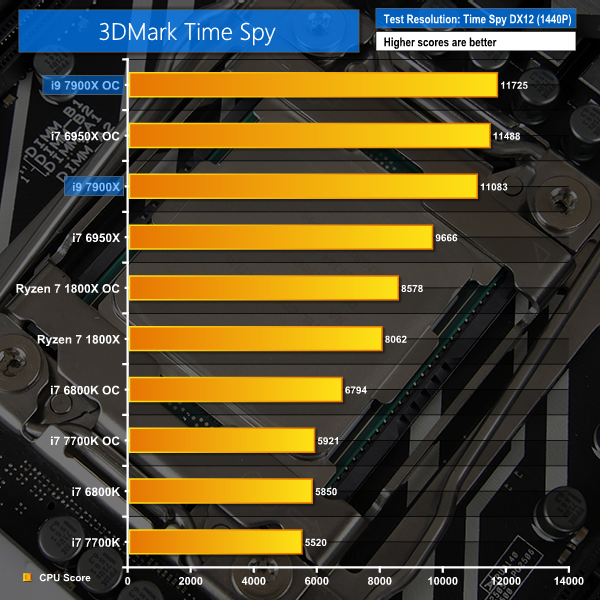 Grand Theft Auto V

Grand Theft Auto V remains an immensely popular game for PC gamers and as such retains its place in our test suite. The well-designed game engine is capable of providing heavy stress to a number of system components, including the GPU, CPU, and Memory, and can highlight performance differences between motherboards.
We run the built-in benchmark using a 1080p resolution and generally Maximum quality settings (including Advanced Graphics).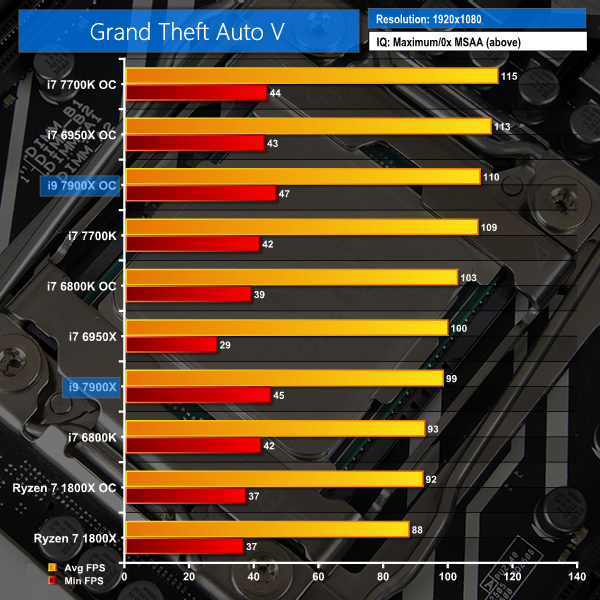 Metro: Last Light Redux

Despite its age, Metro: Last Light Redux remains a punishing title for modern computer hardware. We use the game's built-in benchmark with quality set to Very High, SSAA enabled, AF 16X, and High tessellation.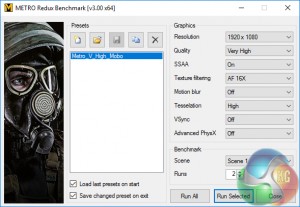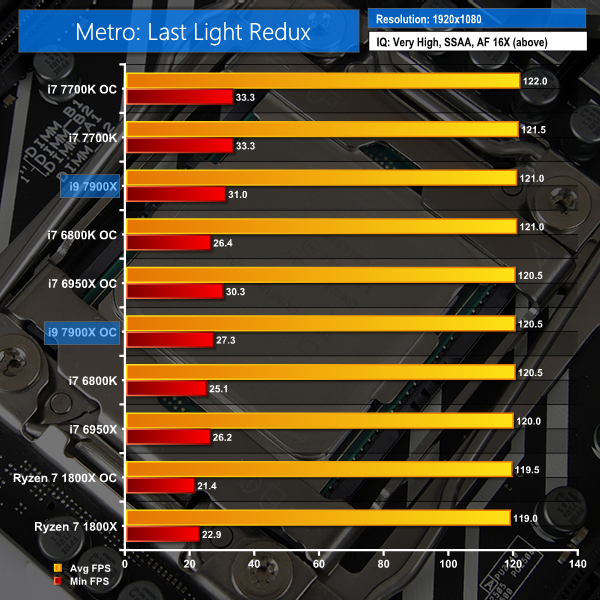 Gaming Performance Overview:

3DMark's Time Spy DX12 benchmark shows a liking for the 7900X. This benchmark scales well with core count in a manner that few games currently follow. It is, however, a promising insight to performance with potential future more multi-threaded titles.
GTA V performance from the 7900X is a little surprising, given that Skylake architecture and a 4.0GHz clock speed should result in performance that handily outperforms the stock-clocked i7-6950X. That is, however, not the case. It seems that the rebalanced cache for Skylake-X is having a slightly negative influence on gaming performance, compared to Kaby Lake and Broadwell-E. The overclocked 6950X is slightly faster than the overclocked 7900X in GTA V at 1080P, despite the latter's 400MHz clock speed advantage. With that said, the Skylake-X 10-core is faster than Ryzen in GTA V (which is not surprising given GTA V's affinity for Intel architectures).
Even at 1080P, Metro: Last Light Redux is GPU-limited at 120 FPS. As such, all CPUs will perform pretty much the same in this title. Kaby Lake's Core i7-7700K is consistently the fastest part, with Ryzen 7 1800X propping up the pack. The Skylake-X 10-core sits nicely in between with strong minimum FPS numbers.