Ashes of the Singularity Escalation

Ashes of the Singularity Escalation is a Sci-Fi real-time strategy game built for the PC platform. The game includes a built-in benchmark tool with DirectX 12 support. We run the CPU-focused benchmark using DirectX 12, a 1080p resolution and the Extreme quality preset.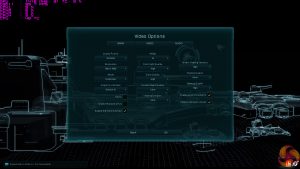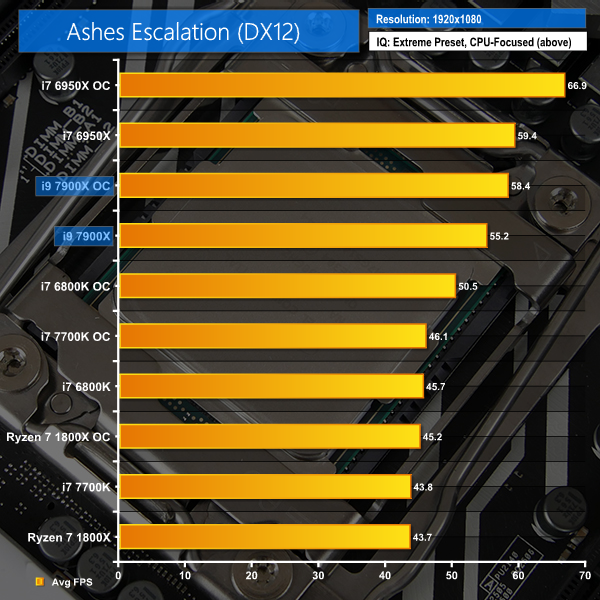 Ghost Recon Wildlands

Tom Clancy's Ghost Recon Wildlands is an open world tactical shooter video game developed by Ubisoft Paris. It is the tenth instalment in the Tom Clancy's Ghost Recon franchise and is the first Ghost Recon game to feature an open world environment.
We run the built-in benchmark using a 1080P resolution and the Very High quality preset.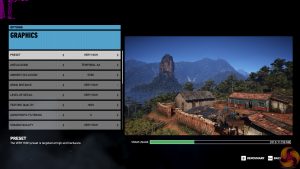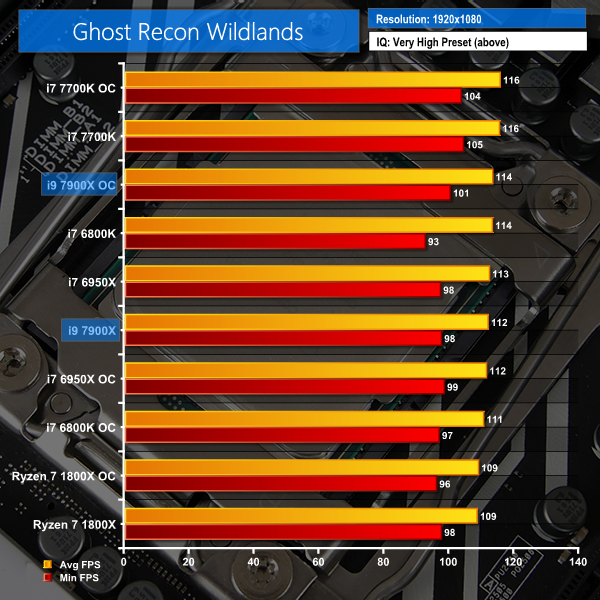 Total War: Warhammer

Total War: Warhammer is another title which features both DX11 and DX12 modes. Heavy loading can be placed on the CPU using the built-in benchmark. The DX12 mode is poorly optimised and tries to force data through a low number of CPU threads rather than balance operations across multiple cores. As such, this gives a good look at pure gaming performance of each CPU in titles that aren't well multi-threaded.
We run the built-in benchmark using the DirectX 12 mode, a 1080p resolution, and the Ultra quality preset.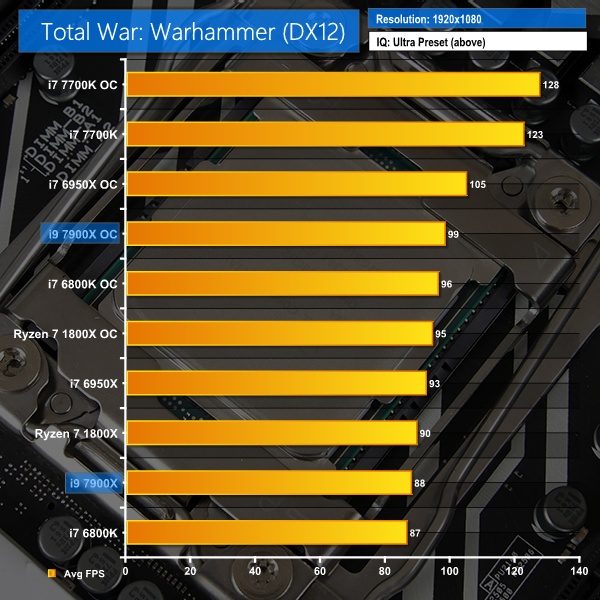 Gaming Performance Overview:

Ashes of the Singularity: Escalation shows a preference for the 6950X, placing it ahead of both the stock and overclocked i9 processor. This is likely related to the rebalanced cache for Skylake-X.
Ghost Recon Wildlands keeps performance tight between CPUs and looks to prefer clock speed more than massive core counts. Ryzen 7 props up the chart with its small performance deficit while the 7900X sits behind Kaby Lake's fast 7700K towards the highest performance point.
Even in the DX12 mode, Total War: Warhammer shoves sizeable amounts of work through a single thread, keeping it pinned at 100% utilisation. As such, the performance hierarchy becomes a race for IPC and clock speed. However, we noticed stuttering on Intel's HEDT platforms that was not present on the Ryzen 7- and 7700K-based alternatives. These stutters resulted in reduced average performance for the HEDT chips as minimum FPS numbers plummeted. If you want to play Total War: Warhammer, the 7700K is the best option. Skylake-X is fine with a healthy overclock but its result is far from flattering for a $999 CPU (albeit possibly fixable with software patches).