The Intel Core i9-7900X 'Skylake-X' 10-core processor unlocks a new level of performance for enthusiast consumers. Multi-threaded performance is superb thanks to the use of ten physical cores with Hyper-Threading and quad-channel memory, while lightly-threaded results are equally promising thanks to the high clock speeds used in tandem with Intel's excellent Skylake architecture.
Multi-threaded performance from the i9-7900X is at a whole new level. Performance increases over the Core i7-6950X in Cinebench, Handbrake, 7-Zip, and x265 encoding are in double-digit figures in percentage terms before overclocking is thrown into the mix. Skylake-X's current flagship is the fastest consumer processor available for a variety of multi-threaded tasks. It's quite the bargain compared to the ridiculously-priced i7-6950X, too, not that that is any form of praise.

Gaming performance is good but it's not market-leading. Users interested solely in gaming (not streaming) should be looking at the Core i7-7700K for their system. There are, however, several results which place the Broadwell-E i7-6950X in front of the i9-7900X in gaming performance. This is likely due to the rebalanced cache configuration of the CPU (though a lack of early software optimisations is also likely to be playing a role).
That's disappointing for many users who, justifiably, would have expected superb multi-threaded performance from the i9's 20 threads and near chart-topping gaming performance thanks to the use of high-speed Skylake cores.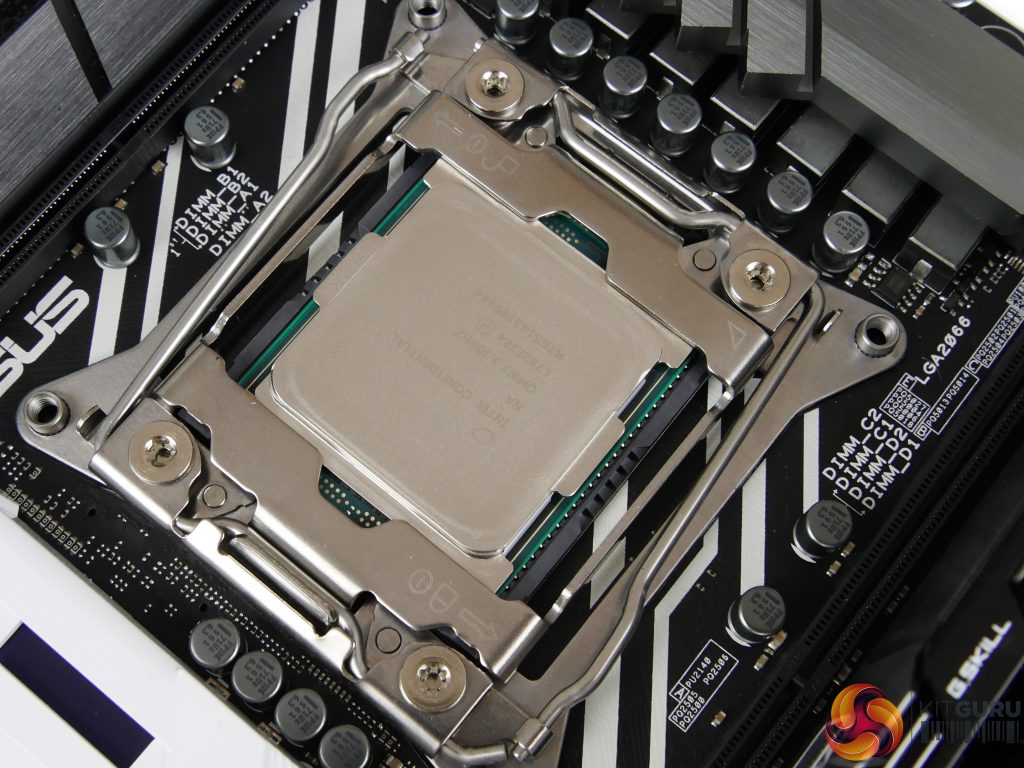 Then we move onto the sticky points for the current Skylake-X flagship – overclocking, thermals, and power consumption.
Starting first with overclocking, the results are generally good for a 10-core HEDT CPU. We hit 4.6GHz at 1.20V and expect than many chips should be fine at a similar frequency on all cores. In isolation, this would be a solid outcome. However, the fact that our overclocking results were temperature-limited was disappointing.
Intel's thermal design for the Core i9-7900X is not good. The use of TIM on a power-hungry 10-core CPU results in undesirable temperature levels at stock speeds and readings that easily push towards 100°C under reasonable overclocked voltage levels without using the best CPU cooling available off-the-shelf. If you want to hit the aforementioned 4.6GHz at 1.20V, you'll have to cross your fingers and hope for low ambients when using an air cooler or put up with incredible fan noise from a hard-pushed AIO.
The use of solder or some metal under the heatsink would have solved this issue and the associated costs would be easily absorbed into a $999 retail price. Instead, Intel has chosen to opt for the cheaper route of using barely satisfactory TIM that will force users to invest, perhaps unnecessarily so, in higher-quality cooling hardware and run their system at higher (louder) fan speeds. Hardly the mark of quality that one would expect from such a premium processor on such a premium platform. De-lidding is an option but on a $999 processor, it is certainly not a procedure that I would feel comfortable undertaking with my own two hands.
Probably unsurprising, given the lofty temperatures, power consumption for the Core i9-7900X is very high. Out-of-the-box, the CPU draws more power than any other stock-clocked processor we compared it to, with only the overclocked Core i7-6950X commanding more energy. Dial in a reasonable overclock to 4.6GHz with 1.20V and system-wide power draw will easily hit 400W under rendering load.
It is evidently difficult to analyse the Core i9-7900X. On one side of the argument, Intel has delivered ground-breaking performance to a consumer market at a significant price reduction from the previous generation, all tied together within the feature-heavy X299 chipset. However, thermal performance is poor, power consumption is very high, and gaming performance is rarely near first place.
With the Core i9-7900X, Intel has used the brute force approach to countering AMD's Ryzen 7 and pre-emptively striking against Ryzen Threadripper. In doing so, finesse has gone out of the window and the staple characteristics that have long been associated with Intel processors – power efficiency and decent thermal performance – have quickly followed. Core i9-7900X is a solid option if you must have the best of the best and have tasks that warrant the significant investment. Just do not expect to feel all warm and fuzzy like you would had you invested in a well-polished, no compromise, price-efficient platform.
We wait eagerly to see what AMD's Ryzen Threadripper brings to the table in just a few weeks, and would advise potential buyers of Core i9-7900X to do the same.

The Intel Core i9-7900X is available for £949.99 (at the time of writing) from Overclockers UK.
Discuss on our Facebook page HERE.
Pros:
Superb out-of-the-box multi-threaded performance.
Strong lightly-threaded performance thanks to Turbo Boost 2.0 and Turbo Boost Max 3.0.
High all-core frequencies when overclocked, provided you can cool the chip.
44 PCIe lanes will appeal to multi-GPU users.
Strong memory potential – high-speed, quad-channel, up to 128GB.
X299 chipset feature set is a significant improvement over X99.
Cons:
Thermal performance is poor.
Power consumption is very high.
Extremely expensive and questionable value compared to AMD's Ryzen 7 offerings.
Gaming performance in some titles not as strong as Kaby Lake or Broadwell-E.
KitGuru says: A brute force approach that has the finesse of a bulldozer smashing through performance barriers. Intel's Core i9-7900X is, overall, the fastest consumer processor on the planet and can overclock to impressive speeds for a 10-core chip. Just make sure you do not expect reasonable thermal performance, low power consumption… or much change out of £1000.