It looks like we are gearing up to the official announcement of Intel's Broadwell-E series of processors as motherboard maker ASRock has confirmed the new series of chips, including the 10-core 6950x Extreme Edition CPU. We have seen some leaks here and there over the last few months, with Broadwell-E showing up in a BIOS update and Intel accidentally outing the CPU on its own website last week.
In an announcement meant to broadcast the company's Broadwell-E support on X99 motherboards, ASRock said: "The most unmissable part of Intel Broadwell-E is the flagship Core i7-6950X, which will be the first deca-core processor for the commercial market".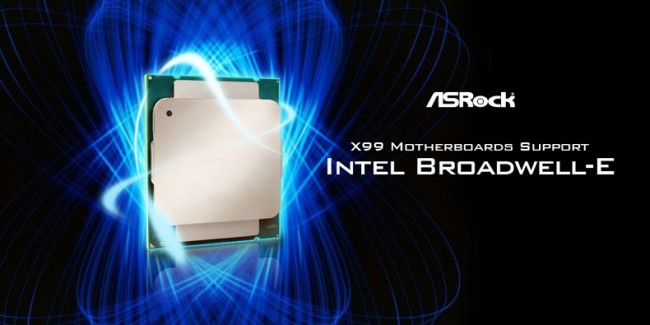 Aside from undercutting Intel on the announcement of the ten core Broadwell-E chip, ASRock also went on to confirm the rest of the processors in the lineup, including the Core i7 6900K, 6850K and 6800K. This confirms previous rumours that Intel would be releasing four processors for Broadwell-E, with one ten core, one eight core and two six core chips.
"While this new CPU boasts a compelling 10-cores-and-20-threads architecture, users require a BIOS update for their motherboards to handle it; this update applies to the rest of the Broadwell-E gang, including i7-6900K, i7-6850K, and i7-6800K as well".
Prices for all of these processors are unconfirmed but previous reports speculated that the ten-core Extreme Edition would launch at $1500, while the eight core could sit at $1000, with the two six core chips hitting the $550 and $400 price points.
KitGuru Says: Intel likely wasn't planning for its four Broadwell-E processors to be unveiled this early but an official announcement won't be too far off, particularly with Computex coming at the end of next month. Are any of you currently waiting on Broadwell-E to launch? Will you be upgrading this year?