Our first cooler is the Antec Kuhler H1200 Pro, which retails for £59.99. A 240mm design, it ships with two, blue LED fans which certainly add some pizzazz.
Antec say 'the Kühler H1200 Pro all-in-one liquid CPU cooler delivers high cooling performance in an easy-to-install package.'
Specifications
Noise Level Range of Fan: 16 —35dBA (Max)
Fan Speed: 600 – 2400 RPM
Radiator Dimensions: 271 mm (H) x 120 mm (W) x 25 mm (D)
Fan Size: 120 mm x 120 mm x 25 mm
Cold Plate Height: 35mm
Tube Lengths: 315mm
Cooling Liquid: Safe. environmentally friendly, anti-corrosive. RoHS -compliant
Compatibility: Intel LGA 775, 1150, 1151, 1155, 1156, 1366, 2011
AMD Socket AM2, AM2+, AM3, AM3+, FM1 & FM2
Cooler/Radiator Net Weight:1.68 KG
Airflow: 78.9CFM (Max)
Static pressure: 2.19mmH20 (Max)
Power Draw: 3.6W
I must say installation of the H1200 Pro is not the easiest thing in the world. A backplate and four standoffs mean the start of the process is very conventional. However, when it comes to mounting the pump, you have to use a mounting bracket which does not lock onto the pump in any way – I found it prone to slipping out of the correct position at crucial times. Furthermore, the mounting bracket sits about half an inch away from the standoffs, meaning you have to be very accurate with the thumbscrews which lock the pump down. I must say it took me several attempts before all four corners of the pump were screwed in place.
Once installed, the pump uses a single SATA power connector, and the two PWM fans can be connected however you like.
I would also add I am not too keen on the hoses the H1200 Pro uses either – nowadays we are used to braided, smooth cables, not the corrugated tubes on the H1200 Pro.
Testing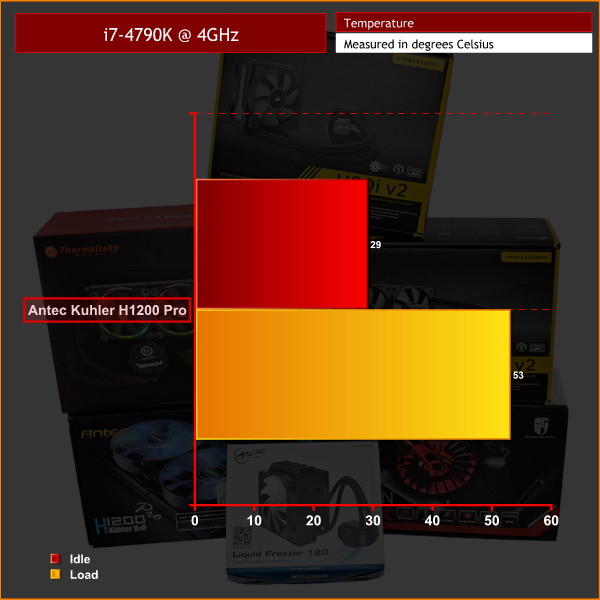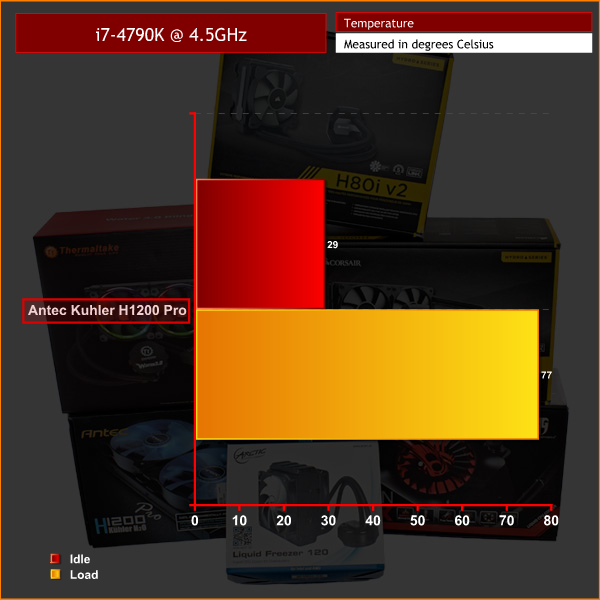 At stock CPU speeds, the Antec does just as well as you would expect any 240mm AIO cooler to do.
Overclocked, though, it does fall off the pace by a few degrees – as 77 Celsius is the highest score on test today.
In terms of noise levels, its performance is distinctly average, too. At stock speeds, the fans do not need to ramp up, while the pump noise does not intrude, either. When overclocked, the fans ramp up to 100% and start to get rather noticeable. However, they were not thunderously loud and any case would reduce the noise levels a fair bit.
Still, for the lesser performance, the fans were not even spinning slower than the other AIOs on test today, which makes the Antec H1200 Pro a slightly disappointing proposition.
You can pick one up from OverclockersUK for £59.99 HERE.
Be sure to check out our sponsors store EKWB here