Next, we have the Corsair H80i V2. The new edition retails for £89.99.
Corsair say 'the Hydro Series H80i v2 liquid CPU cooler has an extra-thick 120mm radiator and dual SP120L PWM fans for efficient, customizable cooling for your rig.'
Specifications
Intel™ LGA 1150, 1151, 1155, 1156, 1366, 2011, 2011-3
AMD™ sockets FM1, FM2, AM2, AM3
Radiator dimensions: 154mm x 123mm x 49mm
Fan dimensions: 120mm x 120mm x 25mm
Fan speed: 2435 +/- 10% RPM
Fan airflow: 70.69 CFM
Fan static pressure: 4.65 mmH2O
Fan noise level: 37.7 dB(A)
Just like the Arctic 120mm unit, the H80i V2 uses a backplate, four standoffs and then four thumbscrews to secure the pump in place. It really is a doddle to install.
The H80i V2 radiator is also 49mm thick, so again – just check there is enough clearance in your case.
For testing today, I plugged both PWM fans directly into the motherboard – I did not use Corsair Link.
Testing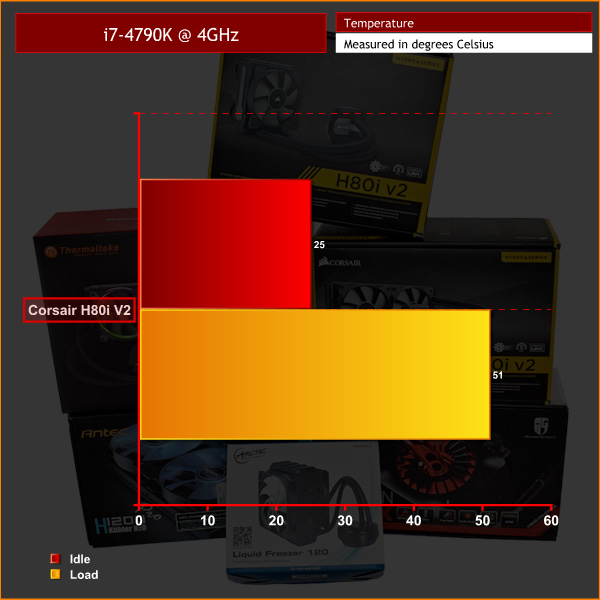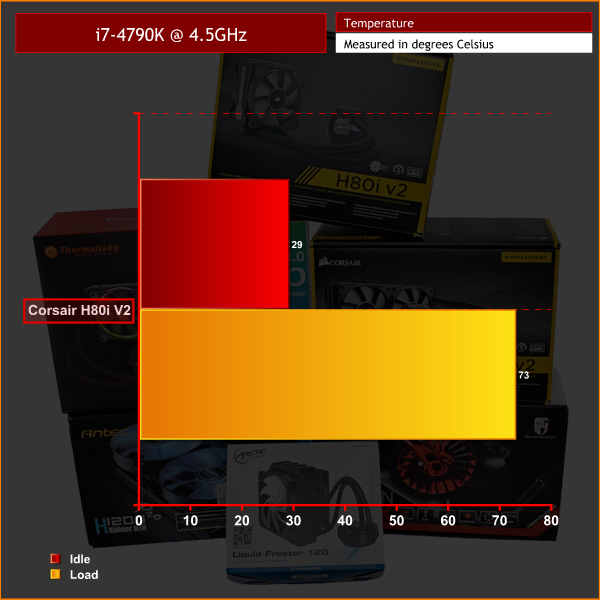 In terms of performance, the H80i V2 just edges ahead of the Arctic Liquid Freezer. Its stock speed temperature is one degree cooler, as is its overclocked temperature.
It is a bit noisier though. The pump is certainly noticeable, although given I used an open-air test bench for all the coolers, it would certainly be less noticeable inside a case. However, the pump noise did seem to cut across any background noise, though the fans do drown it out at full speed.
The fans themselves do make a fair racket at full pelt, although this situation is unlikely to happen often. Corsair Link also provides a great way to digitally manage your fan speeds, allowing you to set custom profiles. The only reason I did not use it here is to keep the testing fair by always using the motherboard fan headers.
You can pick up the H80i V2 from OverclockersUK for £89.99 HERE.
Be sure to check out our sponsors store EKWB here