Next we have the Arctic Liquid Freezer 120, which costs around £60.
Arctic say it delivers 'outstanding CPU cooling performance through Water Cooling Solution with 2 x F12 PWM PST fans, 49 mm deep radiator and efficient water pump.'
Specifications
Intel Socket: 2011(-3), 1150, 1151, 1155, 1156
AMD Socket: AM2(+), AM3(+), FM1, FM2(+)
Max. Cooling Performance: 300 Watts
Recommended for TDP up to: 250 Watts
Voltage: DC 5V – 12V
Power Consumption: 2.0 W
Cold Plate: Micro Skived Fin, Copper
Tube Length: 326 mm
Tube Diameter: Outer 10.6 mm, inner 6.0 mm
Pump Dimensions (w/o tubes): 82 x 82 x 40 mm
Radiator Material: Aluminium
Fan: 120 mm x 2
Fan Speed: 500 – 1350 RPM (PWM)
Airflow: 74 CFM / 126 m³/h per fan
Voltage: DC 12 V
Current: 0.25 A (max)
Noise Level: 0.3 Sone
Connector: 4 Pins with PST
Installing the Liquid Freezer 120 is very easy. It is simply a backplate, four standoffs and then the pump is locked down with four thumbscrews. It makes me wonder why other AIO manufacturers can't all do it like this.
However, connecting the fans is a bit of a faff. Arctic have designed the pump 3-pin power connector to be daisy-chained to the two radiator fans. Essentially, you connect the pump to one fan, connect that fan to the other fan, and finally that fan plugs into just one motherboard header. It does mean you only need a single spare fan header, but as you can see in the pictures, the process gets a bit messy.
The radiator itself is comparatively thick at 49mm, too, and then you are adding a fan on either side. I would just suggest you make sure there is enough clearance in your case to fit the whole thing.
Testing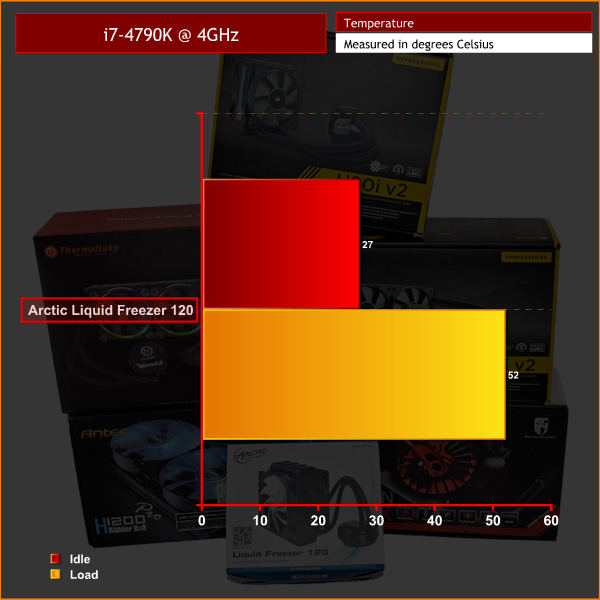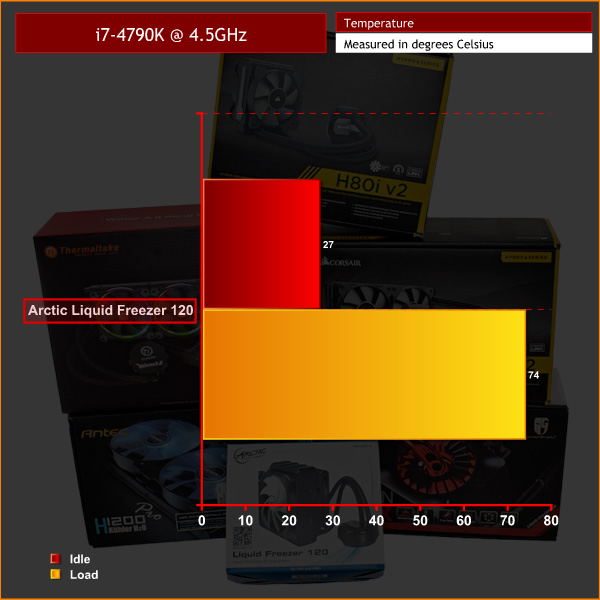 For a 120mm unit, the Liquid Freezer 120 performs very respectably. Its stock speed temperatures are essentially the same as every other cooler on test – they all perform more-or-less the same at stock clocks.
Overclocked performance is also decent, coming in 3 degrees cooler than the Antec unit – which utilises a double-radiator. This suggests a thick 120mm radiator, with fans in a push/pull configuration, can still give good performance.
It is quiet, too. The pump is not more a slight hum in the background, while the fans hardly spin at stock speeds. When the CPU is overclocked, the fans do spin up of course, but the noise is very inoffensive. It would certainly not be cause for concern when mounted in a case.
You can pick one up from Amazon for £60.27 HERE.
Be sure to check out our sponsors store EKWB here