Samsung Electronics indicated that it plans to start volume production of high-bandwidth memory (HBM) next year at the Intel Developer Forum this week. At the trade-show, the company revealed its current vision and expectations concerning HBM. Samsung foresees that eventually high-performance applications (such as GPUs) could feature up to six HBM devices to enable unprecedented capacities and bandwidth.
As it appears, Samsung plans to skip the first-generation HBM memory and will only manufacture products compliant with the second-generation HBM specification, which offers higher densities and clock-rates. Such approach will let Samsung to address broader market segments with its HBM offerings. Right now HBM can only be used on consumer graphics cards and certain highly-custom products, but HBM2 will enable professional and high-performance computing GPU-based solutions, which require a lot of memory onboard.
Samsung is currently working on multiple HBM packages featuring two (2Hi stack), four (4Hi) and eight (8Hi) 8Gb memory devices on a base logic die with 1024-bit interface, according to a slide that the company demonstrated at the IDF (which was published by ComputerBase.de). Maximum data-rates of Samsung's HBM products will be 2Gb/s, which will support up to 256GB/s of bandwidth per chip.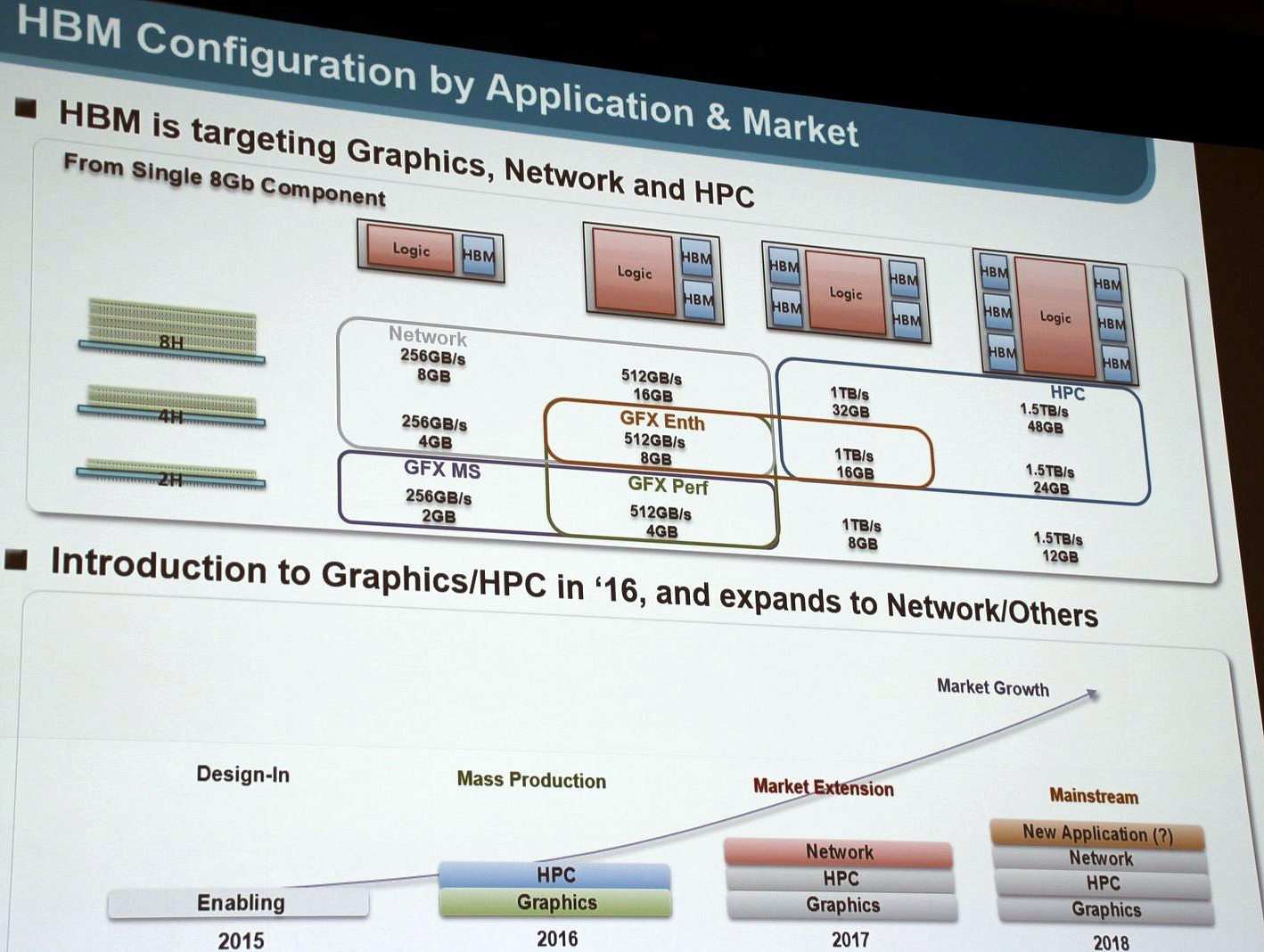 Samsung believes that HBM memory will enable it to create a variety of chip offerings targeting different market segments. Designers of logic chips (GPUs, APUs, network processors, etc.) will be able to integrate the right amount of HBM controllers into their chips in order to target different applications. At present AMD's "Fiji" graphics processing unit supports up to four HBM stacks over its 4096-bit interface. Eventually, logic chips could accommodate more HBM controllers and expand interface width to unprecedented 6144-bit, according to Samsung Electronics.
For example, a mainstream graphics card could use just one 2Hi HBM chip to accommodate a 2GB frame-buffer with 256GB/s bandwidth. More advanced graphics adapters for consumers and creative professionals could feature four 2Hi or four 4Hi HBM stacks that provide up to 1TB/s of bandwidth as well as 8GB, 16GB or 32GB of memory. Accelerators for high-performance computing as well as ultra-high-end GPU offerings will support six HBM stacks, thus enabling cards with 12GB, 24GB or 48GB of onboard memory with 1.5TB/s bandwidth.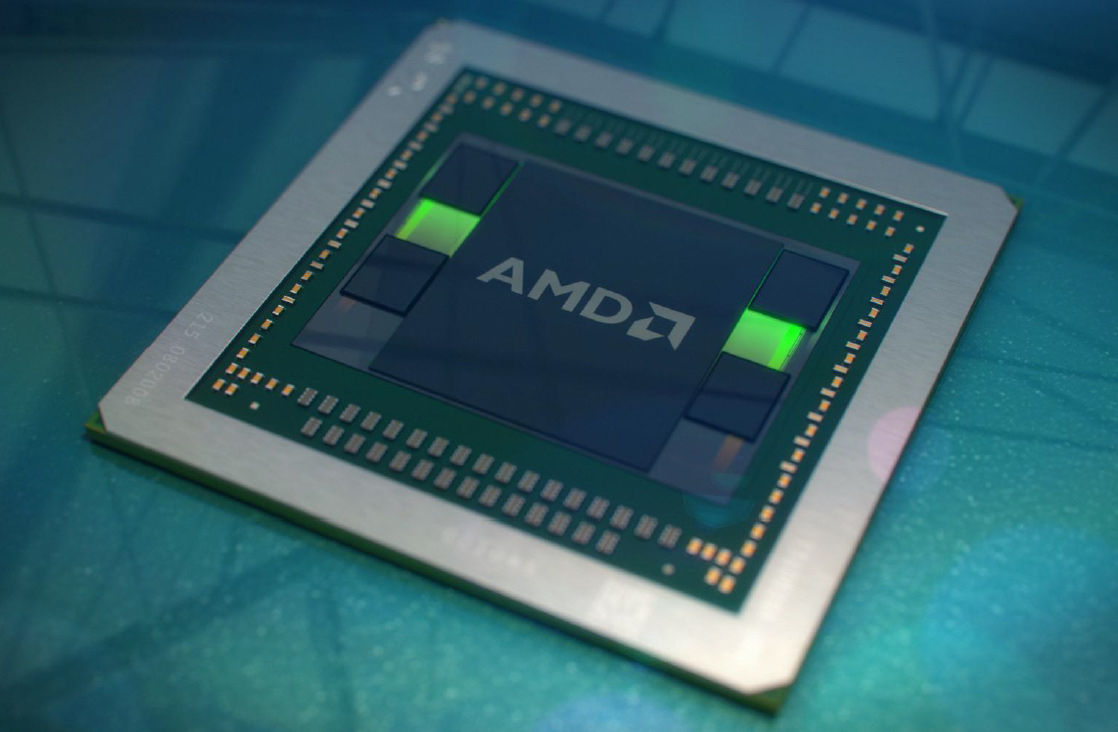 So far, neither AMD nor Nvidia have demonstrated even hypothetical product implementations (which are used to showcase potential future uses of technologies) of GPU-based solutions featuring six HBM memory chips. Intel Corp.'s Xeon Phi co-processors use HMC [hybrid memory cube] DRAMs as "near memory" and are not expected to support HBM any time soon.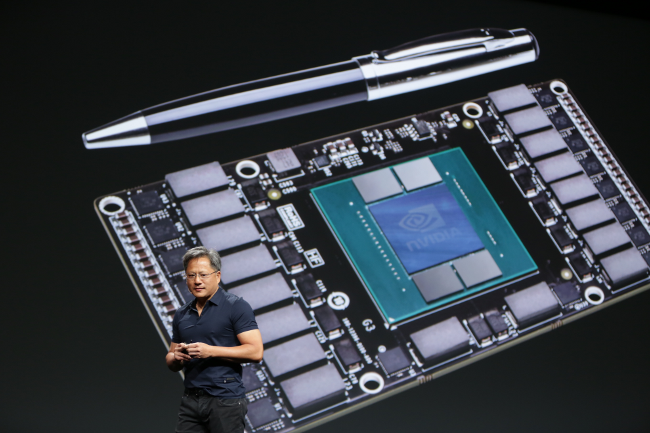 Samsung expects HBM memory to be used for consumer graphics cards and high-performance computing accelerators based on AMD "Arctic Islands" and Nvidia "Pascal" graphics processors next year. Sometimes in 2017, network products will also take advantage of the new memory type. Three years from now other applications could employ HBM, according to Samsung.
The world's largest maker of dynamic random access memory (DRAM) did not unveil any details about its actual HBM chips (capacities, clock-rates, etc.), but expect a family of products with different densities and frequencies.
Samsung did not disclose which process technology it will use to manufacture HBM.
Discuss on our Facebook page, HERE.
KitGuru Says: Samsung is definitely not the first to offer HBM, but it is pretty clear that the company takes the new type of memory very seriously. What is interesting is that the company decided not to give a glimpse into the future of HBM, which indicates that the third-generation HBM is still a work in progress.