For our temperature testing, we measure the peak GPU core temperature under load, as well as the GPU temperature with the card idling on the desktop. A reading under load comes from running the 3DMark Fire Strike Ultra stress test 20 times. An idle reading comes after leaving the system on the Windows desktop for 30 minutes.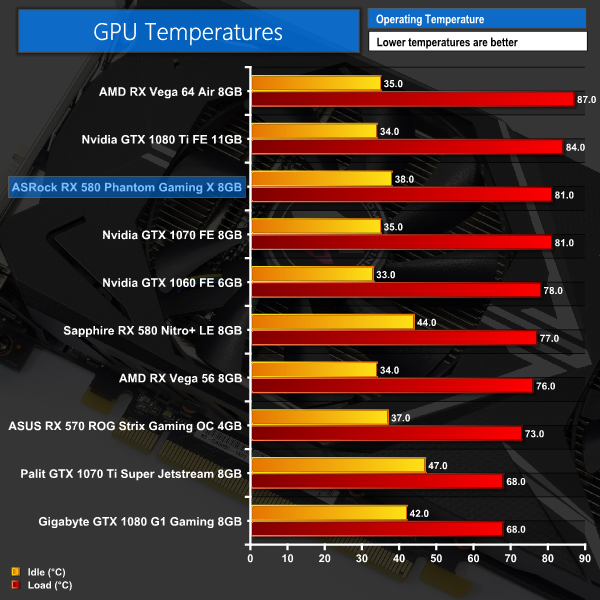 The Phantom Gaming X is not the coolest-running card ever to pass through our labs, but a peak temperature of 81C is nothing to worry about. The card was able to hold its 1408MHz core frequency absolutely consistently throughout the stress test, too, so there was no thermally-induced throttling.

Moving onto the thermal gun testing, here we can see the consequences of ASRock not opting for a backplate. Their explanation was that no backplate allows for better heat dissipation, but it also means there is a noticeable hotspot right behind the GPU core, which we saw peak at 90.4C during the 3DMark stress test.
With a backplate, this hotspot would've been significantly reduced as the backplate can effectively act as a large heatspreader. The Sapphire Nitro+ card, for instance, reached no higher than 65C on the back of the card, thanks to its backplate.
Now, a hotspot of 90C is certainly not a concern – these graphics card PCBs are technically able to reach 120C without failure concerns. It is worth noting, however as we feel it could be better.