The ASRock Phantom Gaming X RX 580 ships in a black box with some silver and red accenting. The Phantom Gaming logo is emblazoned in the middle of the box, with the Radeon RX 580 branding in the bottom right-hand corner.
On the back, ASRock points out some features of the card and its cooling solution, as well as the video outputs and OC utility.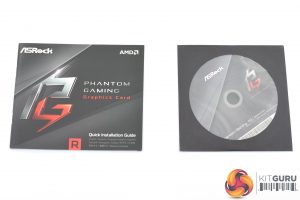 Inside the box, accessories are thin on the ground – we find 1x quick installation guide, and 1x drive disc, but that's it.
Moving onto the card itself, we will start with the front shroud and overall design. It is certainly not as 'in-your-face' as some other designs we have seen, but the Phantom Gaming X clearly has some gamer-oriented design cues – including the angular shape to the end of the card, as well as the v-shaped silver accents.
The two fans we can see are relatively small at 85mm each, and they use double ball bearings.
You would have probably guessed, but the matte-black shroud is made of plastic not metal – as we would expect given the focus on producing a simpler card at a lower price. On each side of the card, we can see some vents and aesthetic accenting which adds to the 'gamery' look.
One important thing to note is the lack of a backplate. ASRock says this is to help with heat dissipation, but we will get to the thermal side of things later. I personally prefer all my graphics cards to have backplates, both for the aesthetics and for the added protection they can offer if you spill something onto the back of the card (i.e. if your liquid cooler leaks!).
Taking the cooler from the card is a simple matter of removing the four GPU core screws, as well as another two screws positioned further away from the core. As there is no RGB lighting, there is just a single fan cable connecting the PCB to the cooler.
The PCB itself is relatively short – the heatsink overhangs it by about 4.5cm – and the 6 power phases for the GPU, as well as the single power phase for the memory, are immediately evident.
As for the cooler, this is comprised of a copper contact area surrounded by an aluminium heat sink. Two 6mm and one 8mm heatpipes are used to transfer heat to the fin array, and the fans then dissipate the heat from the fins. It is also worth noting each of the 8 memory chips have the necessary thermal pads applied, as do the MOSFETs.
A single 8-pin PCIe power connector is used to supply power to the Phantom Gaming X.
Lastly, in terms of video outputs, we find 3x DisplayPort 1.4, 1x HDMI 2.0, and 1x DVI-D.