Just over a week ago, Nvidia launched the RTX 3080, setting a new bar for 4K gaming performance, while also delivering unrivalled value in terms of overall cost per frame. With the RTX 3090, the company has gone in a slightly different direction.
The simple truth of the matter is, the RTX 3090 is not going to be a justifiable purchase for the vast majority of gamers out there. For one, its price is prohibitively high, starting at £1399, and it delivers comparatively awful value for money up against the RTX 3080.
However, looking at RTX 3090 in terms of value makes no sense. This GPU is not trying to deliver value, it's simply the fastest graphics card out there, with this Gigabyte Eagle model delivering 13% better performance than the RTX 3080, and 48% better performance than the RTX 2080 Ti, when tested at 4K. If you are weighing up whether or not to buy an RTX 3090 based on its value for money, the answer is always going to be 'no'. This is a GPU for gamers who demand the best and don't care about the price. Right now, the RTX 3090 is the fastest gaming GPU and it simply has no competition for that title.

The other type of person I can see who might buy the RTX 3090 is the professional whose income is directly tied to the quality of hardware they have available to them. If you can render faster or get more work done in the same time with the RTX 3090, that quickly adds up. For that user, I would imagine the initial outlay is less of a concern, as they would know the RTX 3090 would pay for itself over time.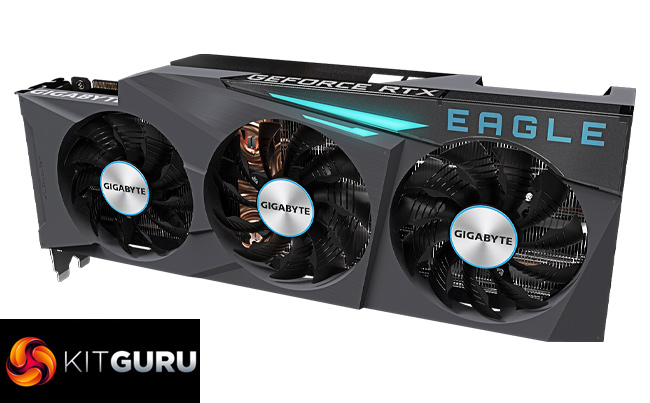 As for this Gigabyte RTX 3090 Eagle OC we have looked at today, it is another solid card from the company. It uses the same cooler and shroud design as the RTX 3080 model we reviewed last week, but with a slightly beefed up power delivery and increased 350W power target.
Given the cooler has stayed the same, but the power of the GPU has increased, the RTX 3090 does run a little hotter than its RTX 3080 equivalent, but only by 2C based on our testing, with a peak temperature of 69C. The fans, too, only spin 80rpm or-so faster, which wasn't enough to make a difference in our noise testing. It's not a dead silent graphics card, but nor is it loud, and I think you'd have to be very fussy to complain about the noise from the Eagle OC.
In terms of overclocking, unfortunately things are still very limited here. We could hardly push the core frequency any further, and while we did manage to bring memory speeds from 19.5Gbps to 21.4Gbps, real world performance didn't increase by more than 5%. It appears Ampere has been delivered right on the limits of what it is capable of, with previous little headroom for further tuning.
Overall, I personally find RTX 3090 very straightforward. For anyone who is remotely concerned about value for money, this GPU simply makes no sense. For the cash-rich gamer or professional, however, who simply wants the best GeForce GPU that is out there, the RTX 3090 is what to buy.

The Gigabyte RTX 3090 Eagle OC has a UK MSRP of £1449. We found it on Overclockers UK HERE.
Discuss on our Facebook page HERE.
Pros
Fastest GeForce GPU out there.
Gigabyte Eagle runs cool and relatively quiet.
Performance per Watt is actually increased compared to the RTX 3080.
Cons
Only for the cash-rich audience who simply do not care about value for money.
Very high power draw.
KitGuru says: For the vast majority reading this, buying an RTX 3090 would be inadvisable to put it mildly. For those not interested in value or cost per frame, for those who simply want the fastest graphics card out there and do not care about the price – enjoy your new RTX 3090.