Following on from the launch of AMD's reference RX 6800 XT and RX 6800 GPUs, today sees the launch of the AIB cards from AMD's partners. We expect to analyse several of these over the coming weeks, but today our focus has been firmly on the PowerColor RX 6800 XT Red Devil.
PowerColor has deployed a beefed-up VRM for the Red Devil, enabling a 330W power target for the GPU, which is an increase of 30W compared to the reference spec. This allows the GPU to run a fair bit faster than AMD's reference card, and we saw it hovering about the 2300MHz mark during our testing.
This resulted in performance gains of 4% on average when testing our games at 4K, and 3% when looking at the 1440p results. This isn't a huge leap forward by any means, but gone are the days where a factory overclocked card would net you an extra 10%. With a 6800 XT, the Red Devil is doing well to deliver the speeds it does, but it will of course be interesting to see if any other partner cards can improve on this.
The Red Devil sports dual-BIOS, enabling users to choose between the OC BIOS with higher clocks and power draw, or the Silent BIOS which targets the same 300W limit as the reference design, but with slower fan speeds. It's a very successful dual-BIOS implementation, giving you the choice of maximum power, or minimum noise levels, while a secondary BIOS is also great for redundancy purposes.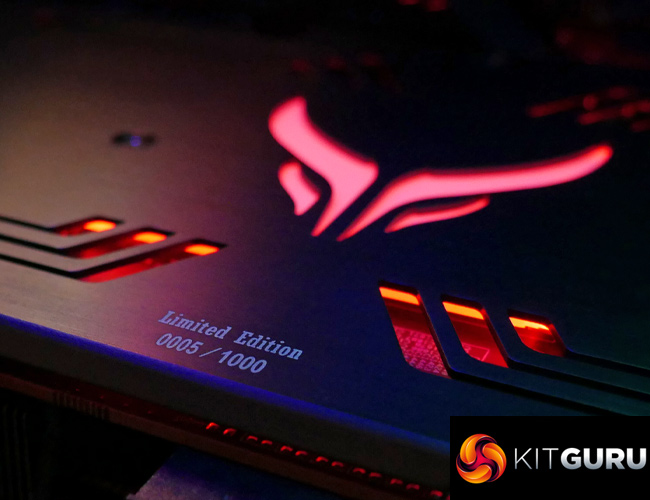 Speaking of noise, the Silent BIOS runs the fans so slowly, at approximately 1060rpm, that they become effectively inaudible. The only downside here is that my particular sample exhibited a little bit of coil while which became audible once the fans were spinning so slowly. Were it not for this coil whine, I think we would have been looking at an even lower noise reading than the 35dBa recorded by our sound meter. The whine wasn't noticeable with the system fans running as normal though, so I can't complaint too strongly, but it is worth noting.
In terms of thermal performance, both the OC BIOS and Silent BIOS improve on the reference card. The Silent BIOS does run a little hotter than the OC BIOS, purely because it runs the fans so slowly, but when noise-normalised to 40dBa, it is the Silent BIOS which produces the best results due to its lower power target.
We also saw reasonable gains when manually overclocking. Considering the fact that the Red Devil is factory overclocked anyway, and we saw an extra 3-7% performance when pushing the GPU as far as it could go, I'd say that is a decent gain.
Unfortunately, from what we have been hearing from various retailers, it seems like stock is going to be very limited for the RX 6800 XT today. I don't hold this against PowerColor, but we weren't even able to get a confirmed UK price-point for the Red Devil. Both factors don't help when giving a final conclusion – we aim to offer buying advice, but if you simply cannot buy either this GPU or it's closest competitor, the RTX 3080, the waters become muddied.
What we can say is the PowerColor RX 6800 XT Red Devil is a solid improvement on the reference design. The relative difference between this card and AMD's reference may not be as big as we are used to seeing, but that's because AMD really upped its game for this generation and we no longer have to deal with a hot or loud blower-style cooler, which made it very easy to look good against in comparison.
Still, with its increased power target, factory overclocked core and dual-BIOS functionality, I'd take the Red Devil over the reference card any day of the week. We will just have to hope that pricing settles at a reasonable level once the supply issues are finally behind us.
Discuss on our Facebook page HERE.
Pros
Choice of OC and Silent BIOS.
OC BIOS allows for increased power.
On average 4% faster at 4K, when using the OC BIOS.
Silent BIOS runs the fans very slowly.
Overclocked better than the reference card.
Runs cooler than the reference card out of the box and when noise-normalised.
Cons
Pricing is unclear.
Slight coil whine is audible once the system fans have been disabled.
KitGuru says: The PowerColor RX 6800 XT is a great card and clearly improves on the reference design.
Be sure to check out our sponsors store EKWB here