The Razer Core X is the third external GPU enclosure to be released by Razer, and it is also the company's cheapest eGPU product at only £259.99.
It makes a good first impression, too, with a stealthy all-black appearance. Even though the outside is little more than a metal shell with some ventilation, it certainly looks the part.
It is on the inside of the Core X where the magic happens, however. Here, we find a x16 PCIe connector which can now fit up to 3-slot graphics cards. We used an ASUS ROG Strix GTX 1080 Ti – which is certainly not small – and it went in just fine.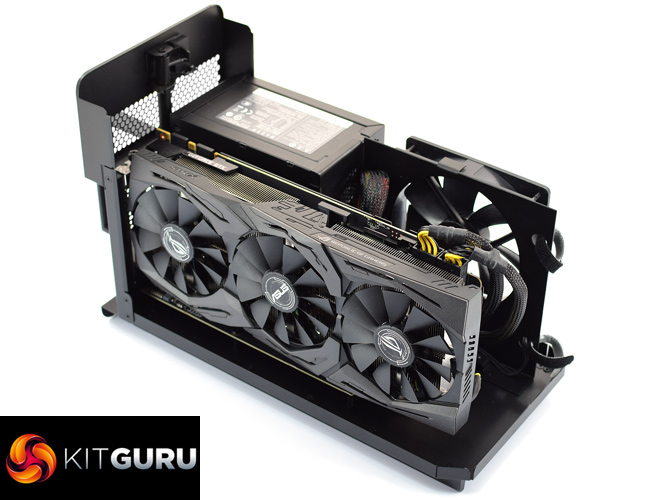 The setup process is remarkably easy – just install your graphics, plug in the Thunderbolt 3 connector and away you go. The included Thunderbolt 3 connector is only 0.5m long, but to get a longer cable you need an active connection – which costs significantly more money, and thus defeats the point of the Core X as being a more budget-oriented eGPU enclosure.
Once the Core X is connected, you will notice a significant bump in performance over Intel HD graphics. It obviously depends what GPU you install, but our GTX 1080 Ti in the Core X scored roughly the same as a desktop GTX 1080 in our 3DMark tests. In our gaming tests, too, we managed solid frame rates across the board, with a small but not insignificant performance increase when using the Core X connected to an external monitor, rather than using the laptop's display.
Now, there are obviously limitations to using an external GPU enclosure – using one with an Ultrabook, for example, will often put you at the mercy of a low-power processor like the i7-8550U used in the Razer Blade Stealth. This can adversely affect gaming performance in CPU-heavy games. You also can't utilise the full performance of a graphics card, as Thunderbolt 3 can only deliver 4 PCIe lanes.
However – that is the case with all eGPUs, not just the Core X. The way I see it, there is only one real issue with the Core X itself, and that is lack of I/O – if you have an Ultrabook with only one USB Type-A port (and some don't have any at all) you simply won't be able to connect all of your peripherals. I can appreciate the Core X is a cheaper product, but a couple of USB ports on the back wouldn't have gone amiss.
Still, for £259.99, the Razer Core X is an appealing option for those looking to add an external GPU without spending significantly more cash. It isn't as flashy or as feature-packed as the Core V2, but for those who want an eGPU enclosure and nothing else, it will do the job nicely.
You can buy one directly from Razer for £259.99 HERE.
Pros
Stealthy, matte black appearance.
Plenty of space for chunky graphics cards.
Up to 500W of power for the GPU means the PSU is not a bottleneck.
Very easy to install and setup.
Significant boost to performance.
Cons
No additional I/O – so Ultrabook users may struggle to find enough ports.
Users may need to shell out for a longer Thunderbolt 3 cable.
KitGuru says: For those who just want to connect their GPU to an external dock – and nothing else – the Razer Core X is significantly cheaper than the Core V2, for instance, but you do lose some extra functionality.