It has been a fairly long wait to get our hands on AMD's Navi 14-based GPUs. The RX 5500 series was announced over two months ago, but it has taken until today for reviews of the RX 5500 XT to become available. In this review, we have assessed the 4GB Sapphire Pulse model, but if you want to see our review of the 8GB ASRock Challenger, head over HERE.
Getting right to our performance summary, I don't think it is a huge surprise to see RX 5500 XT performance rivalling that of the GTX 1650 SUPER. Across the ten games we tested today, the results came in like a see-saw – in one title, the 1650 SUPER would edge ahead, but then in the next game things swung back in the 5500 XT's favour. That means, across all of our testing at 1080p, this Sapphire 5500 XT is just 1% slower on average than our ASUS ROG Strix 1650 SUPER.
To give a few more general comparisons, the Pulse 4GB is also 4% faster than RX 580 8GB, while it is 7% slower than RX 590 8GB and 11% slower than Nvidia's GTX 1660 (non-SUPER.)

It's also going to be worth directly comparing this Sapphire 4GB 5500 XT to the 8GB ASRock Challenger model. By and large, the difference in memory capacity is inconsequential, as the Pulse 4GB is just 2% slower when averaged across all of our games. However, in three of the ten titles we tested, we saw performance differences between 5-8% at 1080p. This is a much larger gap between the two cards than what would be explained by the very small difference in operating clock speed, so it does suggest in some cases there is a benefit to having more than 4GB VRAM for 1080p gaming.
Of course, this argument can easily go both ways. Some may say a 8% performance gap – at most – is not very significant at all, and they would be happy saving the £20 and buying a 4GB model. On the other hand, there is an argument to be made for 'future-proofing' your purchase, as if AAA games today are benefiting from more than 4GB VRAM, who knows what the situation will be like in a year or two.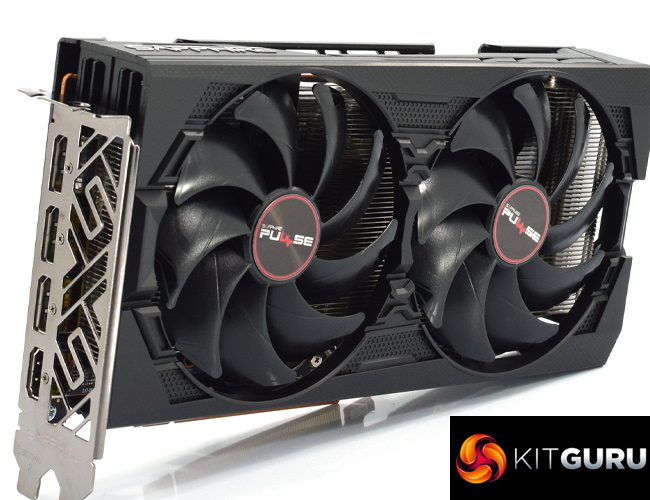 It's also worth touching on the specific thermal and noise performance of this Sapphire Pulse card. In a nutshell, it is a very proficient model which ran cool – with edge temperatures peaking at 65C – and also very quiet, producing less than 39db of noise based on our testing.
Nvidia does still have an advantage in terms of Turing's power efficiency, however, as we saw total system power draw coming in around 50W higher with this 5500 XT than with 1650 SUPER. AMD has still made large strides in this area as its efficiency is greatly increased over the RX 580, but there is still a way to go to catch up with Nvidia.
So, should you buy the AMD RX 5500 XT 4GB? This new GPU is in a real dog fight with the GTX 1650 SUPER, and arguments can be made for either card. On the one hand, Nvidia's card is more power efficient and I had also more success overclocking that GPU. Then again, AMD has some good software features we like – including Radeon Image Sharpening, while the company also debuted its new 'Boost' feature this week. Additionally, AMD is also including a free copy of Monster Hunter World Iceborne Master Edition, plus 3 months Xbox Game Pass, but I don't like to place much weight on game bundles as they don't last forever.
If it were me choosing which GPU to buy, I'd first look at the games I play most and see if there is any performance benefit by going with the 5500 XT or 1650 SUPER. Gears 5 and Metro Exodus, for instance, favour the 5500 XT, but Shadow of the Tomb Raider and F1 2019 favour the 1650 SUPER.
Failing that, as the GPUs are so close in terms of overall performance, it really is a toss of a coin. 1650 SUPER does start at £149.99, so £10 less than the 5500 XT, which for some might be the only difference that matters. Then again, recent history tells us AMD could well adjust pricing sooner than we'd think. Either way, whichever GPU you choose, you're going to get a very solid card that will do the business for 1080p gaming.

The RX 5500 XT will be available from Overclockers UK, with prices starting at £159.99 for the 4GB model. This Sapphire Pulse 4GB model is currently up for pre-order for £169.99 HERE.
Discuss on our Facebook page HERE.
Pros
Very competitive 1080p gaming performance.
Power efficiency greatly improved over RX 580.
Smart design.
Runs cool.
Very quiet under load.
On-board dual-BIOS.
Cons
Still less efficient than 1650 SUPER.
Testing shows 4GB VRAM can be a limiting factor in some scenarios.
£10 more expensive than 1650 SUPER – it's not much, but it could be the difference for some.
KitGuru says: AMD's RX 5500 XT is a strong competitor to the 1650 SUPER. Both are essentially matched in terms of their 1080p gaming performance – if you're buying a new graphics card at the end of 2019, it's hard to go wrong in this ~£150 market segment.