The Sapphire RX 580 Pulse 8GB ships in a dark box, with no product photo on the front. However, there is an EKG pulse graph which obviously ties in with the Pulse name.
On the back of the box there is a list of features, as well as two product photos.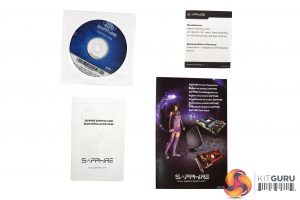 Inside, the set of accessories is quite typical: we find a driver disk, a quick-start guide, product registration information and a small manufacturer card.
If you've already read our RX 570 Pulse 4GB review, then you will be immediately able to tell that both Pulse cards are almost identical (we get to the main difference below.)
This means the RX 580 Pulse sports a matte black plastic shroud, with two 95mm fans on cooling duty. The shroud also sports the same 'dotted' styling as the RX 570 card.
The only (visible) difference I can spot between the two Pulse cards is that the RX 580 variant has two extra 6mm heatpipes which are visible from the side of the card.
The Sapphire logo is embossed on the other side, but it is not illuminated by LEDs.
Taking the card apart confirms what we thought: there are indeed 4x6mm heatpipes (2 more than the Pulse RX 570), while the rest of the cooling solution is comprised of a copper contact area and an array of metal fins which maximise the surface area of the heatsinks. Thermal pads are also used in all the necessary places to cool VRMs and VRAM chips.
Elsewhere, the Pulse RX 580 also sports the same backplate as the RX 570. It certainly looks quite snazzy on its own, but I do think the four-way colour scheme could lead to potential colour clashes if your system has a particular colour scheme.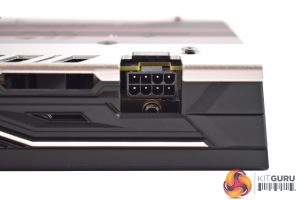 The RX 580 Pulse requires an 8-pin PCIe power connector, and Sapphire lists the total power draw as less than 225 Watts.
At the end of the card we get a look at some of the heat fins used to cool the GPU's core.
At the front, we can see the RX 580 has the following display outputs: 1x DVI, 2x HDMI and 2x DisplayPort.