After a brief period covering other recent GPU launches, including Nvidia's RTX 3060 Ti and AMD's RX 6900 XT, today our attention has turned back to the RX 6800 XT, which first launched in the middle of November. Specifically, we have looked at the Sapphire RX 6800 XT Nitro+.
While the Nitro+ utilises a PCB which looks very similar – if not identical – to the reference design, Sapphire has increased the power limit significantly, with the default Performance BIOS drawing an extra 40W compared to AMD's reference card. This allows the GPU to tap into its seemingly vast frequency headroom, resulting in the fastest RX 6800 XT we have tested to-date.
Even then, the performance gains over the reference card aren't huge, but we saw increases of up to 6% in certain titles, though a 4% margin was the average differential across our testing today, when looking at the 4K data. This means the Nitro+ is also faster than PowerColor's Red Devil, but only by 1% on average, and on many occasions the two were exactly even.
The extra power headroom on offer also saw the Nitro+ overclock very well, outperforming a stock-clocked reference 6800 XT by as much as 15%. It also proved a better overclocker than the Red Devil, but there is going to be some sample-to-sample variance at play here. Even then, custom RX 6800 XTs are clearly overclocking much better than the reference card, and that is certainly good news for the tinkerers out there.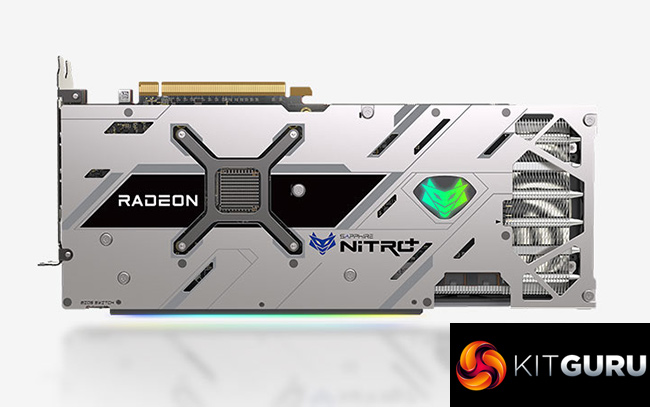 Sapphire's dual-BIOS implementation also proved highly effective. The Performance BIOS is a little louder, but draws 340W of power under load, resulting in higher frequencies. The Silent BIOS, however, draws about 30W less, resulting in a fractionally slower GPU, but one that was able to get away with the fans spinning at just 1200rpm. In fact, just like the Red Devil, the fans spin so slowly in this mode that a small amount of coil while actually proved louder than the fans themselves. The whine wasn't noticeable with the system fans running as normal though, so I can't complain too strongly, but it is worth noting.
Despite the increase in power, the Nitro+'s cooler proved more than good enough at keeping temperatures down. In fact, when noise-normalised to 40dBa, it produced the best thermal results we have seen from a 6800 XT. I do want to stress that we are talking very fine margins when comparing the Nitro+ against the Red Devil, but it did run a tiny bit cooler when noise-normalised.
As with any graphics card review in late 2020, there appears to be simply no stock of the Nitro+ in the UK. Overclockers UK has it listed for £779.99 but it's not in stock at the time of writing. Sapphire told us directly that the MSRP for this model is £694, though MSRP figures don't mean too much when the market is effectively driving prices significantly higher due to the severe shortages.
As we noted in the Red Devil review, this makes it hard to come to a concrete conclusion. The Nitro+'s £694 MSRP is higher than the RTX 3080, which should cost £649, but neither are in stock at those prices. Ordinarily, we'd argue that RX 6800 XT needs to be cheaper than the RTX 3080, as it's not quite as fast at 4K, while its ray tracing abilities are also much more limited.
However, there has been nothing 'ordinary' about 2020 and with the pricing situation completely out of control until supply finally lands, like I said, MSRPs don't really mean anything. What I will say is the Sapphire RX 6800 XT Nitro+ is a terrific graphics card, easily beating the reference model across the board, and is just about superior to the Red Devil, but as mentioned, the margins are very fine indeed.
We hope to see the Nitro+ in stock, with reasonable pricing, soon – right now it is listed as out of stock at Overclockers UK.
Discuss on our Facebook page HERE.
Pros
Fastest RX 6800 XT we've tested so far.
Excellent dual-BIOS solution.
Overclocked very well.
Silent BIOS is very quiet.
Coolest-running 6800 XT when noise-normalised.
Cons
Current stock and pricing issues.
Slight coil whine is audible once the system fans have been disabled.
KitGuru says: The Sapphire Nitro+ is another top-class graphics card and would be deserving of a place on any final shortlist – if the cards were in stock…