The fourth aftermarket GTX 1070 Ti card to come through our labs, the Zotac AMP Extreme is undoubtedly the biggest and is definitely deserving of its 'extreme' moniker. However, size isn't everything – even though the giant heatsink may suggest cooling performance will be excellent, we do need to put that to the test. Then there is pricing to consider, as at £479, the AMP Extreme is sitting right in GTX 1080 territory. So, is this card a must have or is it best avoiding? Let's find out.
Last time around, we reviewed the ASUS ROG Strix GTX 1070 Ti and although that card is not small, measuring 298mm x 134 x 40mm, it is absolutely dwarfed by the Zotac GTX 1070 Ti AMP Extreme – measuring 325mm x 148mm x 56.6mm.
I think it is safe to say this is not a card for Mini-ITX system builders. With a distinctive design, too, you are unlikely to forget the Zotac card any time soon, so without any more fuss, let's jump right to it.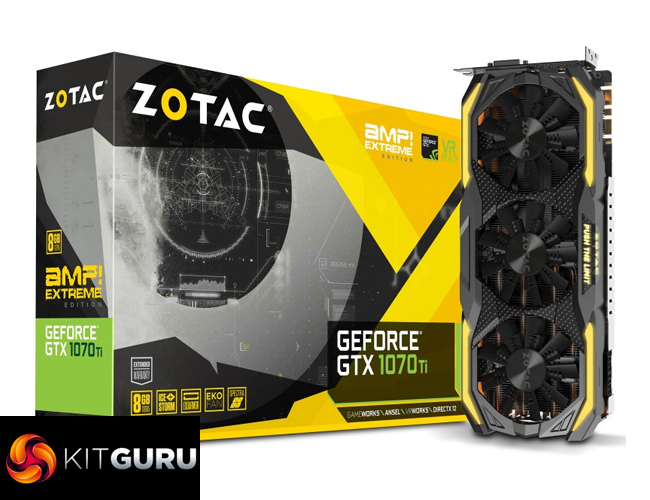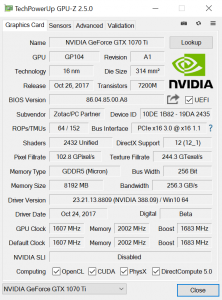 | | | | |
| --- | --- | --- | --- |
| GPU | Geforce GTX 1070 Ti | Geforce GTX 1080 | Geforce GTX 1070 |
| CUDA Cores | 2432 | 2560 | 1920 |
| Base Clock | 1607 MHz | 1607 MHz | 1506 MHz |
| GPU Boost Clock | 1683 MHz | 1733 MHz | 1683 MHz |
| Total Video memory | 8GB GDDR5 | 8GB GDDR5X | 8GB GDDR5 |
| Memory Clock | 4004 MHz | 5005 MHz | 4006 MHz |
| Memory Bandwidth | 256GB/s | 320GB/s | 256GB/s |
| Bus Width | 256 | 256bit | 256 bit |
| ROPs | 64 | 64 | 64 |
| Manufacturing Process | 16nm | 16nm | 16nm |
| TDP | 180 Watts | 180 Watts | 150 Watts |
Be sure to check out our sponsors store EKWB here