Having looked at three other aftermarket GTX 1070 Tis previously, we get a pretty good idea of where the Zotac GTX 1070 Ti AMP Extreme fits into this market segment.
Its biggest asset is undoubtedly the cooling performance – with a peak temperature reading of just 61C, tested in OC mode to boot, this is clearly a cool-running card.
We would expect that, though, given the sheer size of the card. It is also the loudest GTX 1070 Ti partner card we have reviewed, however, so there does seem to be a trade-off between thermals and acoustics.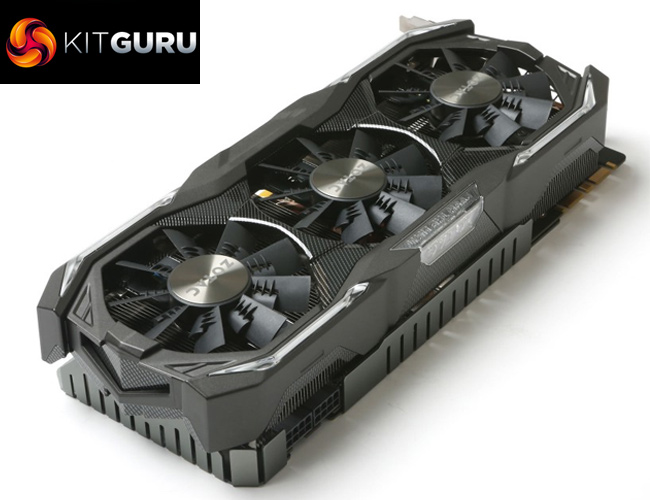 Moving onto our gaming benchmarks, I was surprised to see the AMP Extreme sit behind the ASUS ROG Strix GTX 1070 Ti, despite the latter card having a less aggressive OC profile. It turns out that the AMP Extreme would sit around the 1860-1880MHz mark while gaming, when the ASUS ROG card hovered between 1900-1920MHz – all thanks to GPU Boost 3.0 technology.
I do think the ROG card is much better looking, too, thanks to its all-black aesthetic. This Zotac GTX 1070 Ti is really not my cup of tea – the yellow backplate design will limit its appeal as it won't work in systems with a different colour scheme, while the 'push the limit' text is a bit immature. This is obviously subjective, but even so, I can't see the AMP Extreme having the same mass-market appeal due to its polarising design.
In any case, the Zotac GTX 1070 Ti AMP Extreme does have a place in the market – just not at its current price. Even with a sale price of £479.99 (with its regular price between £489.99-499.99) the card is still too close to other GTX 1080s currently available – so our advice, as it has been since GTX 1070 Ti launch day, is still to get a GTX 1080 if you have £480+ to spend on a new graphics card, or wait in the hope that GTX 1070 Ti aftermarket cards do drop to more sensible levels.

You can buy one from Overclockers UK for £479.99 HERE.
Discuss on our Facebook page, over HERE.
Pros
Excellent thermal performance.
Impressively over-engineered PCB.
Solid gaming performance.
Cons
Backplate design will be divisive.
Loudest GTX 1070 Ti yet.
Not quite as fast as the ASUS ROG Strix model.
KitGuru says: For those looking for the coolest GTX 1070 Ti out there, Zotac's AMP Extreme card is exactly that. If the price drops to a more sensible level, this would be a good buy.