We have managed to get our hands on all three of NVIDIA's top Quadro P-series cards. The RTX range is imminent, but this will initially only include replacements for the P5000 and P6000, so the P4000 will still remain the main price-for-price competitor to the WX 8200.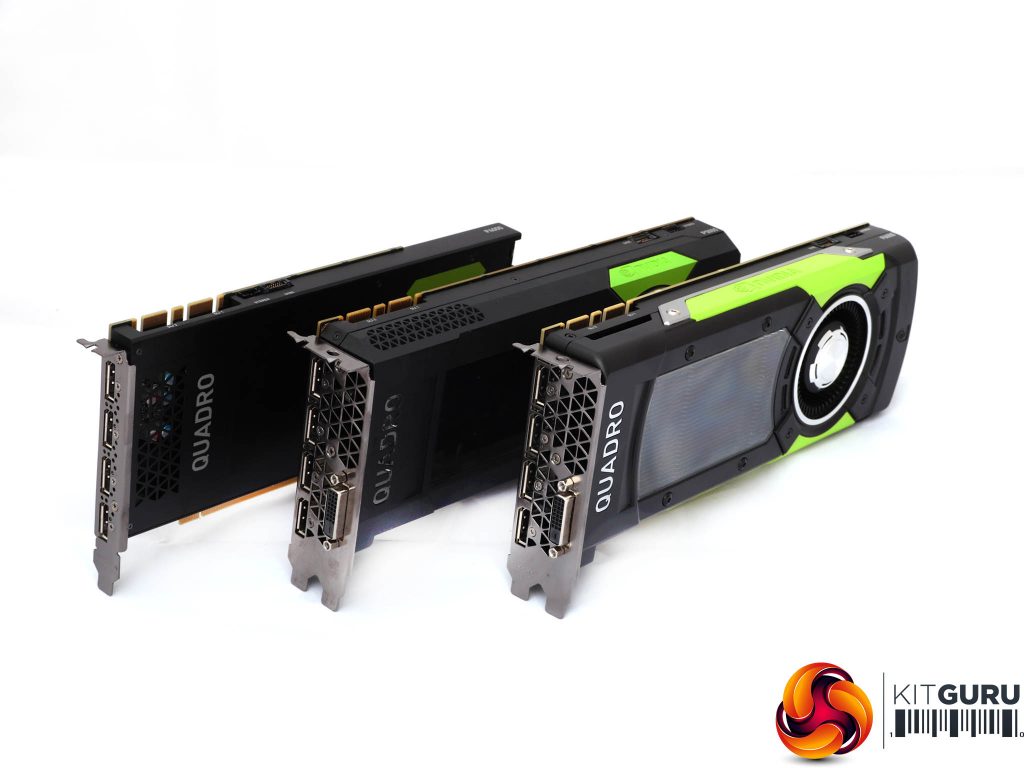 The P4000 is a single-width card, whilst the P5000 and P6000 take up two expansion slots like the WX 8200.
There is quite a variation between the specifications of the three Quadros, which we have detailed on the first page of this review. The Quadro P4000 has fewer than half the CUDA cores of the P6000, with the P5000 somewhere in between.
The P4000 also has significantly lower base and boost clocks. So it won't have anywhere near the grunt of its higher-end siblings. But on the plus side it only consumes 105W, which makes it more viable for workstations with limited chassis airflow and cooling.
So the Quadros have quite a bit going for them, but where they lose out to the AMD competition is in price. We didn't have retail pricing for the WX 8200 at the time of writing, but estimates place it £50 cheaper than the P4000, which was £809.99 inc VAT at the time of writing.
The WX 9100 was about twice as much as the WX 8200 at £1,583.99 inc VAT, and the P5000 similarly priced at £1,549.99 inc VAT. The P6000, however, is in a different league. It costs a phenomenal £5,198.99 inc VAT, which places it in a very specialist market where its performance and frame buffer size are mission-critical necessities.
GPU
NVIDIA Quadro P4000
NVIDIA Quadro P5000

NVIDIA Quadro P6000
Compute Units

14
20
30
GPU Cores
1,792
2,560
3,840
GPU Architecture / Variant
Pascal / GP104
Pascal / GP104
Pascal / GP102
Base Clock
1,202 MHz
1,607MHz
1,506MHz
GPU Boost Clock
1,480MHz
1,733MHz
1,645MHz
Total Video memory
8GB GDDR5
16GB GDDR5X
24GB GDDR5X
Memory Clock (Effective)

1,901 (7,604) MHz
1,127 (9,016) MHz
1,127 (9,016) MHz
Memory Bandwidth
243 GB/sec
288.5 GB/sec
432.8 GB/sec
Bus Width
256-bit
256-bit
384-bit
Manufacturing Process
16nm
16nm
16nm
TDP
105 W
180 W
250 W
Display Outputs
4 x DisplayPort 1.4
4 x DisplayPort 1.4, 1 x Dual-Link DVI-D
4 x DisplayPort 1.4, 1 x Dual-Link DVI-D
Display Resolution

4 @ 4096×2160 @ 120Hz

4 @ 5120×2880 @ 60Hz

4 @ 4096×2160 @ 120Hz

4 @ 5120×2880 @ 60Hz

1 @ 7680×4320 @ 30Hz

4 @ 4096×2160 @ 120Hz

4 @ 5120×2880 @ 60Hz

1 @ 7680×4320 @ 30Hz

Software API Support
DirectX 12, OpeGL 4.6, OpenCL 1.2, Vulkan 1.0, CUDA 6.1
DirectX 12, OpeGL 4.6, OpenCL 1.2, Vulkan 1.0, CUDA 6.1
DirectX 12, OpeGL 4.6, OpenCL 1.2, Vulkan 1.0, CUDA 6.1