We measure graphics card acoustic emissions in our test system while all other fans are disabled, leaving our Corsair H100i's pump unit as the sole noise-producing component.
We measure at a distance of around 1m from the front of the test system and around 1m from the ground. The positioning of a graphics card's AIO liquid cooler (if the card has one) will have a noticeable effect on the recorded sound level and the system's perceived loudness.
Unfortunately the city-centre positioning of my particular test location creates a relatively high ambient noise level of a little over 40 dBA. This has an effect on the perceived loudness of each card at the lower end of the noise scale.

KitGuru noise guide
10dBA – Normal Breathing/Rustling Leaves
20-25dBA – Whisper
30dBA – High Quality Computer fan
40dBA – A Bubbling Brook, or a Refrigerator
50dBA – Normal Conversation
60dBA – Laughter
70dBA – Vacuum Cleaner or Hairdryer
80dBA – City Traffic or a Garbage Disposal
90dBA – Motorcycle or Lawnmower
100dBA – MP3 player at maximum output
110dBA – Orchestra
120dBA – Front row rock concert/Jet Engine
130dBA – Threshold of Pain
140dBA – Military Jet takeoff/Gunshot (close range)
160dBA – Instant Perforation of eardrum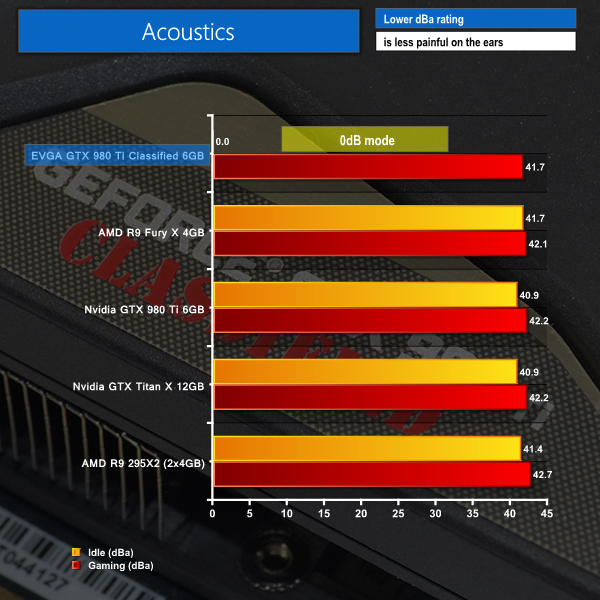 EVGA's fans remain stationary for GPU temperature levels of less than 60°C. This is ideal for helping to create a truly silent system that has ample cooling potential when it is required. At load, EVGA's card was barely audible and was far from intrusive. It was also the quietest of all the cards that I have tested as comparison data.
The high ambient noise in my city-centre test location makes it difficult to record acoustic differences between each card. I can, however, say that subjective listening proved that EVGA's solution was virtually inaudible at lower fan speeds and was barely audible when hitting the maximum – 44% – fan speed level that we recorded.
I would have no complaints about sitting next to the fully loaded card all day long – it was noticeably quieter than all competing solutions (even those with AIO liquid coolers) when sat close to the test system. Coil whine was non-existent on our sample.