The EVGA GTX 980 Ti Classified is shipped inside a large black box which bears naming of the product and features on its rear side. There is plenty of packaging foam to protect the physically large graphics card.
The supplied bundle consists of two braided dual-6-pin to 8-pin PCIe power adapters and a DVI to VGA adapter. The standard affair of drivers CD, documentation, and warranty information is supplied however EVGA also adds value by including multiple stickers and a large wall poster.
After-sales service from EVGA is plentiful. The company's cards have 3-year global, transferable warranties as standard, but that can be extended for a fee (€25 to extend to 5 years for a €500+ card, €50 for 10-years). A bonus for the watercooling crowd is that EVGA's warranty still stands even if the stock cooler is removed, provided a faulty card is returned with its original cooler in place.
Other after-sales services include an RMA program that allows users to receive a replacement card before shipping their faulty one back (although a PayPal deposit is required). There's also EVGA's popular step-up program which allows a user to pay the price difference to 'step-up' to a higher performing card within 90 days of purchase.
At 11 inches in length and 5.94 inches wide, EVGA's GTX 980 Ti Classified edition is a behemoth of a graphics card. The wider-than-reference PCB is wholly covered by the twin-fan ACX 2.0+ cooling solution in order to create a streamlined design which is free of gaps through to the PCB.
EVGA programs the pair of 100mm exhaust fans to completely switch off when the GPU temperature is below 60°C. This not only reduces noise output but also minimises dust build-up inside the heatsink fin array. According to EVGA, the fans 3-phase motor and double ball bearings allows them to consume less power than competing options, which translates into greater power allocation for the graphics card components.
A full-cover backplate is something that many enthusiasts will be overjoyed to see. On a £600, high-performance graphics card, I consider a metal backplate to be a necessity not only for aesthetic reasons but also for cooling and structural integrity purposes.
A pair of 8-pin power connectors is used in order to provide higher current levels to the card when it is overclocked heavily. The side-mounted power connectors and 5.94 inch card width may present clearance issues inside a narrow chassis. Close to the power plugs are EVGA's EVBot connector and the BIOS switch.
Dual 8-pin power connectors is likely to suffice even for enthusiast overclockers. People really trying to push the card to its extreme limits using sub-zero cooling are likely to solder on additional power boards (such as EVGA's EPower Board), thus somewhat bypassing the requirement for even more power potential directly from the card.
Two SLI fingers indicate support for up to four-card configurations.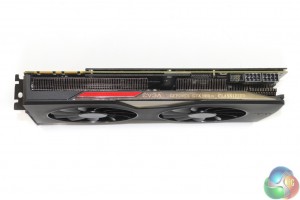 EVGA keeps the GTX 980 Ti Classified to a pure dual-slot width, rather than extend it to 2.5 or 3 slots, as we have seen other manufacturers do. This maximises the card's compatibility in multi-GPU configurations.
White LED's inside the name text illuminate when the card is powered up. This creates an eye-catching glow that many users with side panel windows on their chassis may appreciate. I did not spot a method for controlling LED colour, which is disappointing.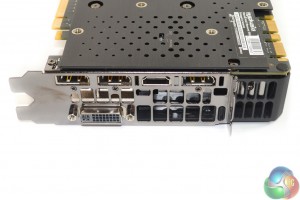 Nvidia's reference GTX 980 Ti video output configuration of three DisplayPort 1.2 connectors, one HDMI 2.0 port, and one Dual-link DVI-I connection is utilised. As set by Nvidia, this is pretty much the ideal configuration for a graphics card of this market segmentation.
EVGA cuts sizable vent holes into the rear IO shield and the extended section of cooler shroud in order create an escape path for hot air. With that said, the amount of hot air that actually flows through these holes is likely to be very small due to the heatsink's fin orientation.
EVGA designs the metal backplate to make direct contact with the rear PCB around the GPU area. This contact will help spread heat along the metal plate in order to improve cooing effectiveness.
Perforated areas of the backplate and cut-outs for certain power delivery components create an appearance that I personally like.
A sizable metal (presumably nickel-plated copper) base makes direct contact with Nvidia's GM200 GPU heatspreader and feeds thermal energy along six flattened heatpipes (three of which are 8mm diameter sizing) to a pair of aluminium fin arrays. Flattening the heatpipes has the benefit of increasing their contact area with the metal base, allowing thermal energy to be transferred at a greater rate from the base to heatpipes and therefore onwards to the fin array.
The application of flattened heatpipes does not, however, act as a substitute for greater diameter heatpipes because the total volume stays roughly constant between a round heatpipe of set diameter and a flattened one. Orientation of the aluminium fins will mean that hot air is blown towards the sides of the card – down onto a motherboard and towards the chassis side panel.
Referred to as MMCP (memory MOSFET cooling plate) by EVGA, a thin slice of metal makes contact with critical heat-producing components in order to extract their thermal energy and move it to a surface that can be effectively cooled. A secondary benefit of the MMCP is structural rigidity of the PCB, which is especially useful for mitigating PCB sag due to the heavy cooler.
I appreciate the attention that is paid to cooling power delivery components – switching more than 300W of board power creates a sizable portion of heat, but many graphics card makers overlook the value of direct MOSFET cooling.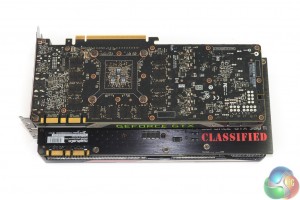 EVGA's GTX 980 Ti Classified ACX 2.0+ is noticeably larger than a reference board. Careful attention should be paid when trying to validate compatibility with narrower cases.
The ACX 2.0+ cooler design also spills most of its hot air inside the case, so the 300W+ thermal load should be accounted for when specifying a chassis' cooling capacity.

EVGA's overclocked GM200 core operates at a core clock of 1190MHz with a rated boost clock of 1291MHz. We actually observed the core boosting (and stabilising) to 1392MHz while gaming. The 6GB of GDDR5 memory is left largely untouched and runs at 1753MHz (around 7GHz effective).