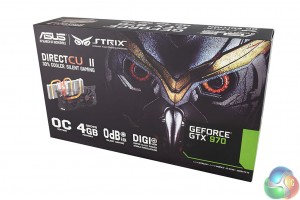 The robotic STRIX Owl makes an appearance on the front of the box. I think its actually very cool looking artwork – but also a little corny.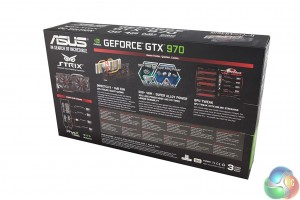 Asus list details of the cooler and software on the back of the box. Along with some images.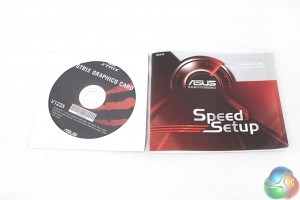 Not much of an accessory bundle, just a software disc and some literature on the product. Always best getting the latest drivers from the Nvidia website.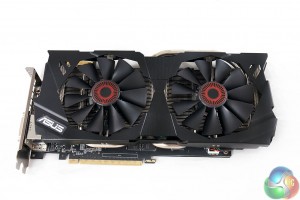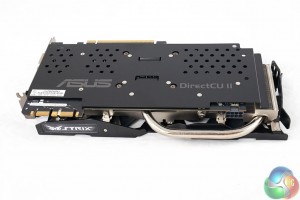 The Asus GTX970 Strix OC is a dark, ominous looking card. It ships with a backplate in place, which is certainly a welcome addition. There is a hefty heatpipe which protrudes a little from the top, as shown above.
Asus use a DIGI+ VRM with 6 phase Super Alloy Power with 30% less power noise and buzz free operation.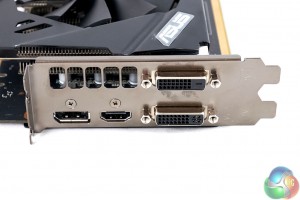 The Asus GTX970 Strix OC has two DVI connectors on the back (DVI-D and DVI-I), and a full sized HDMI 2.0 and DisplayPort. This HDMI port will handle 4K resolutions at up to 60hz.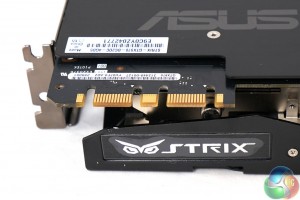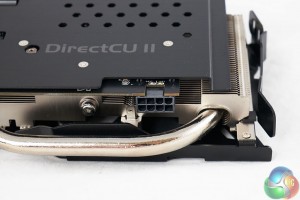 The card is SLi capable, and takes power from a single eight pin power connector. The MSI GTX970 Gaming 4G that we reviewed today uses an eight pin and a six pin connector which we we would think would be to improve stability under overclocked situations.
In the real world however both cards achieved very similar overclocked speeds – so the ASUS single 8 pin implementation seems more efficient to us. The less connectors needed, the better.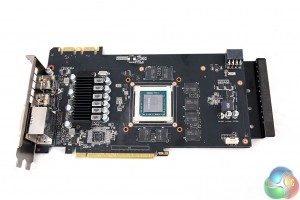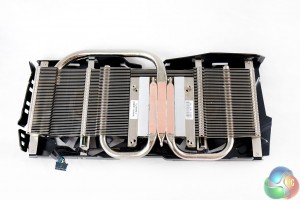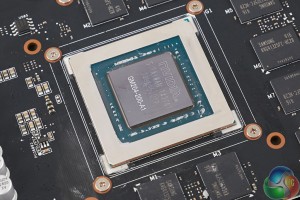 The Asus Direct CU II cooling system uses direct touch technology. Three thick 10mm heatpipes run into the copper base and into two racks of aluminum fins on either side of the core area.

Asus use Super Allow Capacitors, Super Alloy Chokes and Super Alloy MOS to help improve OC capability.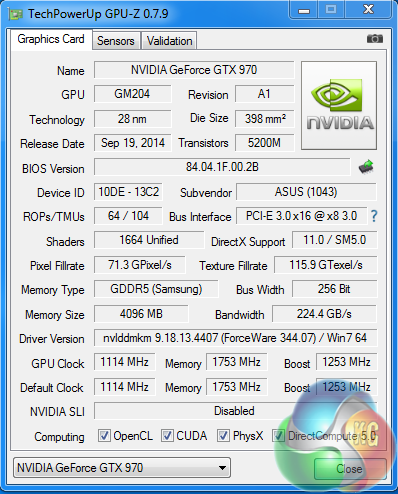 Special thanks to Mike over at Techpowerup for sending me over the latest beta version of GPUZ to fully support the Geforce GTX980. I felt like I was living in an episode of Back To The Future seeing a 'release date' of 19th September, when I started working on this review around the 13th.
The GM204 GPU is manufactured on the 28nm process. There are 64 ROPS, 104 Texture units and 1,664 CUDA Cores. The ASUS GTX970 Strix OC core speed is set at 1,1140mhz with a turbo boost to 1,253mhz. The 4GB of GDDR5 memory is clocked at 1,753mhz (7Gbps effective).