If you consider that money is no object then the Intel Core i9-7980XE is currently the finest CPU in the world. On the other hand if you pay even the slightest attention to price then Core i9-7980XE is the most absurd CPU for the enthusiast user.
Gamers have no need to consider high core count CPUs and can currently be happy with the quad core Kaby Lake or the upcoming Coffee Lake.
Moving on to workstations and high end PCs for those fabled Mega Taskers, there is no denying the X299 platform has suffered criticism for poor cooling. Provided you build a decent PC and don't go crazy with your overclocking X299 is relatively easy to work with. If we accept that X299 is a viable platform with a cost that is very similar to AMD X399 then it comes down to a choice of CPUs.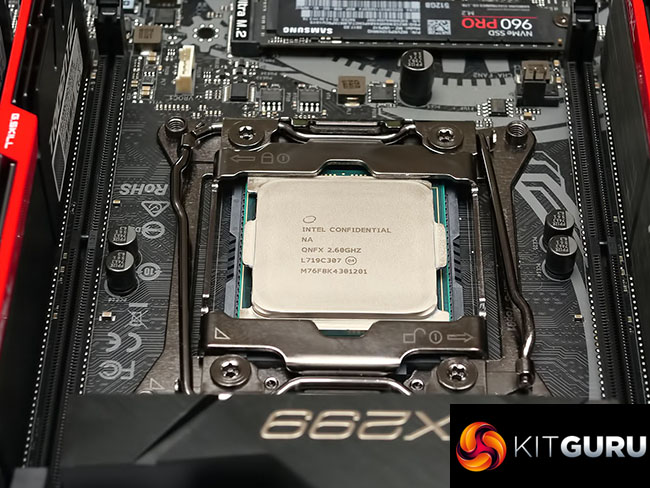 Ryzen Threadripper 1950X is impressive but also requires a substantial amount of power and top notch cooling. By contrast Core i9-7980XE is twice the price and delivers 30 percent more performance when overclocked. That sounds like terrible value for money however the picture is somewhat more confused than that.
You are likely to spend £3000-£4000 on a high end Threadripper PC so the same system powered by Core i9-7980XE would cost £4000-£5000, which is an extra 30 percent. In that context the price of the Core i9-7980XE is reasonable.
Clearly a CPU that costs around £1800 (or greater) is irrelevant to the vast majority of the market, but to those high end users who might be interested we have three closing thoughts.
If you are an Intel aficionado with loads of money and you simply cannot tolerate the idea of switching to AMD, you need a Core i9-7980XE.
Anyone who wants extreme levels of PCI Express for two or three GPUs plus a bunch of fast SSD storage – those 44 lanes are insufficient and it should be Threadripper all the way.
If you simply want the fastest CPU on the market you will want a Core i9-7980XE.
Pros:
Massive performance.
At stock clocks this CPU is surprisingly power efficient.
Simple to overclock.
Internal cooling appears to have been improved in this model.
Cons:
Only 44 lanes of PCI Express.
Brutal power draw when you overclock to the maximum.
Very, very expensive.
KitGuru says: The 18 cores inside i9-7980XE deliver storming performance.