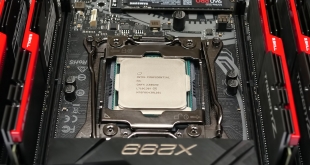 We've been waiting MONTHS since Intel told us they were going to launch a version of Core i9 with 18 hardware cores and 36 threads, and now the time has come for us to strap down this piece of Uber Silicon and thrash it within an inch of its life.
The fact of the matter is that KitGuru wasn't especially impressed by the 10-core Core i9-7900X but you need to cut us some slack. At the time of that particular review we knew AMD was going to deliver Ryzen Threadripper in 12- and 16-core versions and that Intel was going to deliver Core i9 in 12-, 14-, 16- and 18-core versions.
This meant the 10-core Core i9-7900X was a mere hor d'oeuvres that happened to be as hot as a charcoal briquette with the panache and élan of a charging rhinoceros. It delivered the goods but it was hardly subtle.
Heading into this review we have to wonder how 18 cores can be anything other than hot, power-hungry and blazing fast. To be frank we were apprehensive and just the teeniest bit afraid. This could potentially be the worst CPU since Intel dabbled with a Pentium 4 running beyond 3GHz.
Before we received the Core i9-7980XE we knew pretty much the entire specification, with one significant exception. Running on the Basin Falls X299 chipset, the CPU was listed with a base clock speed of 2.6GHz and a maximum speed of 4.2GHz as well as an increased TDP of 165W. That figure is only 25W higher than the Core i9-7900X, which suggested that Intel was putting an emphasis on core count rather than clock speed.
Other parts of the specification such as support for DDR4-2666MHz memory and 44 lanes of PCI Express remained unchanged from the 10-core model, as did the cache-per-core at 1.375MB, which meant the total increased from 13.75MB to 24.75MB.
The figure that was missing was the all-core Turbo speed which turned out to be 3.4GHz, and we have to confess this was higher than we expected. Furthermore the maximum speed of 4.2GHz was revealed as the Turbo Boost 2.0 figure, which meant that with Turbo Boost 3.0 you could see two cores run as high as 4.4GHz, provided you had adequate cooling.
As we explain in our video this was our first taste of Intel HCC (High Core Count) silicon so we were in the world of the unknown. The Core i9-7900X uses LCC (Low Core Count which is arranged in a block of 3×4. Subtract two blocks for memory controllers and you have a maximum of ten cores.
HCC silicon uses a block of 4×5, again with two memory controllers, leaving up to 18 CPU cores, which is how we arrive at Core i9-7980XE. We can only speculate what Intel might achieve with XCC (Xtreme Core Count) which is 5×6 and allows up to 28 CPU cores as seen in some particularly expensive Xeons.
Be sure to check out our sponsors store EKWB here