DDR5 memory is a difficult component to judge currently. The pricing is high, availability is poor, and performance uplifts versus high-end DDR4 can sometimes be insignificant. But that's the way the technology is currently, given its immaturity to the consumer market.
Nevertheless, Corsair's Dominator Platinum RGB memory modules represent a strong option for users who have already made the decision to go with DDR5. Performance in situations heavily tied to memory bandwidth – such as 7-Zip compression – absolutely flies.
And in games and other tests, the Dominator sticks repeatedly outperform the poorer latency (and cheaper) Fury Beast 5200MHz CL40 sticks from Kingston.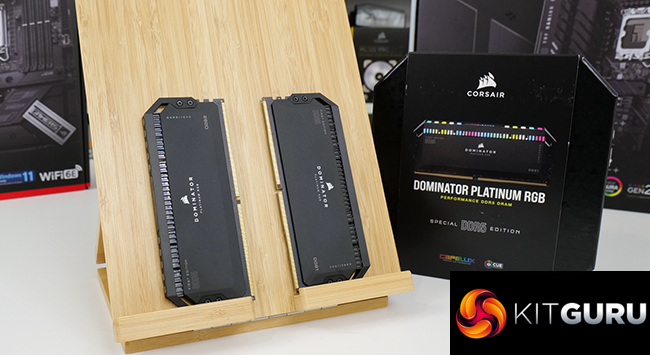 As we have come to expect from Corsair, the aesthetic design, lighting package, and software support for the Dominator Platinum RGB modules is simply superb. I have written of my love for the G.SKILL Trident Z RGB/Royal modules many times before.
However, Corsair's Dominator Platinum RGB are the only sticks that can reasonably compete with G.SKILL's flagship modules in my opinion. And in many areas – most notably availability and software ecosystem abilities – the Corsair sticks are vastly superior to G.SKILL's.
Yes, the price is very high currently at around £315 for the 32GB kit (which is about £50 more than a slightly lesser kit of Vengeance). And yes, availability is currently dreadful. And yes, the performance uplifts versus DDR4 are not always worth it. But as far as the creation of an alluring, eye-catching, well-designed set of high-performance memory goes, Corsair does incredibly well with the Dominator Platinum RGB 5200MHz CL36 DDR5 kit.
Check out our DDR4 vs DDR5 testing piece and video HERE. Check out our i9-12900K review HERE.
Discuss on our Facebook page HERE.
Pros:
Glorious aesthetic design.
Capellix RGB LED lighting implementation is superb.
Excellent iCUE ecosystem integration.
Thermal sensor.
Reasonably tight timings for a 5200MHz DDR5 kit on the current market.
Cons:
Tall and awkward for air cooler (or some AIO) users.
Very expensive.
KitGuru says: If you've already made the decision to spend big on DDR5 memory, Corsair's ultra-premium Dominator Platinum RGB 5200MHz kit can comfortably make its way onto your consideration list.
Be sure to check out our sponsors store EKWB here