With memory modules of this caliber, it is fair to assume that a large proportion of the user base will be looking for a quick and easy overclock. That means that users are unlikely to tweak parameters in an attempt to gain every single megahertz, but they will be likely to test the kit's stability at higher memory dividers.
We will be using our ASRock Z87 OC Formula motherboard's memory dividers to overclock the Team Group Vulcan Gold modules. Super Pi 16M will be used to verify stability and Maxxmem will highlight potential performance gains.
Hitting a 2666MHz memory frequency was as easy as selecting the 2666MHz divider and rebooting. We did not change any voltage or timings settings; our memory kit operated with stability at 2666MHz without any issues.
This is a very impressive quick-and-easy overclock.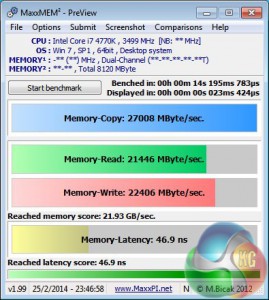 At 2666MHz CL 11, Maxxmem 2 shows a small performance boost in the memory copy test, although the memory read test numbers are reduced in comparison to the stock result. Latency is improved by 3.3 ns (approximately 6.5%) in comparison to the 2400MHz CL 11 test scenario.
Given the relative ease at which our sample kit broke the 2600 and 2666 MHz barriers, timings were loosened to 13-14-14-35-2T to see how much extra headroom the sticks provided.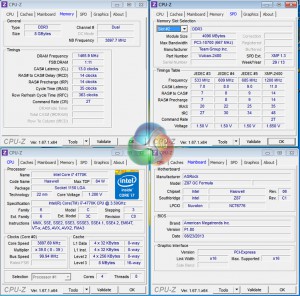 The highest Super Pi 16M-stable memory overclock that we achieved with the Team Group Vulcan Gold modules was 2933MHz. This is an excellent result for a low-cost, high-frequency memory kit and did not require any effort other than a simple reduction in timings.
At this point, Team Group's sub-£70 Vulcan set of memory is operating in the frequency region of kits that carry a price tag that is approximately three times greater.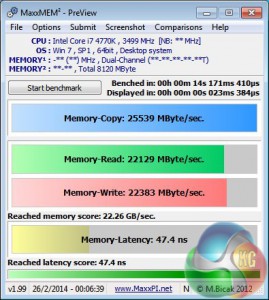 Increasing the memory frequency to 2933MHz, but making compromise by loosening the timings, results in an overall performance decrease in Maxxmem 2. Compared to the 2666MHz CL11 result, the memory read score at 2933MHz CL13 is higher, but all of the other three parameters show worse performance numbers.
We would be cautious about calling this a 24/7 stable overclock (as we did not stress test it for an extended period of time) nor would we say that each and every Vulcan Gold memory kit will be capable of such frequencies. But we are remarkably impressed by the overclocking characteristics that our sample kit showed.
We attempted a higher frequency overclock, after adjusting the BCLK to get us past the 2.933GHz memory frequency barrier. Unfortunately, 3000MHz proved a step too far on the stock voltage of 1.65V.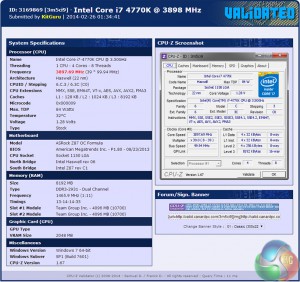 Our validation running at a 2933MHz DRAM frequency and loosened timings can be viewed here.