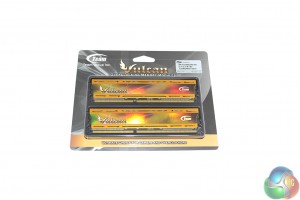 Team Group ships the Vulcan Gold memory in basic packaging which shows off the modules' exuberant colour scheme. Rather than take the frustrating clamshell approach, Team Group uses a simple cardboard container which can be ripped away to provide easy access to the modules.

Speed, kit capacity, timings, and part number are outlined on a sticker on the packaging's top-right corner.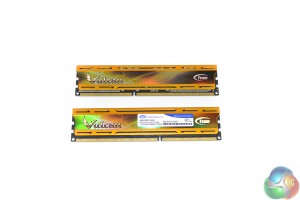 The Team Group Vulcan Gold memory sticks are covered by a lightweight, gold-coloured heatsink. While the choice of colour may have been dubious in past eras, Asus's new motherboards have made sure that memory manufacturers have more choice in the appearance department. If gold is not to your taste, orange-, blue- or red-stripped versions are also available.
Building on the appearance note, Team Group has taken the wise decision to opt for a black PCB over the ugly green alternative. Yes, the PCB is barely noticeable when the memory is installed in a board but, for me personally, I still prefer to cast my eyes on subtle hints of black, rather than green. Many people will agree.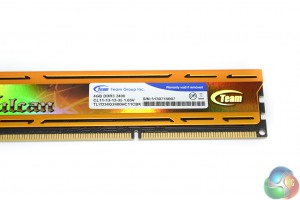 A sticker on the back of each DIMM outlines the module's speed, capacity, timings, voltage, and serial number. The 8GB kit on show today consists of a pair of 4GB DIMMs which feature memory chips on one side of the PCB and a spacer on the other. A 16GB kit which utilises two 8GB modules is also available.
Intermittent openings in the heatsink give a glimpse at the underlying black PCB. They also look to act as holes through which airflow can access the memory chips.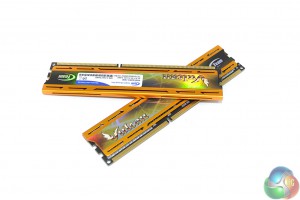 Measuring in at 31mm-tall, Team Group all but eliminates CPU cooler interference problems by using an insignificant 1mm more than a bare memory module. While I am a fan of the aesthetic appeal that tall heatsinks, such as G.Skill's RipjawsX variant, gives a memory kit, function typically wins out over form when I'm the one purchasing.
By that logic, the interference-free design of Team Group's Vulcan heatsinks would appeal to me thanks to their ability to fit underneath large CPU coolers, such as be quiet!'s Dark Rock Pro 3. And with a kit that is not designed for heavy overclocking or sub-zero benching, a large heatsink is not necessarily required. Not at 1.65V, at least.