Manual CPU Overclocking:
To test the ASUS Prime X299-Deluxe motherboard's CPU overclocking potential, we aim to set the CPU voltage close to 1.20V. CPU VCore is set to 1.20V.

We maintained the DRAM frequency at 3200MHz to take its stability out of the overclocking equation.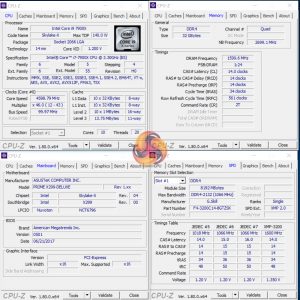 Overclocking was relatively straightforward thanks to ASUS' well-designed UEFI. The LLC settings did not make much sense so a trial-and-error approach had to be used. Voltage accuracy was very good, according to CPU-Z, though there was no way to validate this reading without onboard voltage check points.
As is already known, it is difficult to cool a Skylake-X i9-7900X CPU overclocked with 1.2V even using a 360mm AIO. CPU temperatures were high but reported VRM temperatures inside our Corsair Air 540 test chassis remained well below 80°C even under sustained AIDA64 stress testing. It is likely that you will need a higher core count CPU or a de-lidded chip (or Prime95 AVX) to start stressing the MOSFET heatsink beyond reasonable temperature levels.
Overclocked Performance

As a performance comparison, we have included the results from the Gigabyte X299 Aorus Gaming 3. The maximum overclocked configuration achieved with each board was a 4600MHz (46 x 100MHz) processor frequency whilst using 3200MHz CL14 memory.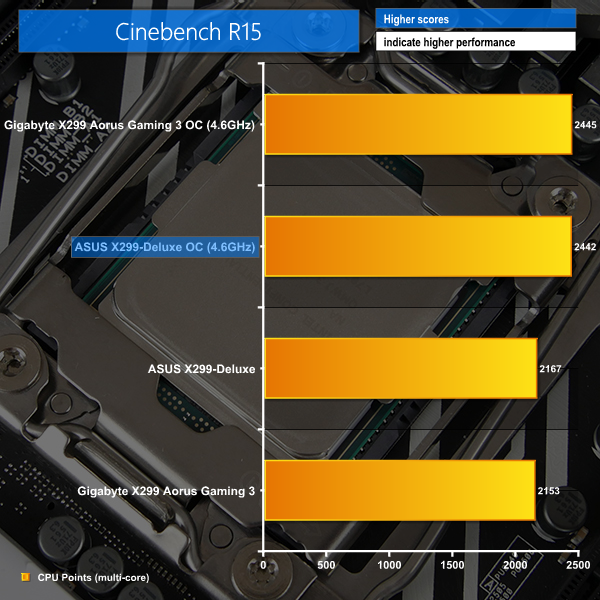 A strong performance increase was obtained by overclocking.
Power
We leave the system to idle on the Windows 10 desktop for 5 minutes before taking a reading. For CPU load results we run Cinebench multi-core and take a reading. The power consumption of our entire test system (at the wall) is shown in the chart.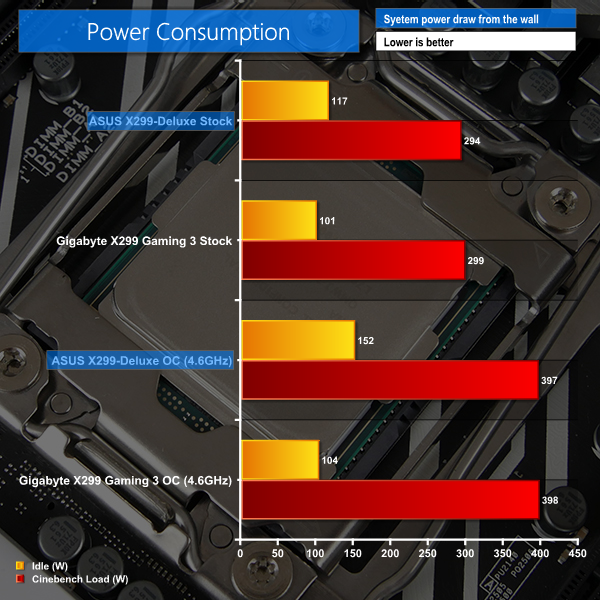 Idle power consumption from the ASUS motherboard is high as the PWM controller looks to be keeping voltage levels elevated even under lower load conditions. A greater number of add-on controllers also contributes to the ASUS board's increased low-load power draw.
However, the strong 8-phase solution proves its efficiency under higher load scenarios, albeit by a few Watts compared to the Gigabyte offering.