We will be outlining the ASUS Prime X299-Deluxe motherboard's performance with the Intel Core i9-7900X CPU and 32GB of 3200MHz G.Skill Trident Z DDR4 memory.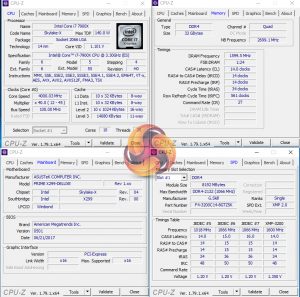 Stock voltage hovered around 1.1V under Cinebench load. This was using the 0501 BIOS (the latest at the time of testing).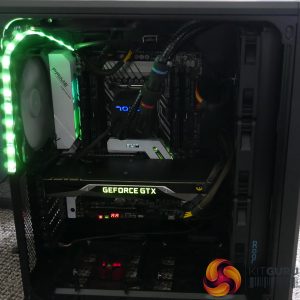 X299 Motherboard Test System:
Processor: Intel Core i9-7900X.
Memory: 32GB (4x8GB) G.Skill Trident Z 3200MHz 14-14-14-34 DDR4 @ 1.35V.
Graphics Card: Nvidia GTX 1080 Ti Founder's Edition (custom fan curve to eliminate thermal throttling).
System Drive: 500GB Samsung 840 SATA 6Gbps SSD.
Games Drive: 960GB SK Hynix SE3010 SATA 6Gbps SSD.
CPU Cooler: Alphacool Eisbaer 360 3x120mm All-in-One liquid cooler.
Power Supply: Seasonic Platinum 1000W.
Case: Corsair Air 540.
Operating System: Windows 10 Pro 64-bit (Creators' Edition).
Comparison X299 Motherboards:
Software:
ASUS Prime X299-Deluxe BIOS 0501 (latest at the time of testing).
GeForce 382.33 VGA drivers.
Tests:

Cinebench R15 – All-core CPU benchmark (CPU)
7-Zip – Built-in 7-Zip benchmark test (CPU & Memory)
SiSoft Sandra – Memory Bandwidth Test (Memory).
AIDA64 Engineer – Memory latency (Memory)
3DMark Time Spy – CPU score (Gaming)
Ashes of the Singularity Escalation – Built-in benchmark tool CPU-Focused test, 1920 x 1080, Extreme quality preset, DX12 version (Gaming)
Metro: Last Light Redux – Built-in benchmark tool, 1920 x 1080, Very High quality, SSAA, AF 16X, Tessellation: High (Gaming)
ATTO – M.2, USB 3.0, USB 3.1, and SATA 6Gbps transfer rates (Motherboard)
RightMark Audio Analyzer – Record and playback test using a line-in to line-out loopback with a 3.5mm audio cable (Motherboard)