The ASUS Prime X299-Deluxe is a feature-filled X299 motherboard that can add valuable assets to an eco-system built around a Skylake-X CPU.
Despite the justifiable complaints towards Intel's handling of the X299 platform, it remains a high-performance solution with numerous valuable features for prosumers. A large proportion of that value comes from motherboards such as ASUS' Prime X299-Deluxe which offers two dedicated M.2 PCIe slots, a strong power delivery solution, and Thunderbolt 3 in the bundle.
ASUS' unique way of managing M.2 SSD cooling issues is worthy of praise. The previously under-utilised chipset heatsink is put to good use by sapping heat away from a high-speed PCIe M.2 SSD. The vertical mount is also a decent option that gives flexibility with drive length.

Including an OLED screen is a bold move by ASUS but it is one that may appeal to some users. Having information such as the CPU temperature and voltage in a location that can be seen through a PC case's side panel window (CPU cooler dependant) is more than a novelty.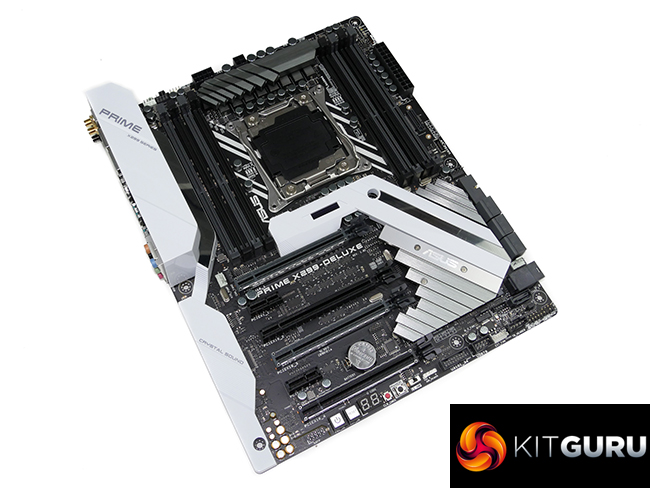 ASUS deserves criticism for equipping the X299-Deluxe with a poorly-designed MOSFET heatsink that is almost unfit for purpose (and may be even less desirable when higher core count Skylake-X models are released).
The PCIe slot layout is also wasteful when factoring in the movement towards 2.5-slot graphics cards from vendors which include ASUS. A pair of GTX 1080 Ti STRIX cards means that the Thunderbolt 3 AIC is left wasted when ASUS could have put the chipset on-board.
These oversights are, in some respects, made up for by ASUS' well-built UEFI and useful software suite. That's in addition to superb fan control and a solid onboard RGB LED lighting system. The supplementary 4-pin CPU power connector is another wise move that extends the realistic overclocked CPU support list for this motherboard, provided you can cool the MOSFETs.

The ASUS Prime X299-Deluxe is available at Overclockers UK for £409.99 (at the time of writing). ASRock's 10GbE-equipped X299 Gaming i9 is a particularly tough competitor at this price point but the ASUS Prime X299-Deluxe certainly has enough of its own positive points to validate its place in the premium X299 motherboard market.
Discuss on our Facebook page, over HERE.
Pros:
Strong power delivery components with a supplementary 4-pin power connector.
Excellent fan control system with plenty of headers.
Robust UEFI and OS software.
LiveDash OLED display is a unique feature.
Solid RGB LED lighting system.
Strong WiFi solution.
Thunderbolt 3 and U.2 support.
Cons:
MOSFET heatsink is poorly designed for handling Skylake-X CPUs.
PCIe slot layout is inefficient, especially with the bundled Thunderbolt 3 card.
OLED display positioning is questionable (blocked by a large air cooler).
KitGuru says: A high-end X299 motherboard packed with features that will appeal to prosumers and all-round enthusiasts.