ATTO Disk Benchmark

The ATTO disk benchmark is a Windows-based utility for testing storage performance of any storage drive or controller. We use the default benchmark setup.
M.2 PCIe Performance

For M.2 testing we use a Samsung 960 Pro 512GB M.2 PCIe NVMe SSD.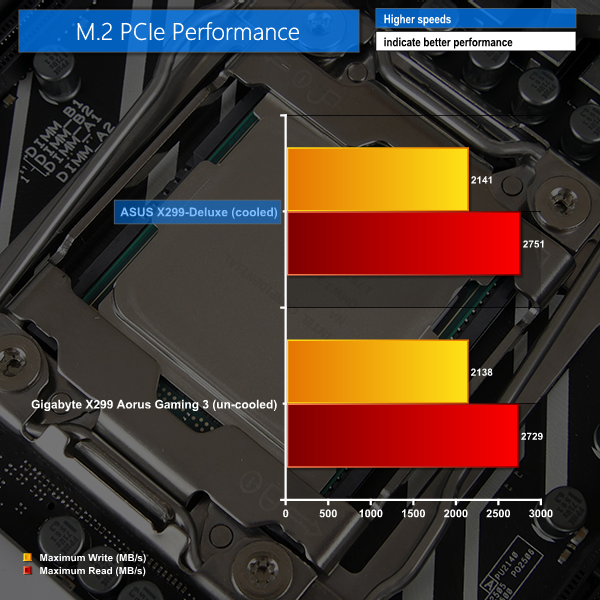 ASUS' innovative M.2 SSD cooling solution beneath the chipset heatsink provides excellent load temperature numbers with a Samsung 960 Pro. The SSD stayed below 50°C – well away from a thermal throttling point – during the ATTO benchmark.
ASUS' secondary, vertical M.2 mount also does well at allowing the SSD to dispose of its heat. However, this location sees our 960 Pro running almost 10°C hotter than the chipset location.
USB 3.0 5Gbps & USB 3.1 Gen 2 10Gbps Performance
We test USB 3.0 5Gbps and USB 3.1 Gen 2 10Gbps performance using a pair of Corsair Force LE 120GB SSDs in RAID 0 connected to an Icy Box RD2253-U31 2-bay USB 3.1 enclosure powered by an ASMedia ASM1352R controller.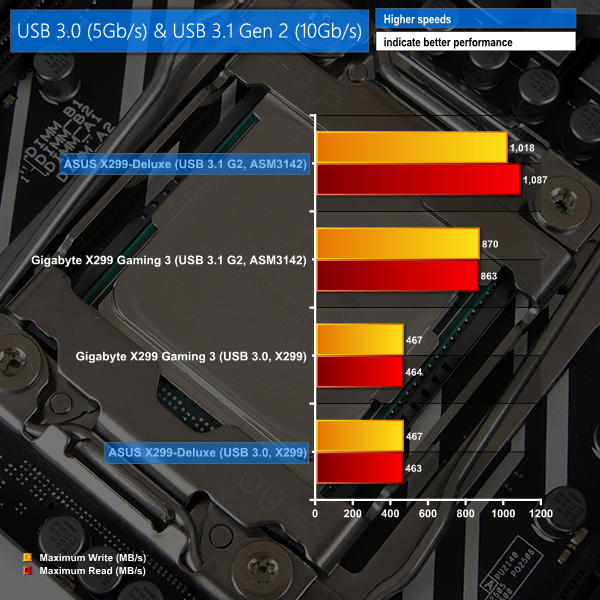 USB performance from the ASUS board is superb. The ASM3142-fed USB 3.1 Gen 2 ports deliver over 1000MBps while the X299-based USB 3.0 ports hit their limit.
SATA 6Gbps Performance
For SATA 6Gbps testing we use a SK Hynix SE3010 960GB SSD.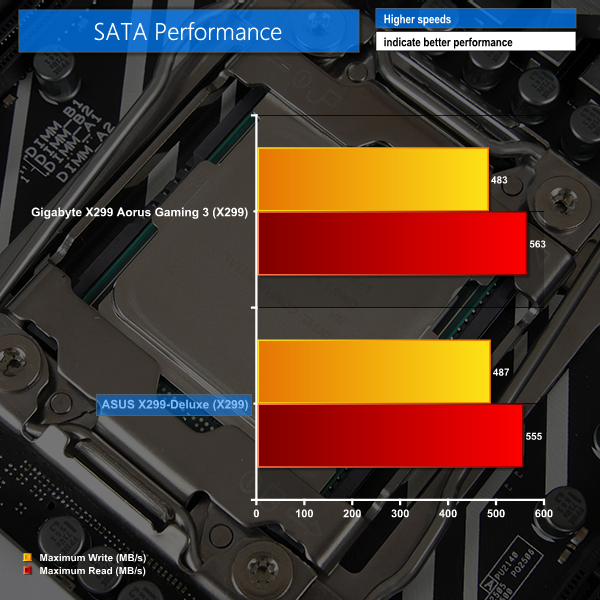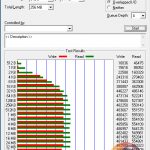 SATA 6Gbps performance is as it should be.
WiFi Performance

For Wireless-AC testing we manually transfer a large video file between the test system and our GbE UnRaid server (with a SSD cache drive).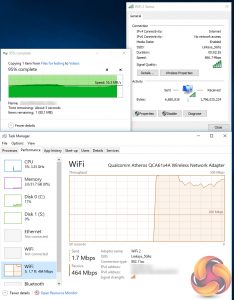 The WiFi-AC solution hit around 55MBps in our testing at a distance of around 10 feet in a signal-cluttered environment. This is a strong score for daily transfers but is still a fair way off wired GbE performance of around 112MBps.
Audio

Rightmark Audio Analyser is a freeware benchmarking utility designed to objectively test the performance characteristics of audio solutions. We setup a line-in line-out loop and execute the record/playback test before generating the results report you see below. A sampling mode of 24-bit, 192 kHz was tested.

RMAA rates the board's general audio performance as 'Very Good'. This rating is perhaps a little harsh given that most of the scoring groups were given 'Excellent' ratings.