AMD's B550 chipset has finally launched, and we are looking at two of ASUS' premium ROG STRIX offerings – the B550-F Gaming (WiFi) and the B550-E Gaming. Can the price reduction for the B550 silicon versus X570 prove sufficient in freeing budget for ASUS to cram in features typically associated with higher-end X570 motherboards?
Watch via our Vimeo Channel (Below) or over on YouTube at 2160p HERE
ASUS builds the pair of ROG STRIX B550 offerings around a solid foundation. Both motherboards use hefty power delivery solutions, with the B550-F Gaming (WiFi) sporting a 12+2 stage design and the B550-E Gaming deploying 14+2 stages.
In addition to the power-based core, ASUS provides a couple of M.2 connectors, high-speed wireless networking from a WiFi 6 adapter, and Intel 2.5 Gigabit Ethernet. You also get the usual set of ROG STRIX features, including widespread AURA RGB support, SupremeFX audio, and value-added features such as AI Mic.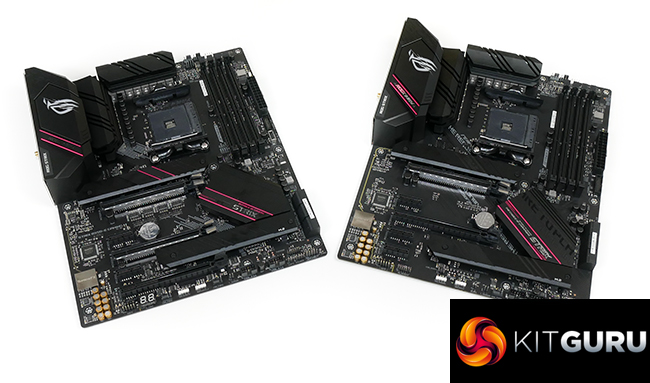 Priced at £209.99 for the B550-F Gaming (WiFi) and £239.99 for the B550-E Gaming, can ASUS' pair of ROG STRIX motherboards prove their worth versus some tough AM4 competition?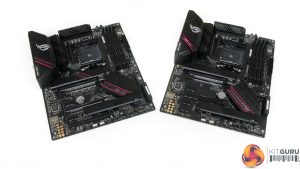 Starting off, we see that both motherboards feature the typical ROG aesthetic styling of dark black and grey components with touches of red.
You get a big rear IO cover on both boards but the B550-E Gaming is clearly denser when it comes to features and onboard electronics.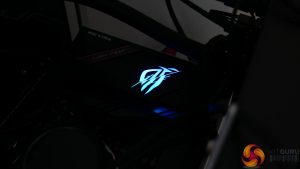 RGB is present and subtle but looks good. AURA control capability is available and can be used to control partnering hardware.
Neither board features any form of backplate, with ASUS instead opting for some ROG branding that is utterly pointless as it will never be seen inside a chassis.
Both boards use a 6-layer PCB which is positive from a quality perspective.
You get support for high-speed memory in excess of 5GHz according to ASUS' product page. Front panel USB 3.0 5Gbps headers are located on both motherboards close to the 24-pin connector. Only the B550-E Gaming gets an internal USB Type-C header and it is fed by B550 chipset 10Gbps ports.
Four LEDs provide information during POST and are a good method of quick troubleshooting. The B550-E goes a step further by adding a 3-pin Addressable RGB header on this right-side edge but the B550-F Gaming (WiFi) does not.
There are no onboard power or reset or clear CMOS buttons and no onboard voltage measuring points. The lack of buttons is disappointing on the higher-end B550-E Gaming.
8+4-pin CPU power connectors provide ample current in both cases. A cluster of 4-pin fan headers are found along the top edge and the VRM heatsink location is conducive to minimising interference headaches.
Both boards have a 4-pin RGB header up top.
All six SATA ports operate directly from the B550 chipset. On both motherboards, SATA ports 5 and 6 share bandwidth with the secondary M.2 slot. When SATA drives are connected to those ports, the M.2 SSD in the secondary slot drops to PCIe 3.0 x2 bandwidth.
This is a disappointing limitation, especially as there is only one other M.2 slot. It would have been better to steal lanes from other locations, such as the PCIe x1 slots that rarely get used. Granted, the number of users installing more than four SATA drives is also slim.
Dual M.2 slots are present for drives up to 110mm long. The top slot is up to PCIe Gen 4 x4 with lanes direct from a Ryzen CPU. The second slot is up to PCIe Gen 3 x4 from the B550 chipset but shares lanes with two SATA ports and will drop to x2 if they are used.
The M.2 PCIe connection linked to the chipset will quickly run into CPU-to-chipset link bottlenecks as it is also PCIe Gen 3 x4 but must feed all chipset-connected devices.
From a bandwidth perspective, this is not an ideal M.2 implementation on either board. It would have been better to give the secondary M.2 dedicated PCIe lanes from the chipset and instead force the final two SATA ports to share with other connections. If nothing else, this helps users avoid incorrect installation of their SATA drives that will slow down their NVMe SSD (yes, we have seen that from even experienced system builders).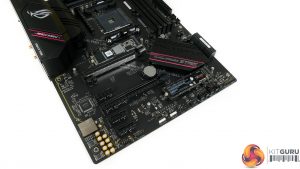 Slot spacing is absolutely ideal as the faster CPU-fed M.2 slot has less PCB trace distance and the chipset-fed slot is away from the heat of a graphics card.
A beefy aluminium heatsink with a good thermal pad covers either M.2 slot. These slots are easy to access, even with a graphics card installed.
The top, steel-reinforced slot on each board runs at PCIe Gen 4 x16 bandwidth direct from the Ryzen CPU.
In the case of the B550-E Gaming, its second slot is also steel-reinforced and uses PCIe Gen 4 lanes from the CPU so can run at up to x8 bandwidth by stealing lanes from the slot above. Therefore, the B550-E can run at PCIe Gen 4 x16/x0 or x8/x8 from the AMD CPU lanes.
This is good for dual GPUs and as it is x8, 2-card SLI and CrossFire are officially supported. Alternatively, you could install another one or two PCIe Gen 4 SSDs in this slot for a high-speed link to the CPU at the cost of dropping the GPU to x8 link.
Sticking with the B550-E, its bottom slot runs at up to PCIe Gen 3 x4 from the chipset, but it shares lanes with the two PCIe x1 slots. This full-length connector will run at x2 bandwidth if either of those are populated.
The B550-F Gaming (WiFi) second slot is PCIe Gen 3 x4 from the chipset but it too shares bandwidth with the x1 connectors. Populating the x1 slots reduces the full-length slot's bandwidth.
Slot spacing and layout is ideal for motherboards of this calibre. You get ample spacing for triple-slot graphics cards and you can also run dual-slot expansion devices in the second full-length connector.
If you want to use all the SATA ports but do not want to drop to PCIe Gen 3 x2 on the second M.2 slot, you could use an add-in-card for your M.2 SSD in the chipset-connected PCIe x4 slots, provided you do not use the x1 slots at all. You could also do PCIe Gen 3 x4 RAID SSDs through the chipset (provided you don't use the SATA ports) but you will run into bandwidth issues from the PCIe Gen 3 x4 CPU-to-chipset link.
Dual USB 2.0 headers is ideal for smart AIO or RGB users. Both boards have Thunderbolt AIC headers. Two 4-pin fan headers and two RGB headers are present along the bottom edge. And you also get a temperature sensor header in a smart location.
The B550-E Gaming also has a 2-digit debug LED which is always very useful and good to see.
Both boards use the ASUS SupremeFX audio solution. This is based around the SupremeFX S1220A audio codec and uses Nichicon audio capacitors and dual op-amps.
AI Mic noise-cancelling microphone support is included and this can filter out background noise. While it places a small load on the CPU, ASUS argues that this is better than placing a load on the GPU, as competing technologies will. More details can be found on the ASUS webpage.
The B550-F Gaming (WiFi) has six 4-pin fan headers with four within easy reach of the CPU socket. Three total RGB headers are present – one 4-pin up top and one 4-pin and one addressable down the bottom. It is disappointing that only three RGB headers are supplied when most other motherboards offer four.
The B550-E Gaming also has six total fan headers. Four are within easy reach of the CPU socket, but the AIO pump header is moved to a more preferential location up top. You get four total RGB headers – 4-pin and addressable up top-right and also on the bottom edge.
Reasonable speed control is available through the UEFI and software but the minimum fan speed allowances on the curves are limiting and the zero RPM modes do not always work. Gigabyte's Smart Fan 5 is a better overall alternative, but ASUS' solution is competitive against MSI and ASRock.
Starting with the B550-F Gaming (WiFi), you get two USB 2 ports, one of which doubles for BIOS Flashback duties. There are also four USB 3 5Gbps ports. Only two 10Gbps USB 3.2 Gen 2 ports are on the entire motherboard – one Type-A and one Type-C both fed by the B550 chipset.
The B550-E Gaming gets four USB 2.0, one of which gets BIOS Flashback duties. There are three USB 3.2 Gen 2 10Gbps ports fed by the CPU, one of which is Type-C. No clear CMOS button on the B550-E Gaming is disappointing.
Both boards feature Intel I225-V 2.5GbE instead of the Realtek alternative. And you get Intel AX200 WiFi 6 for high-speed networking connectivity, plus Bluetooth 5.1. Displayport 1.2 and HDMI 2.1 are provided for high-resolution video outputs from an APU.
The usual audio connections are available for the B550-F Gaming (WiFi) but the B550-E Gaming trades optical SPDIF for audio Type-C. This may be a preference for some users with Type-C headsets, but it will be disappointing for those with high-end surround sound speakers.
Neither board gets a rear clear CMOS button and that is fine for the B550-F Gaming market segment but disappointing for the B550-E Gaming.
B550-F Gaming (WiFi) Power Delivery System:
The B550-F Gaming (WiFi) uses fourteen total power stages in a 12+2 configuration. The PWM controller is a Digi+ ASP1106 in 4+2 phase mode – this is likely a rebadged Intersil controller. 4+2 is pretty limited for a motherboard at this price point. There are no PWM phase doublers – ASUS uses teamed power stages instead.
Twelve teamed CPU power delivery stages are powered by four PWM control channels. Twelve Vishay SiC639 DrMOS power stages are rated for 'up to' 50A of continuous current output. Two SoC phases also use Vishay SiC639 DrMOS power stages. Plus, there are 5K-rated MIL capacitors.
Overall, this is a reasonable design for this price point. Four real PWM control phases is slim but the 12+2 stages of current capability is strong. This design is basically identical design to the ASUS TUF Gaming X570-Plus motherboard and we tested that and gave it good feedback, as did others.
You get very similar VRM heatsinks on both boards – individual blocks of metal with minimal effort for efficient cooling performance. No heatpipe between the two is fine as the CPU power stages are evenly split between the two zones. It is good that there's a thermal pad for the chokes – this could help a little.
The heatsinks are not too tall and no fan is good. They are clearly designed for aesthetics instead, but that is probably OK given the hefty set of power stages they are used with will need minimal cooling.
B550-E Gaming Power Delivery System:
Sixteen total power stages in a 14+2 configuration are used for the B550-E Gaming. ASUS uses a Digi+ ASP2006 PWM controller. There is no information about this controller so we are unsure on its design. No PWM phase doublers are deployed because ASUS uses a teamed power design instead. This is likely a 7+1 configuration.
Fourteen teamed CPU power delivery stages use MPS MP86992 co-packaged MOSFET power stages. I cannot find any information whatsoever regarding the power stages, which is slightly concerning, so we will have to check thermal performance. The two SoC phases use the same power stages.
This looks to be a good design at this price point, but our thermal testing will highlight whether the uncommon power stages are fit for purpose.
Heatsinks for the B550-E Gaming are practically identical to those used on the B550-F Gaming (WiFi) and, therefore, our feedback is the same.
Both motherboards use a moderately sized chipset heatsink. No fans are required for VRM and chipset cooling, thankfully.
For more details on ASUS' UEFI and OS software offering, check out our previous ASUS ROG STRIX motherboard reviews HERE and HERE. Also be sure to check out further details regarding OS software tools on ASUS' direct webpages.
We will be outlining the ASUS ROG STRIX B550 motherboard's performance with the AMD Ryzen 9 3950X CPU, 16GB of 3200MHz DDR4 memory, and an Aorus RTX 2080 Ti graphics card.
AM4 Motherboard Test System:
Processor: AMD Ryzen 9 3950X.
Memory: 16GB (2x8GB) G.SKILL 3200MHz CL14 DDR4 @ 1.35V.
Graphics Card: Gigabyte Aorus RTX 2080 Ti XTREME (custom fan curve to minimise thermal throttling).
System Drive: WD_Black SN750 PCIe 3.0 x4 NVMe M.2 SSD.
Games and Test SSD: Crucial MX300 750GB & Aorus 2TB PCIe Gen 4 M.2 SSD.
CPU Cooler: Fractal Celsius+ S28 Prisma 280mm AIO (full speed fans and pump to eliminate thermal throttling).
Power Supply: Seasonic Prime TX-1000 1000W.
Operating System: Windows 10 Pro 64-bit.
BIOS Version:
ASUS ROG STRIX B550-E Gaming (AGESA 1.0.0.1)
ASUS ROG STRIX B550-F Gaming (WiFi) (AGESA 1.0.0.1)
Comparison Motherboards:
Tests:

Cinebench R20 – All-core & single-core CPU benchmark (CPU)
Blender 2.82a – All-core rendering of the BMW and Classroom benchmarks (CPU)
SiSoft Sandra – Memory bandwidth (Memory)
AIDA64 – Memory bandwidth, memory latency (Memory)
3DMark TimeSpy – Time Spy (1440p) test (Gaming)
Shadow of the Tomb Raider – 1920 x 1080, Highest quality preset, no AA, DX12 version (Gaming)
Tom Clancy's The Division 2 – 1920 x 1080, Ultra quality preset, no AA, DX12 version (Gaming)
CrystalDiskMark– Storage transfer rates (Motherboard)
Rightmark Audio Analyzer 6.4.5 – Record and playback test using a line-in to line-out loopback with a 3.5mm audio cable (Motherboard)
AIDA64 – Stress test (Temperatures & Power Consumption)
HWiNFO – System sensor monitoring during stress test (Temperatures & Power Consumption)
Cinebench R20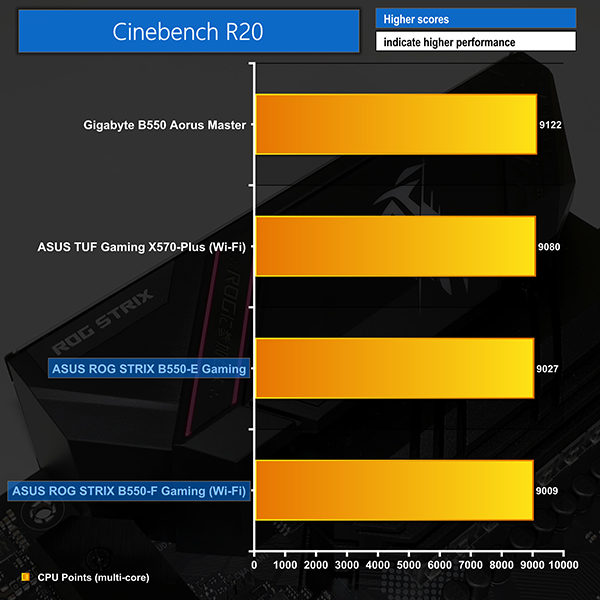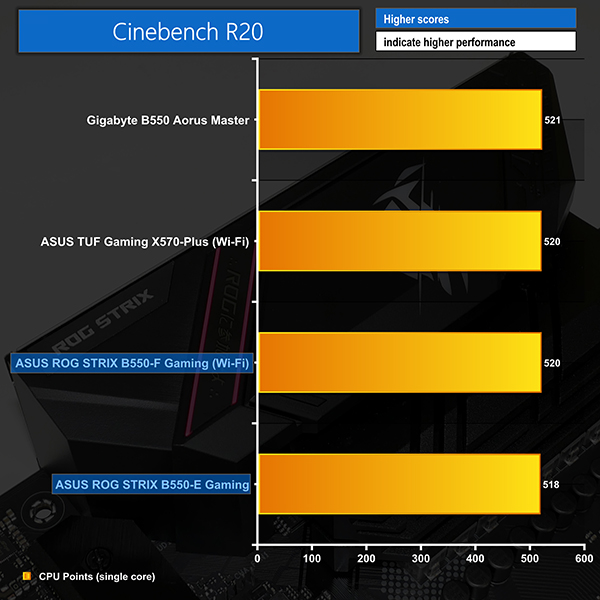 Blender Benchmark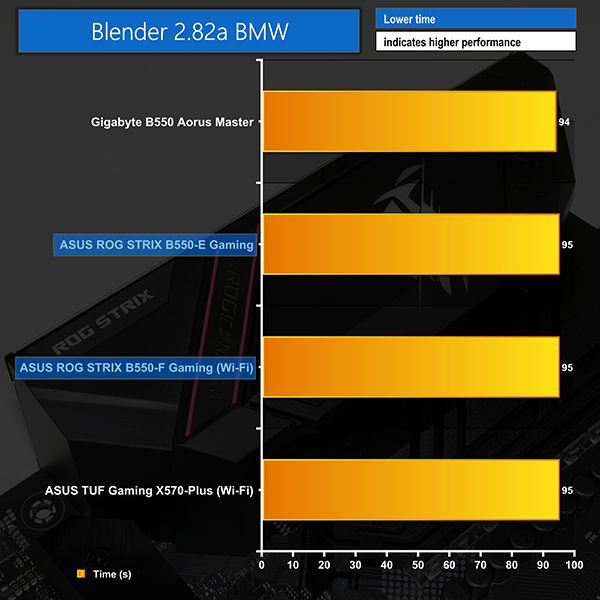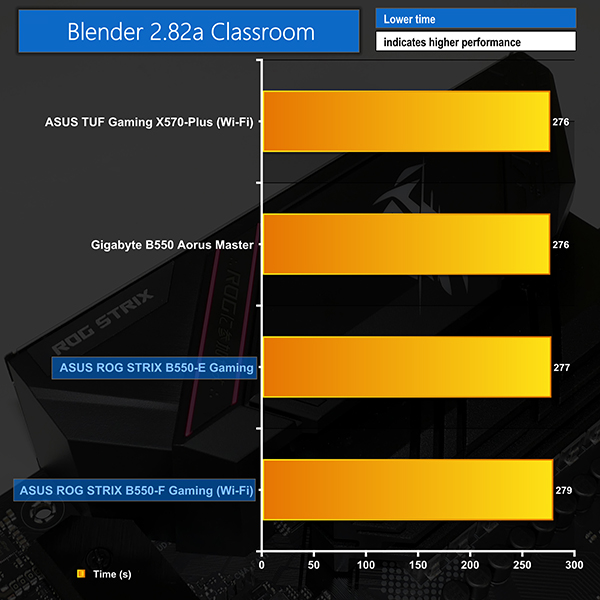 Starting off with CPU-based performance from the Ryzen 9 3950X, we see both of ASUS' B550 options putting in solid performance numbers. Multi-threaded scoring is comparable or within touching distance of competing B550 and X570 options. And we see reasonable single-threaded scores from Cinebench R20.
It must, however, be noted that Gigabyte's competing B550 Aorus Master was consistently equal or faster than ASUS' options in the CPU-focused benchmarks. Gigabyte's motherboard was better able to maintain slightly higher boost clocks with our Ryzen 9 3950X.
AIDA64 Engineer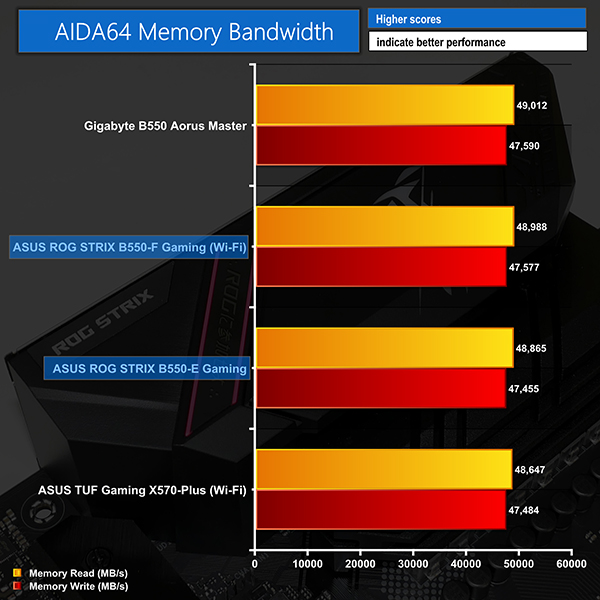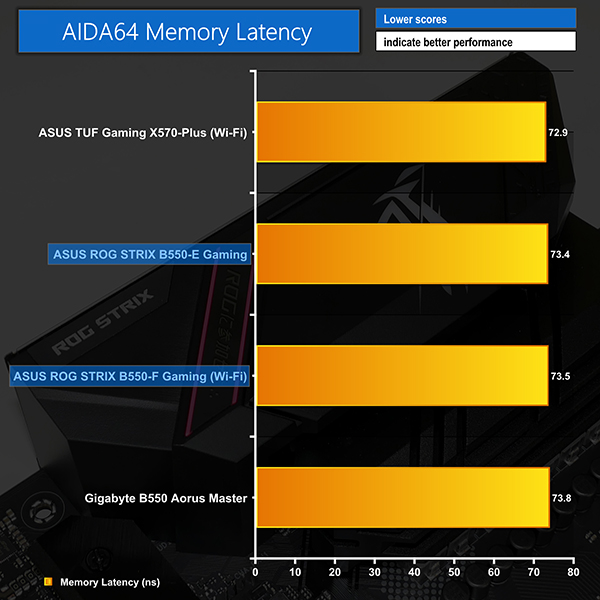 Sandra Memory Bandwidth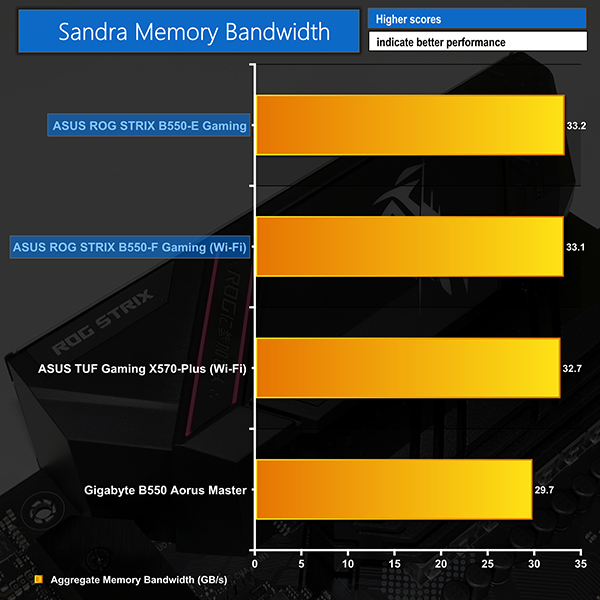 ASUS' two B550 options take convincing leads versus the Gigabyte competitor in our SiSoft Sandra memory bandwidth test. Latency performance from the ASUS boards also beats Gigabyte's and matches that of the X570 offering.
Gigabyte does, however, manage slightly higher AIDA memory bandwidth numbers.
3DMark

3DMark is a multi-platform hardware benchmark designed to test varying resolutions and detail levels of 3D gaming performance. We run the Windows platform test and in particular the Time Spy benchmark, which is indicative of high-end 1440p PC Gaming.
Shadow of the Tomb Raider
We use the DirectX 12 mode, anti-aliasing disabled, and the Highest quality preset.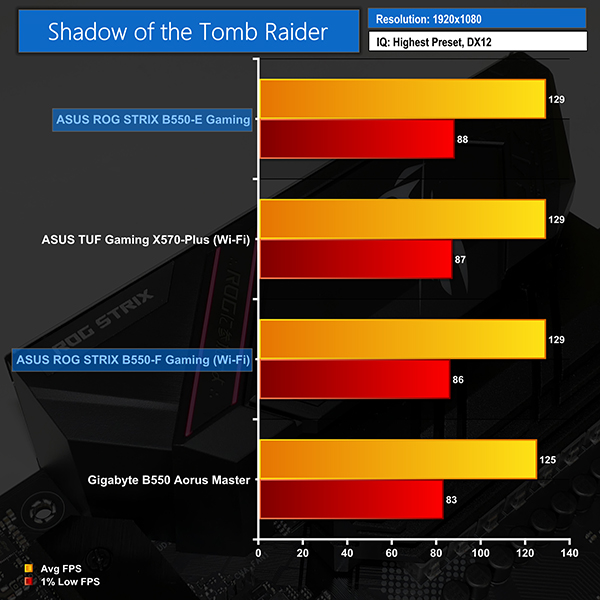 Tom Clancy's The Division 2

We run the game with quality set to Ultra, VSync disabled, and DX12 mode.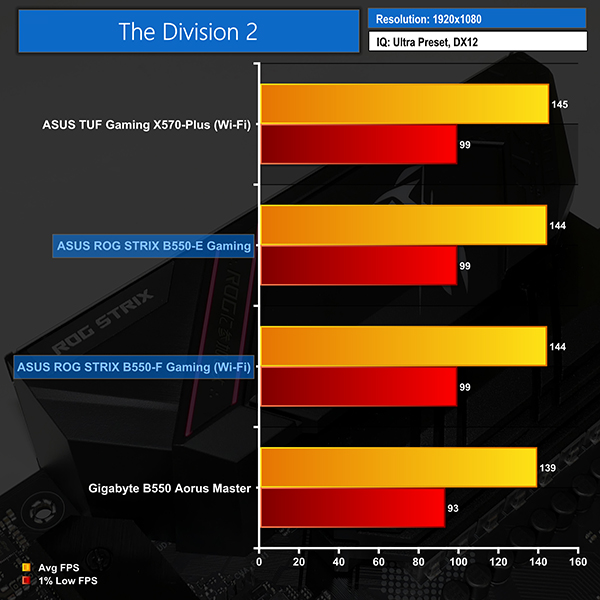 Aided by their full PCIe x16 connection to the graphics card, unlike the x8 link for Gigabyte's B550 Aorus Master, the ASUS B550 options take comfortable victories in 3DMark scoring.
Both of the ROG STRIX options continue to outperform Gigabyte's alternative when looking at gaming frame rates. The performance from the B550 boards is basically identical to that of ASUS X570 competitor.
M.2 PCIe Performance
We test M.2 PCIe performance using an Aorus PCIe Gen 4 2TB SSD. This SSD uses a Phison-based PCIe Gen 4 controller.

Full speed M.2 performance is easily obtained from the CPU-connected Gen 4 x4 slot. Of course, running any SSD through the chipset-connected M.2 slot will result in lower maximum transfer rates and the introduction of bandwidth headaches through the CPU-to-chipset link speed.
Thermal performance from the aluminium M.2 heatsinks was superior to the alternative design used by Gigabyte. The ASUS boards kept our heavily pushed SSD close to 50C and showed no signs of allowing the drive to go near its thermal throttling temperature.
USB 3.2 Gen 2 10Gbps Performance
We test USB 3.2 Gen 2 10Gbps performance using a PCIe NVMe SSD connected to a Sabrent SSD enclosure.
We comfortably managed a solid 1GBps from the chipset-fed USB 3.2 Gen 2 10Gbps ports on the ASUS ROG STRIX B550-F Gaming (WiFi).
As the B550-E Gaming does not have any chipset-fed ports on the rear IO, we could not test its speed capability. This is because there is a bug with our Sabrent SSD enclosure and the AMD Ryzen CPU-fed 10Gbps USB ports that is present on ALL vendors' motherboards.
This is not ASUS' fault and looks to be a Sabrent/AMD problem. It is certainly worth noting, however.
SATA 6Gbps Performance
For SATA 6Gbps testing we use a Crucial MX300 750GB SSD.
SATA performance is as we would expect from the chipset-fed ports.
Audio

Rightmark Audio Analyser is a freeware benchmarking utility designed to objectively test the performance characteristics of audio solutions. We setup a line-in line-out loop and execute the record/playback test before generating the results report you see below. A sampling mode of 24-bit, 192 kHz was tested.
Both motherboards get 'Very Good' overall ratings from Rightmark Audio Analyzer for their SupremeFX-based solutions.
Manual CPU Overclocking:
To test the ASUS ROG STRIX B550 motherboard's CPU overclocking potential, we set the CPU Core Voltage to 1.30V and applied the relevant LLC setting.
Overclocking through the ASUS UEFI is more difficult than it needs to be as the loadline calibration settings are unclear and feature no explanation or visualisation whatsoever.
The only way of discovering which LLC setting you require is via a lengthy and wasteful trial and error process. ASUS really needs to see what competing vendors are doing by highlighting, even in a simplistic form, what their LLC settings will do.
We managed to hit our CPU's 4.25GHz manual overclock level using 1.3V. The B550-F Gaming (WiFi) commanded Level 4 LLC whereas the B550-E Gaming took Level 3 LLC.
ASUS opts to differentiate the way in which its CPU voltage sensor reading is measured. As such, the voltage levels displayed in CPU-Z are highly inaccurate. Instead, we had to trust HWiNFO64 for our voltage readings as there are no onboard monitoring points.
According to HWiNFO64, the B550-F Gaming (WiFi) delivered 1.27V under load and the B550-E Gaming delivered 1.26V. This is an accuracy level that we were happy with, especially given the trial and error LLC approach.
Motherboard Sensors
Only the B550-E Gaming features a temperature sensor reading for the VRM.
We have seen in the past that ASUS has a reluctance to display VRM temperature readings on some of its motherboards. We think this is a bad decision for the B550-F Gaming (WiFi) as the board is high-end enough that many of its buyers will want to know that their VRM is being adequately cooled.
Overclocked Performance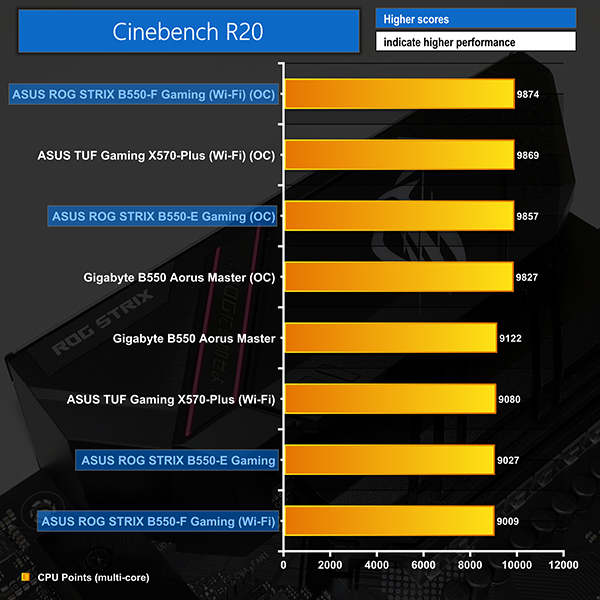 Both motherboards showed a good uptick in multi-threaded performance from our manual CPU overclock.
Of course, Precision Boost Overdrive is still a superior option for a better balance between single-threaded and multi-threaded clock speeds.
System Power Consumption
We leave the system to idle on the Windows 10 desktop for 10 minutes before taking a reading. For CPU load results we run AIDA64 CPU, FPU, and Cache stress tests and take a reading. The power consumption of our entire test system (at the wall) is shown in the chart.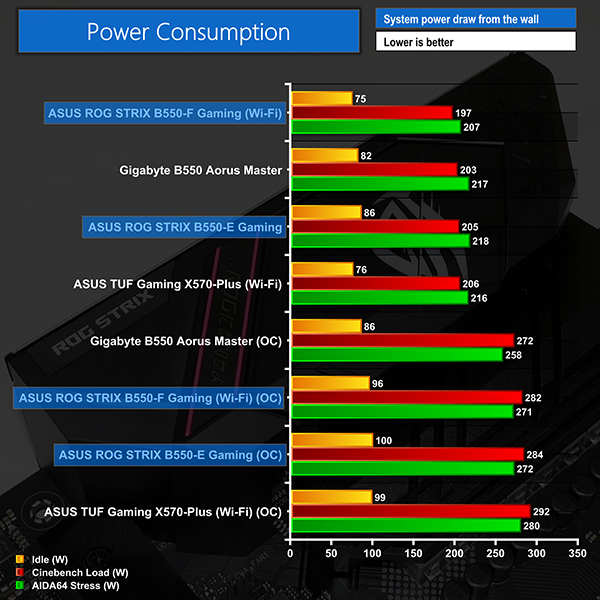 ASUS' stock voltage levels are clearly well optimised and efficient. We saw no signs of the CPU being misled into feeding more power than it should, which is a good thing.
Overclocked power draw numbers are also fine and highlight solid VRM performance. However, the clearer influence of Gigabyte's loadline calibration settings, coupled with its better power delivery solution, helped our configuration to run at slightly lower power on the competing B550 Aorus Master.
Either way, both of ASUS' board have a power delivery solution that is more than capable of handling even sensibly overclocked 16-core Ryzen chips.
System Temperatures
We run the AIDA64 CPU stress test for 1 hour while recording the system data using HWInfo. This data is then analysed to show the CPU temperatures and also the VRM temperatures.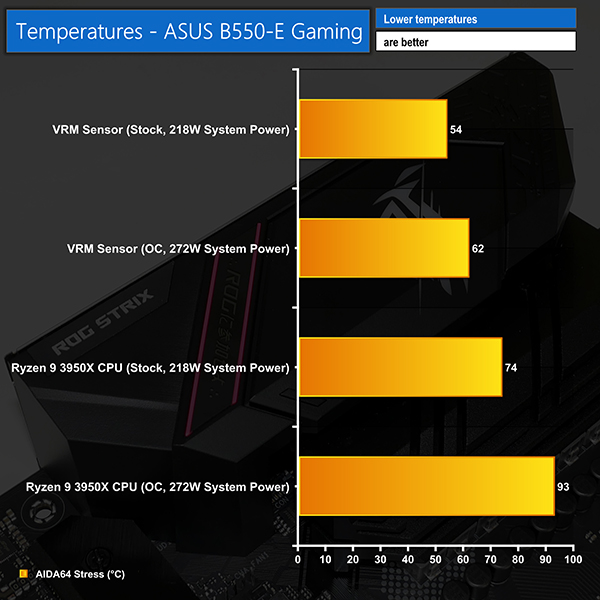 Sensible voltages helped the B550-E Gaming run at reasonable temperatures for the CPU and VRM.
Even with our 16-core chip pushed to 4.25GHz, the VRM showed no signs of struggling with the heat load. Our manual readings for the PCB temperature near the VRM components showed numbers around 3C lower than the sensor data, so that is the comparison you should use against the B550-F Gaming (WiFi).
The CPU did, however, creep a little closer to 95C than we would have liked. This is influenced by ASUS' voltage delivery behaviour from its power delivery solution and loadline calibration settings.
We took manual readings for the VRM temperature on the B550-F Gaming (WiFi) as it – annoyingly – does not feature a temperature sensor reading through HWiNFO64.
The VRM temperatures were excellent both at stock and overclocked levels. It is incredibly frustrating that ASUS does not display the VRM temperatures in software as there is clearly nothing negative to hide and only superb performance to display.
CPU temperatures were fine at stock and spiked a little over 90C when overclocked with the applied loadline calibration setting.
As we should expect from a pair of £200+ B550 offerings, ASUS' ROG STRIX B550-F Gaming (WiFi) and B550-E Gaming both provided stellar performance with our Ryzen 9 3950X processor.
The boards were happy to trade blows with similarly priced X570 offerings and their gaming performance beat Gigabyte's B550 Aorus Master thanks to the dedicated PCIe x16 graphics card link on the ASUS boards.
Overclocking proved perfectly successful, with our chip hitting its usual 4.25GHz value and the components staying well cooled. However, ASUS' loadline calibration approach is unclear and makes voltage tuning a more lengthy process than it needs to be.
The core set of features and connectivity is positive. Both motherboards have high-speed WiFi adapters and Intel-based 2.5GbE NICs. The B550-E Gaming also goes a step further and deploys a second PCIe Gen 4 slot fed by the CPU. This makes it capable of SLI/CrossFire, or some high-bandwidth add-in-card setups, if you prefer.
Power delivery solutions on both motherboards proved adequately capable for handling the overclocked Ryzen 9 3950X.
The B550-F Gaming (WiFi) uses a modest 4+2 control phase design but runs with twelve power stages for the CPU. This is basically identical to the ASUS TUF Gaming X570-Plus and proves capable from a power perspective. The biggest annoyance is the lack of VRM temperature sensor data which is disappointing as ASUS has nothing negative to hide.
The B550-E Gaming uses a sixteen total stage design with a new Digi+ PWM controller and DrMOS power stages from an uncommon vendor – MPS. While this initially rang alarm bells, our temperature testing proved that the MPS MP86992 power stages are capable of running the overclocked 16-core Ryzen whilst maintaining cool running temperatures.
Focussing on the £209.99 B550-F Gaming (WiFi), this motherboard is £10 more expensive than its non-WiFi sibling. £10 for an Intel WiFi 6 AX200 is well worth the upgrade, in our opinion.
At £210, though, the B550-F Gaming (WiFi) is thrown into a particularly tough segment of the AM4 market. It must compete against the ASUS TUF Gaming X570-Plus and Gigabyte X570 Aorus Elite. The biggest challenge, however, comes from MSI's £10 more expensive X570 MEG Tomahawk.
Versus the £220 MSI offering, ASUS' £210 board is simply out-featured. There are some ASUS-specific inclusions that may sway potential buyers, but on balance, the MSI X570 MEG Tomahawk is a better choice.
With that said, the ASUS ROG STRIX B550-F Gaming (WiFi) certainly puts up a stronger fight against Gigabyte's similarly priced B550 Aorus Pro/AC.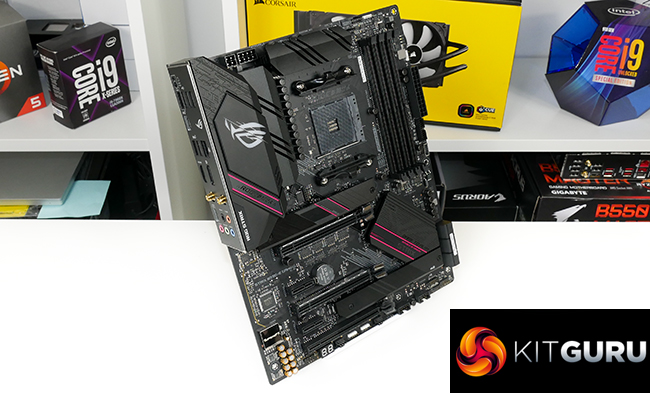 At £239.99, we think the B550-E Gaming is enough of an upgrade in terms of features and onboard devices to justify its £30 increase versus the B550-F Gaming (WiFi).
The board manages to narrowly undercut the ASUS TUF Gaming X570-Plus (WiFi) and Gigabyte X570 Aorus Pro. We also feel that there are sufficient features offered by the B550-E Gaming to justify its price increase versus the competitive MSI X570 MEG Tomahawk.
Despite £240 being expensive for a B550 offering, the B550-E Gaming's overall package and feature set looks to be a good option for an AM4 motherboard at this price point.

The ASUS ROG STRIX B550-F Gaming (WiFi) is priced at £209.99 and will be available from e-tailers such as Overclockers UK.
The ASUS ROG STRIX B550-E Gaming is priced at £239.99 and will be available from e-tailers such as Overclockers UK.
Discuss on our Facebook page, over HERE.
Pros:
Good power delivery solutions on both motherboard.
Perfectly good overclocking the Ryzen 9 3950X.
Solid set of fan headers.
10Gbps USB 3.2 Gen 2 Type-C header for the B550-E Gaming.
Two well-cooled M.2 ports.
Intel 2.5GbE and WiFi 6 networking.
Displayport and HDMI for APU users.
Second Gen 4 PCIe connector on the B550-E Gaming is smart.
Cons:
B550-F Gaming (WiFi) is priced too closely to the strong MSI X570 MEG Tomahawk.
No VRM temperature sensor on the B550-F Gaming (WiFi).
Unclear loadline calibration options with no explanation.
Onboard buttons and rear clear CMOS would have been good for the B550-E Gaming.
KitGuru says: A pair of well-built, competitive ROG STRIX B550 motherboards from ASUS. We are fond of what the ROG STRIX B550-E Gaming offers at its £240 price point.

ASUS ROG STRIX B550-F Gaming (WiFi) score:
ASUS ROG STRIX B550-E Gaming score: