The MSI B350 Tomahawk uses a dark grey and black colour scheme to fit into MSI's Arsenal range of products that is targeted towards more beginner-level gamers (not that it makes any difference to actual gaming performance).

Two heatsinks of decent size are used to cool the VRM components. Credit to MSI for using a sturdy screw-tightened mounting method for the VRM heatsinks. This is a significant improvement over the push-pin alternative seen on low-cost motherboards that delivers poor mounting pressure for the VRM heatsinks.
If the black and grey theme is not appealing to you, MSI offers its B350 Tomahawk Arctic at an identical price point to the normal B350 Tomahawk. The Arctic uses a white and black colour scheme and white LEDs. Other than the style change, there are no differences between the two models so the performance figures and analysis points are interchangeable.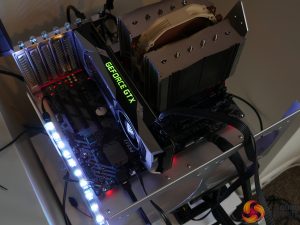 Onboard lighting for the motherboard is intentionally coloured red. This colour cannot be changed in the software but it can be set to operate in a different mode or turned off completely. The B350 Tomahawk Arctic uses a white LED system, rather than red, in order to fit with its wider styling approach.
MSI supports 4-pin RGB strips but it is somewhat misleading for the company to claim 'RGB' capability. A connected 4-pin LED strip can only be set to operate using one of MSI's seven pre-determined colour options. There's no real RGB control that allows a user to customise the LED colour with granular control over the 16.7 million colour options.
You basically get an LED strip connector that can be set to one of seven colours rather than true, customisable RGB mode.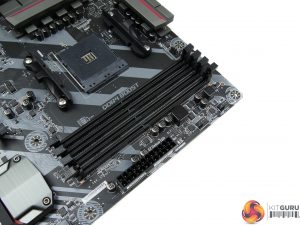 MSI advertises support for DDR4 memory speeds over 3200MHz via overclocking. We were able to successfully use our 3200MHz G.SKILL Flare X kit using the board's A-XMP setting. This is largely thanks to the memory ICs used by G.SKILL that work favourably with Ryzen.
Four memory slots allow for up to 64GB of DDR4 to be installed. I like the pure black colour of the slots. Nearby are the 24-pin power connectors and two 4-pin fan headers, one of which is pre-assigned water pump duties but can be speed controlled in the UEFI.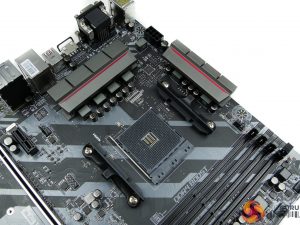 MSI uses a 4+2 phase power delivery system to feed the AM4 CPU and its accompanying components such as the SOC voltage rail and (probably) iGPU for upcoming APUs.
A Richtek RT8894A PWM controls the system. Four CPU phases use four NIKOS PK616BA and eight NIKOS PK632BA MOSFETs, in addition to a component marked '4P=3H V38' that I could not find information for but is likely a MOSFET driver. The 2-phase SOC power is handled by four NIKOS PK616BA and four NIKOS PK632BA MOSFETs, in addition to a pair of the aforementioned '4P=3H V38' components likely to be MOSFET drivers.
This is a decent enough power delivery solution for a roughly £100 AM4 motherboard. The primary MOSFETs are the same type used on MSI's £300 flagship X370 XPower Gaming Titanium motherboard. That point can be interpreted as a good thing for the B350 Tomahawk or a bad thing for the £300 XPower.
Despite the B350 chipset offering the capability for up to six SATA ports, albeit by stealing bandwidth from elsewhere, MSI only deploys four SATA 6Gbps connectors on the B350 Tomahawk. This is a slim amount that I have not seen on a motherboard outside of the mini-ITX form factor for many, many years. Most competing solutions even at this price point offer six or more SATA ports.
Put into perspective, however, four SATA 6Gbps ports plus an M.2 slot is likely to be sufficient for most people buying a £100 motherboard. There's no denying that it will be borderline to some users, though.
The single 110mm-capable M.2 connector supports M.2 32Gbps PCIe 3.0 x4 NVMe SSDs as well as SATA 6Gbps-based alternatives. MSI does not include its M.2 Shield cover with this motherboard. The M.2 slot's positioning below the primary graphics card slot means that it will receive incidental airflow from an open air heatsink found on many board partner graphics cards. It also means that an ugly green PCB on an M.2 SSD will be hidden.
The steel-reinforced PCIe slot is where sixteen PCIe 3.0 lanes from an AM4 Ryzen CPU are directed and should be used to install a graphics card. Four PCIe 2.0 lanes from the chipset are delivered to the secondary full-length slot, making it unsuitable for SLI or high-bandwidth CrossFire. Two PCIe 2.0 x1 slots are also provided and receive their bandwidth by stealing some lanes from the lower full-length slot, which is then dropped from x4 to x2 mode.
MSI uses an ASMedia ASM1083 PCIe-to-PCI bridge chip to provide the legacy PCI connectivity. This adds slight cost to the motherboard's bill-of-materials but may be worth it for budget customers looking to recycle older peripheral cards.
One of the two internal 5Gbps USB 3.0 headers is positioned along the bottom edge, with the other residing near the SATA ports in a right-angled mount.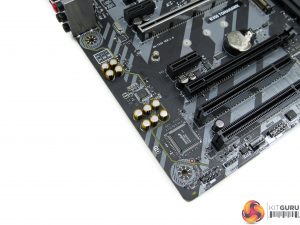 An ageing Realtek ALC892 audio codec is used as the heart of the B350 Tomahawk's audio system. This is a clear cost-cutting decision deployed to help the board hit its roughly £100 retail price point but it is one that is common across motherboard vendors in this market segment. A sizeable quantity of Nippon audio capacitors aid the solution.
MSI's B350 Tomahawk is compatible with Nahimic 2 audio software.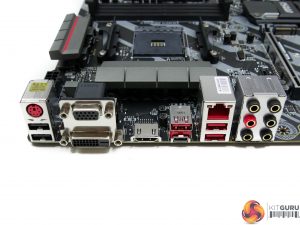 A total of five USB Type-A ports is found on the rear IO, alongside one Type-C port provided by the ASMedia ASM1543 logic controller. Two of the ports are USB 2.0 and should serve for peripheral duties alongside the PS/2 connector. The remaining four USB ports (three Type-A and one Type-C) all run at 5Gbps USB 3.0 bandwidth.
I would have liked to see a couple more USB Type-A ports to boost connectivity options. The lack of 10Gbps USB 3.1 Gen 2 is disappointing but not uncommon in this price point – both ASRock and ASUS drop the 10Gbps link on their competing models.
DVI-D, HDMI, and VGA form the rear IO video outputs. VGA is provided by an IT6516BFN converter. Resolutions up to 1920×1200 at 60Hz are supported on the single-link DVI-D port, while HDMI offers 4K at a low refresh rate or lower resolutions (such as 1080P) at 60Hz. These ports are only useable with an AM4-based APU, not a Ryzen processor.
Gigabit Ethernet is provided by the Realtek 8111H chipset that is a cheaper alternative to Intel and Killer NICs found on more expensive motherboards. Credit to MSI for providing the full cohort of 3.5mm audio jacks, despite dropping the optical SPDIF port in the process.
Overall, MSI has a good selection of rear IO ports that offers a slightly better balance than some of its similarly priced competitors.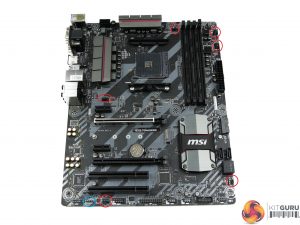 Six 4-pin fan headers are spread around the motherboard, with four being within reach of the CPU socket. This is a superb number of fan headers for MSI to include on a budget motherboard. The flexibility for the headers to control PWM or DC fans gives a user plenty of options when connecting their system's cooling components.
The single 4-pin RGB header is located in the board's bottom-left. This location suits users who want to install a floor-mounted LED strip but those looking for a roof installation will need to purchase an extension cable (that is not included by MSI). Nuvoton's NCT6795D-M chipset is deployed for monitoring duties.