Manual CPU Overclocking:
To test the MSI X370 XPower Gaming Titanium motherboard's CPU overclocking potential, we aim to set the CPU voltage close to 1.40V. CPU VCore is set to 1.40V, NB voltage is set to 1.15V, and we applied the Mode 4 LLC setting.

We maintained the DRAM frequency at 3200MHz to take its stability out of the overclocking equation.
Keying in the overclocked settings is straightforward in MSI's UEFI thanks to its layout. Despite the LLC graph indicating that Mode 3 would give a stable voltage, we found it to overshoot our selected 1.4V level by around 16-24mV under Cinebench loading. Switching to Mode 4 LLC adjusted this and saw the chip operating at 1.40V under Cinebench load.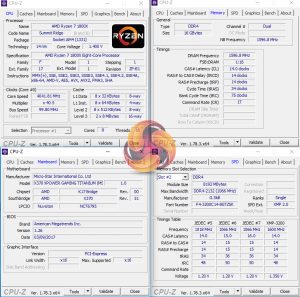 Voltage accuracy is a positive for MSI. With the Mode 3 LLC setting, idle voltage ran at 1.408V and load was 1.40V. These are pretty much perfect given that we wanted 1.4V going to the CPU.
Pushing up from 4.05GHz to 4.1GHz resulted in instability. Cinebench would complete a single run if we were lucky but would inevitably crash on the second run.
Overclocked Performance

As a performance comparison, we have included the results from two other AM4 motherboards. The maximum overclocked configuration achieved with each board was a 4050MHz (40.5 x 100MHz) processor frequency whilst using 3200MHz CL14 memory.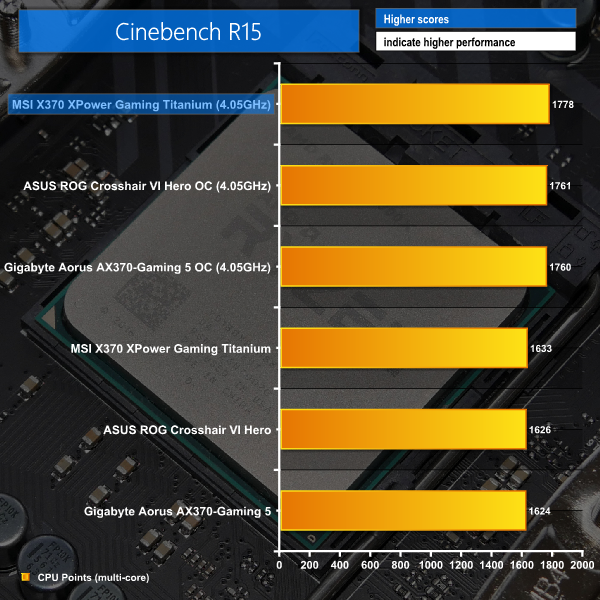 Impressive performance observed throughout stock testing is maintained with the MSI board overclocked. The X370 XPower Gaming Titanium edged out Gigabyte and ASUS competitors in terms of performance, despite operating at the same core and memory speed. Well done to MSI's BIOS team.
Power
We leave the system to idle on the Windows 10 desktop for 5 minutes before taking a reading. For CPU load results we run Cinebench multi-core and take a reading. The power consumption of our entire test system (at the wall) is shown in the chart.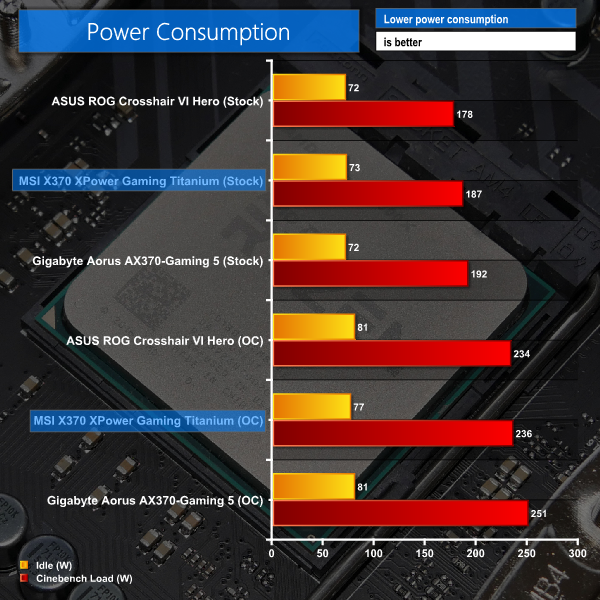 Power consumption from the MSI board sits somewhere between ASUS' and Gigabyte's. 187W system-wide power draw is seen under stock-clocked load with the 1800X. This increases to 236W when overclocked, which is practically the same as the power draw level from ASUS' ROG Crosshair VI Hero.