To say that the styling of MSI's X370 XPower Gaming Titanium is unique would be an understatement. The motherboard features a metallic-like finish that we have come to expect from the vendor's 'Titanium' boards. Silvery-white heatsinks and a rear IO cover add to the effect to create what is, in my opinion, a unique and desirable style.

A look at the rear of the PCB shows that its colour is present throughout. MOSFET drivers for the VRM are found on the rear and the physical PCIe lane layout can be interpreted (though that bottom slot actually runs at x4 bandwidth).
MSI has a small number of LEDs mounted on the X370 XPower Gaming Titanium. They are designed to shine white in order to follow the motherboard's overall style.
All four of the DDR4-capable DIMM slots feature steel plating to improve their strength. This is not important in daily usage but it does help to mitigate PCB flex encountered when installing memory modules during the build phase. It also adds an element to the motherboard styling. MSI quotes support for memory frequencies of 3200MHz+ by overclocking and includes an XMP option in the UEFI.
Sat next to the 24-pin connector is one of the board's two internal 5Gbps USB 3.0 headers. Both headers are delivered through the X370 chipset lanes. Electronic components in this area imply that the DRAM power delivery system is likely to be a 2-phase design managed by the Powervation PV3205 controller. The onboard 2-digit debug LED is good to see and I like MSI programming it to display the CPU temperature when the system is inside a Windows OS.
The lack of voltage monitoring points is not a smart move by MSI.
The 6+4-phase power delivery system will be split as six phases for the CPU and four for the SOC voltage rail. MSI uses an International Rectifiers IR35201 PWM controller which can manage up to eight phases. The presence of 3+2 (CPU+SOC) International Rectifiers IR3598 dual/doubler MOSFET drivers shows that MSI is leveraging phase doubling to drive the MOSFETs.
For the CPU power delivery section, six NIKOS PowerPAK PK616BA and twelve NIKOS PowerPAK PK632BA are combined. The SOC section gets four PK616BA MOSFETs and four PK632BA.
MSI's power delivery system seems a little light for a flagship, overclocking-geared design. ASRock and ASUS offer higher total phase counts on their competitors while also using efficient Texas Instrument NexFET power blocks (MOSFETs).
MSI uses a well-built heatsink for the MOSFETs. Two metal blocks are connected via a heatpipe and use a design that has fin structures, of sorts, to enhance heat dissipation potential versus a basic slab of aluminium. MSI's marketing material eludes to 'Heavy Plated Titanium heatsinks'.
I sincerely hope that is a simple case of marketing nonsense rather than actual engineering as Titanium is a poor thermal conductor compared to aluminium or copper (which are typically used for heatsinks).
Six SATA 6Gbps ports are used, rather than the full allocation of eight made available by the AM4 platform. MSI mounts its second internal 5Gbps USB 3.0 header in this area in a right-angled orientation that can aid cable management duties.
I am glad to see the inclusion of a 32Gbps PCIe 3.0 x4 NVMe-capable U.2 connector given the strength of Ryzen 7 and AM4 as a workstation platform. Bandwidth for this port is shared with the M.2 connector, meaning that only one of them can be used at a given time.
The CPU-fed PCIe 3.0 x4 NVMe-capable M.2 slot is given protection using MSI's M.2 Shield. There are contradictory reports on the relevance and usefulness of M.2 Shield as a cooling mechanism for SSDs. Thermals aside, it can mask an ugly green PCB on an M.2 SSD, which may be useful to some buyers.
That secondary M.2 slot is fed four PCIe 2.0 lanes from the X370 chipset, making its maximum transfer rate less than 2GBps. M.2 Shield cannot be used on the bottom slot instead of the top one. Both connectors also provide connectivity for M.2 SATA 6Gbps devices by stealing links from the onboard SATA ports.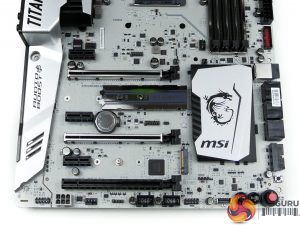 The two steel-reinforced PCIe x16 slots can be used for graphics cards. A single card runs at PCIe 3.0 x16 bandwidth from a Ryzen CPU while PCIe bifurcation allows x8/x8 which can support 2-card CrossFire and SLI. Slot spacing is the standard for today's market, with room being given between the coolers of 2- or 2.5-slot video cards.
That lower full-length PCIe slot runs with four Gen 2 lanes from the X370 chipset. Its bandwidth is switched from the lower M.2 slot meaning that only one of those connectors can be used at a given time. This highlights the somewhat limited PCIe expansion capabilities of AMD's AM4 platform in its current guise.
Three PCIe 2.0 x1 connectors are provided, all of which are given dedicated lanes from the X370 chipset and can be used without interference.
The usual set of headers is found on the bottom edge. Notable additions include a 4-pin RGB connector, an internal 10Gbps USB 3.1 Gen 2 header (delivered from the X370 chipset and aided by ASMedia ASM1543 logic), and onboard buttons for power and preset overclocking. No +/- overclocking-geared adjustment buttons are available, which is disappointing.
MSI adds a supplementary 6-pin PCIe power connector in case of stability issues when running two high-powered graphics cards that work the PCIe slots hard (I'm looking at you, RX 480).
Audio Boost 4, as MSI names it, is built around the popular Realtek ALC1220 codec found on most high-end motherboards in today's market. A Texas Instruments OPA1652 op-amp and Nippon Chemicon capacitors are added.
Video outputs in the form of DisplayPort and HDMI 2.0 are a questionable inclusion on the rear IO, especially when there's a BOM cost to the Texas Instruments SN75DP159 chip used. We would be astonished to see APU users partnering their chip with this motherboard.
A PS/2 combo port is sat next to three USB 2.0 Type-A connectors. The right-angled Type-A port is allocated BIOS Flashback+ duties and sits next to the clear CMOS button. Four more Type-A ports, this time coloured in red to signal 5Gbps USB 3.0 operation, are provided. The two sat beneath Intel's I211AT-based GbE are 'VR Ready' which basically means that they should deliver a clean voltage level thanks to an add-on 'VR Boost' chip.
10Gbps USB 3.1 Gen 2 is provided in Type-A and Type-C form on the rear panel. I am pleased to see that MSI has chosen to use the ASMedia ASM2142 chipset that is superior to the ASM1143 alternative seen on ASUS' ROG Crosshair VI Hero and Gigabyte's Aorus AX370-Gaming 5. Gold-plated audio jacks and an optical output finish up the rear IO group.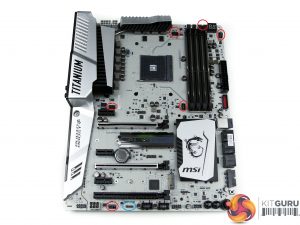 Six 4-pin fan headers are spread across the motherboard. Five of these headers are close to the CPU socket, which is a positive. PWM- and DC-control ability is given to the headers meaning that they can be switched to CPU fan, chassis fan, or water pump operation as desired. Nuvoton's NCT6795D-M is deployed for monitoring duties.
MSI includes just the one 4-pin RGB header at the very bottom of the motherboard. This is disappointing given that the market has shifted to providing at least two headers in this segment, for added flexibility. With that said, the accessory bundle that we did not receive should include an RGB LED splitter and extension cable.