Given its flagship status and XPower branding, performance is arguably the most important metric for MSI's X370 XPower Gaming Titanium. It's performance where the MSI offering is strong.
Out of the box, A-XMP was set to run our 3200MHz modules without hassle and the motherboard's stock-clocked performance was consistently competitive. Overclocked performance showed gains slightly larger than we expected that saw the XPower outperforming ASUS and Gigabyte competitors. The process of getting to that enhanced CPU frequency was straightforward thanks to MSI's explanation of LLC options and the accurate voltage levels.
Features are a strength for MSI. Dual M.2 ports is good to see, even if one is forced to run at reduced speeds using a PCIe 2.0 x4 link from the X370 chipset. The inclusion of U.2 is another strength as it doesn't take anything away from the board with its presence and bandwidth sharing. A reduction from eight to six in the board's SATA count is a minor negative that is unlikely to dissuade many potential buyers.

MSI's decision to use the ASMedia ASM2142 USB 3.1 Gen 2 chipset was a good one as it is more than 20% faster than lower-cost ASMedia offerings deployed by ASUS and Gigabyte. It also means that a user can get roughly 1GBps USB 3.1 Gen 2 transfer rates through the rear IO ports as well as front panel connections fed by the X370 chipset. That is something that cannot be said for the ASUS ROG Crosshair VI Hero, Gigabyte Aorus AX370-Gaming 5, or ASRock X370 Taichi. MSI clearly has an advantage in this aspect.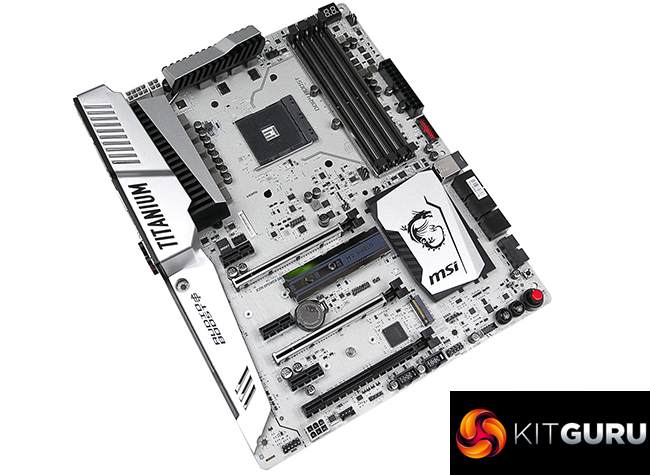 MSI's X370 XPower Gaming Titanium seems a little slim in the power delivery department compared to competing flagships. Despite a mixture of quantity and quality being important for VRM designs, both ASUS and ASRock provide solutions that look to be stronger on their flagships. This is not a strict negative for the MSI offering as its overclocking results were good in our testing. However, it is something worth pointing out as this is a £300 motherboard targeting power users.
ASUS and ASRock also deploy clock generators to aid BCLK adjustment potential but MSI does not, which is odd for an overclocking motherboard. The omission of some overclocking-geared tools, such as voltage monitoring points and onboard adjustment buttons, is an oversight by MSI.
Styling is one of the clear strengths for the X370 XPower Gaming Titanium. Its unique design and colour scheme will appeal to many buyers who want their hardware to stand out. However, the fixed onboard LED lighting colour will mean that users hoping for a rainbow on their motherboard should look elsewhere. A lack of customisation is a little disappointing in the age of RGB-everything.
I would have also liked to see better lighting modes made available for an attached RGB LED strip. Gigabyte offers 'intelligent' modes and other options that are superior to what MSI provides. While ASUS provides multiple RGB headers that can be controlled individually. Some form of LED control through the UEFI would also be welcomed.
The MSI X370 XPower Gaming Titanium is a strong, feature-filled motherboard that delivers performance worthy of its flagship status. There are some areas where the overall package could better compete with the alternatives but the unique colour scheme and straightforward overclocking are worthy points to consider alongside the healthy set of features.

The MSI X370 XPower Gaming Titanium is available at Overclockers UK for £299.99 (at the time of writing).
Discuss on our Facebook page, over HERE.
Pros:
Two M.2 ports for PCIe and SATA SSDs.
Fast USB 3.1 Gen 2 through the rear IO and internal header.
Fan control is generally good (but should read from more temperature sensors).
UEFI is easy to work with.
Voltage accuracy when overclocked was a strength.
A-XMP setting worked well with our 3200MHz G.SKILL Trident Z DDR4.
Debug LED displays CPU temperature.
Unique styling is a change from black and RGB.
Cons:
Lacks some overclocking-geared tools such as onboard voltage monitoring points and adjustment buttons.
No RGB lighting onboard.
Limited control over external RGB LED strips and no UEFI-based tool.
Fewer SATA ports than competing solutions.
KitGuru says: A good all-rounder that offers plenty of flexibility in the storage and interface department. A solid choice if you don't care for onboard RGB lighting.