ATTO Disk Benchmark

The ATTO disk benchmark is a Windows-based utility for testing storage performance of any storage drive or controller. We use the default benchmark setup.
M.2 PCIe Performance

For M.2 testing we use a Toshiba OCZ RD400 256GB M.2 PCIe NVMe SSD.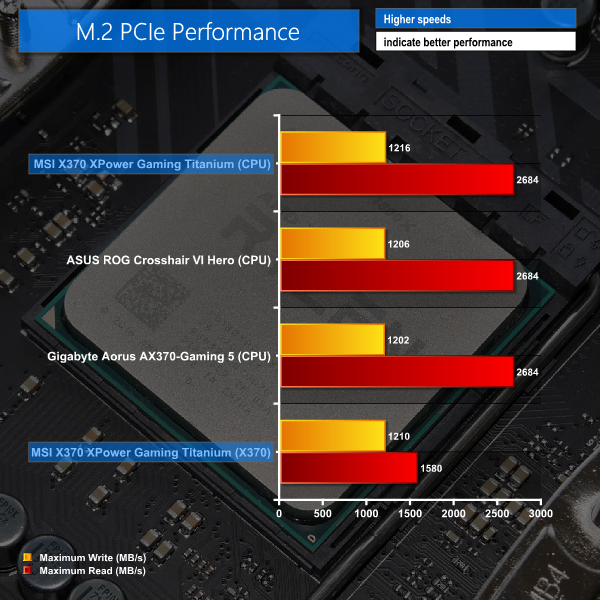 M.2 PCIe performance was slightly faster on MSI's board than on the competitors. The write speed is improved by a small amount over the competitors and this result is repeatable. MSI's M.2 Shield may be having an influence here, as it managed to keep our Toshiba OCZ RD400 SSD at a maximum of 69°C during the ATTO test, which is a few degrees cooler than on ASUS and Gigabyte competitors (and beyond margin of error).
The lower M.2 slot uses a PCIe 2.0 x4 link from the X370 chipset and therefore tops out at around 1.6GBps. If you have a drive like our 256GB Toshiba OCZ RD400 and only use heavy write operations, this level may be fine for saturating the drive's rated 1.2GBps write speed. However, for something faster, like a Samsung 960 PRO, the connector will act as a bottleneck to performance.
Perhaps a more reasonable use for the dual M.2 slots would be a configuration like the one that I operate in my own workstation. That is, an older PCIe 2.0 AHCI SSD as the Windows and programs drive alongside a fast PCIe 3.0 x4 NVMe Samsung PM961 for projects requiring high-speed storage (such as video work). Put simply, I like MSI's inclusion of dual M.2 connectors even if the second one isn't blazingly fast. I'd rather have one fast and one slow than only one fast, like ASUS and Gigabyte provide.
USB 3.0 5Gbps Performance
We test USB 3.0 performance using a pair of Corsair Force LE 120GB SSDs in RAID 0 connected to an Icy Box RD2253-U31 2-bay USB 3.1 enclosure powered by an ASMedia ASM1352R controller.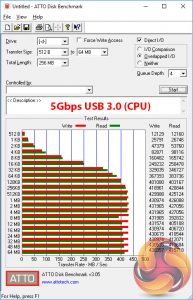 USB 3.0 5Gbps performance tops out at close to 450MBps, as we would expect. This was using the CPU-fed ports.
USB 3.1 10Gbps Performance
We test USB 3.1 performance using a pair of Corsair Force LE 120GB SSDs in RAID 0 connected to an Icy Box RD2253-U31 2-bay USB 3.1 enclosure powered by an ASMedia ASM1352R controller.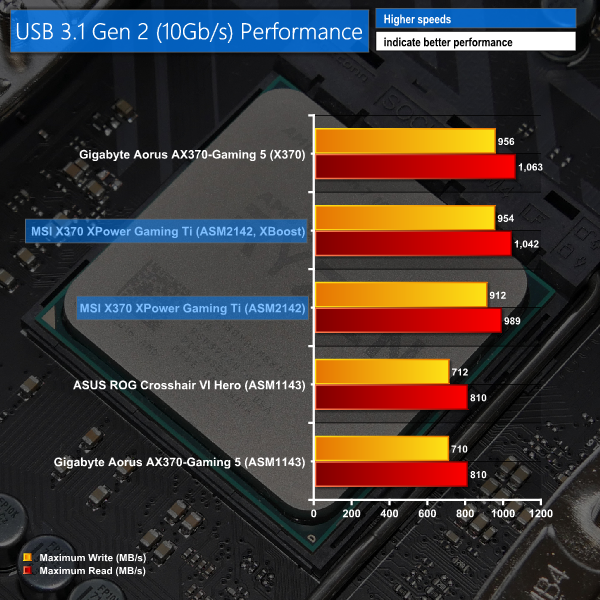 ASMedia's newer ASM2142 USB 3.1 Gen 2 controller used by MSI puts the ASM1143 opted for by Gigabyte and ASUS to shame. Without any software optimisation, MSI's solution is more than 20% faster than the chipset opted for by the two charted competitors. It is, however, slower than the 10Gbps USB 3.1 Gen 2 ports natively offered by the X370 chipset. Excellent job, AMD.
MSI's X-Boost software provided a boost to top-end USB 3.1 transfer rates. The software tool unlocked an additional 40-50MBps on transfer rates, which is a reasonable amount to content creators who push files back and forth for much of their working day.
SATA 6Gbps Performance
For SATA 6Gbps testing we use a SK Hynix SE3010 960GB SSD.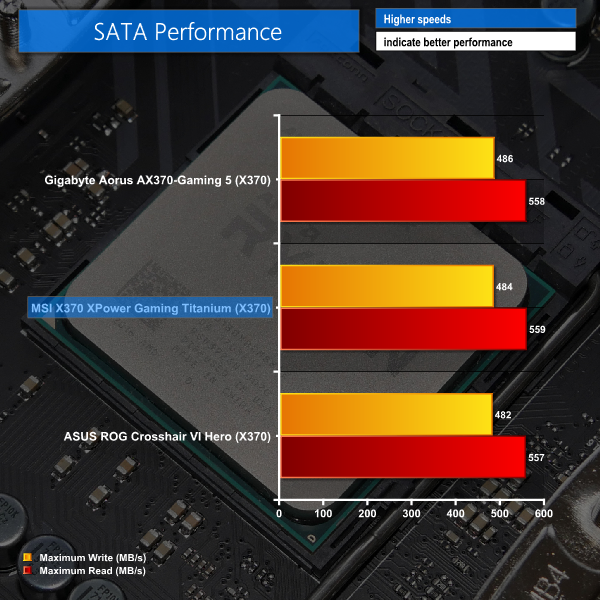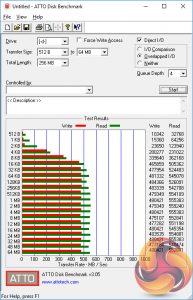 Performance from the AMD-based SATA 6Gbps ports is without issue.
Audio

Rightmark Audio Analyser is a freeware benchmarking utility designed to objectively test the performance characteristics of audio solutions. We setup a line-in line-out loop and execute the record/playback test before generating the results report you see below. A sampling mode of 24-bit, 192 kHz was tested.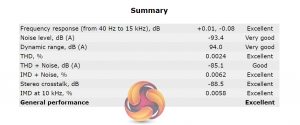 Audio performance for MSI's board is rated as 'Excellent' by RMAA. In some of the key metrics, MSI's motherboard wasn't quite as strong as the performance offered by Gigabyte and ASUS competitors. However, the balance and retention of impressive performance throughout RMAA's test lead to a positive scoring.