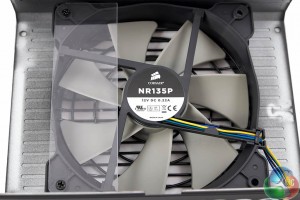 Corsair are using the NR135P power supply fan inside the HX1200i – the exact same fan fitted inside the HX1000i.
Corsair say this fan was designed with blades shaped to move more air while creating less noise. The blades are balanced to help prevent resonance at higher spin speeds. This fan is a fluid dynamic bearing design, superior to most sleeve or ball bearing units on the market. Corsair have enhanced the motor core and windings in the bearing for better low noise performance at reduced speeds.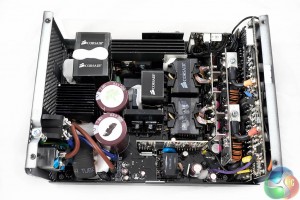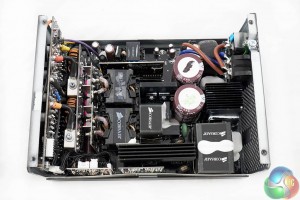 This is a CWT design, as we expected. Soldering quality is very high throughout and it is a very clean overall build from CWT focusing on attention to detail.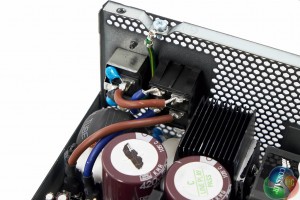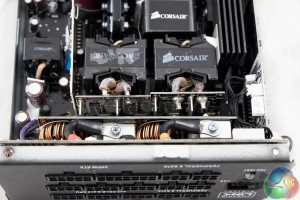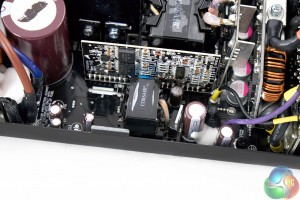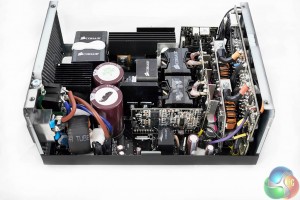 Two Y capacitors start the AC line filter in this supply. There are 4 more capacitors, three X caps, two coils and a TVS diode on the line filtering. A voltage regulator module controls the 3.3V and 5V output. We noticed Corsair are using Apaq and Enesol Polymer capacitors. Electrolytic capacitors are all Japanese – from Nippon Chemi Con and Rubycon.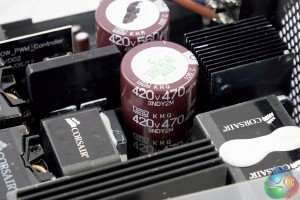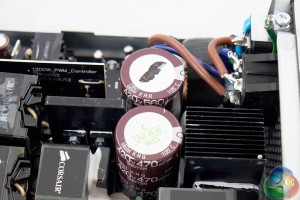 The primary stage capacitors are high grade 105C rated, from renowned Japanese company Nippon Chemi Con. Corsair are using two capacitors in the primary stage – 1x 420v 470uF and 1x 420v 560uF. These are from the KMQ and KMR families respectively. Corsair use 2x 105c 400v 470uF Rubycon capacitors in the HX1000i model. Both Rubycon and Nippon Chemi Con rate equally good, in our experiences over the years anyway.