The Corsair HX1200i has been some time coming, and it slots in above the HX1000i that we reviewed way back in August 2014. Technically it is another proficient CWT design that doesn't exhibit any weaknesses.
Externally, the appearance is exactly as we would expect from Corsair – nothing has changed in the last year. Paintwork is deep, and it passed our scratch test without any problems. These are very distinctive looking units, seen in many hundreds of reader builds on our Facebook page.
The Corsair cabling will appeal to the windowed case audience. The high grade flat ribbon style cables are great to work with and can be routed easily out of sight – ensuring a clean looking system build. The primary cables are all very long, meaning it will suit those people with a super tower case.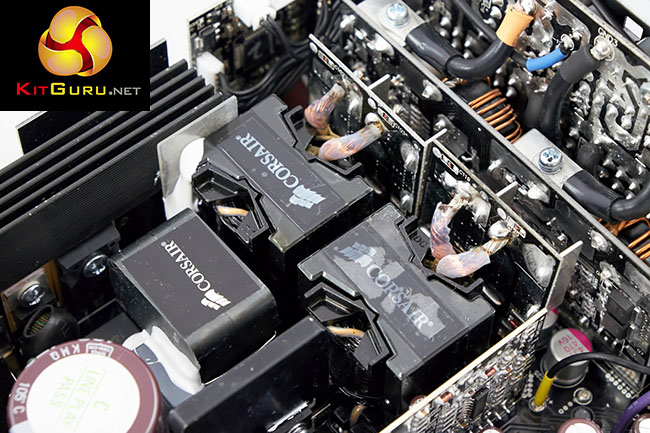 Corsair have been focusing on reducing noise levels as much as possible and we have been impressed with the low noise emissions.

They have incorporated specially modified fluid dynamic bearing fans alongside winding adjustments to other components, helping to reduce any possibility of 'coil whine'. Some of the Corsair power supplies in the lower end of the market have been particularly susceptible to coil whine, but both HX1000i and HX1200i get a clean bill of health.
Technically, there is little, if anything to fault. Load regulation is solid, and all rails hold within 2% when the unit is fully loaded. The HX1200i also dealt with the cross load test without a problem. When hit hard with 88 AMPS, the +12v rail held at 12.00v.
Ripple suppression is also excellent, although a little behind the latest SuperFlower units, such as design found inside the high end eVGA SuperNova P2 1200 and P2 1600 power supplies.



The pure modular design, high efficiency levels and build quality will appeal to an audience of enthusiast gamers building a high end dual or triple SLI or Crossfire system. The pricing is competitive – Overclockers are selling the Corsair HX1200i for £199.99 inc vat. Budgeting £200 towards a power supply for a high end rig is a wise move … cutting corners here can be a recipe for disaster.
Discuss on our Facebook page, over HERE.
Pros:
pure modular.
Platinum efficiency.
quiet.
high grade 105c Japanese capacitors inside.
stable load regulation.
7 year warranty.
Cons:
Corsair face a lot of competition this year from Superflower, Seasonic and others in the high end.