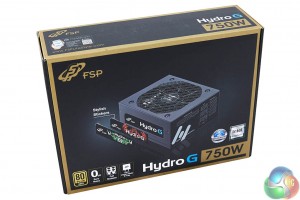 We like the FSP box artwork – it is dark with a high resolution photograph of the unit in the center. Some of the key selling points are listed along the bottom – 80 Plus Gold Certification, the Fully Modular Design and 100% Japanese Capacitors.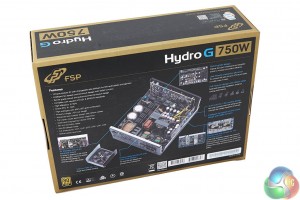 The rear of the box highlights an exploded diagram of the power supply – detailing some of the technical specifications. We get into this in more detail later in the review.
Inside the accessories box are all the modular cables, mounting screws and a regional specific power cable. They also supply a small fold out style 'user manual which is not that useful at all. It is quite honestly one of the worst user manuals we have seen in recent years.
FSP bundle two sets of additional case stickers with the power supply. You can remove the blue stickers already adhered to the casework and replace them with either green or red stickers.
You can only do this once per set as they can't be reused. Colour coordination is popular with the enthusiast audience in 2015 but we aren't so sure this is a selling point for FSP and could perhaps even be viewed as a gimmick? Still, it is difficult to fault FSP for trying something different, and you can just ignore these stickers if you wish.
The cabling is high quality, all ribbon style for ease of routing. The 750 watt and 850 watt units have 12 SATA connectors, and 6 molex connectors on hand for the most demanding builds. Both 650 watt and 750 watt units have four 6+2 PCI e power connectors, while the 850 watt unit has a total of six.