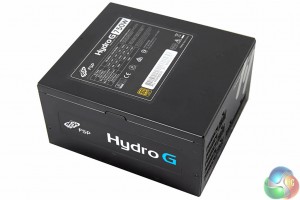 The FSP Hydro G 750W is a rather attractive supply, that could almost pass as a Corsair branded product on quick glance due to the simple two tone lettering and design ethic. The power supply measures 150 mm x 170 mm x 86 mm (LxWxH) and weighs 1.8kg.

Finish quality is high and it passed our screwdriver test. This involves running the head of a Philips head driver down the side of the chassis with light to medium force. After all, how many times have you accidentally connected with a power supply during a system build?
The fan grill is a bit of work – we like this a lot! Underneath is a large 135mm Fluid Dynamic Bearing fan (FDB). Larger fans are generally better, as they can push more air at slower speeds, generating less noise. But only if the quality is high of course. We will get a closer look at the fan when we crack the unit open shortly.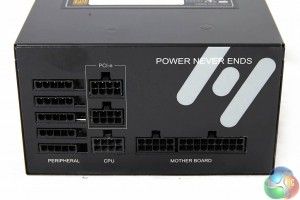 One side of the power supply is modular with several rows of labelled connectors arranged vertically. One side of the modular bay area features the logo along with the slogan 'Power Never Ends'.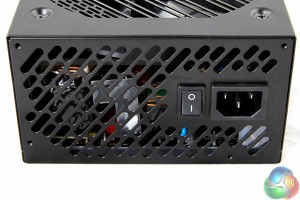 The other side of the power supply is vented with a power connector and switch positioned at the side.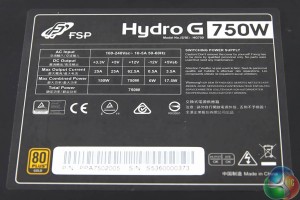 FSP Hydro G 750 Watt Power Supply

DC Output

+3.3V

+5V

+12V

-12V

+5Vsb

Max Output

25A

25A

62.5A

0.5A

3.5A

Total Power
150W
750W
6W
17.5W
750W
The FSP Hydro G 750 Watt power supply can produce 62.5A from the single +12V rail along with 25A from both the +3.3V and +5V rails. This is exactly the same as the Corsair RM750i that we reviewed back in June this year.